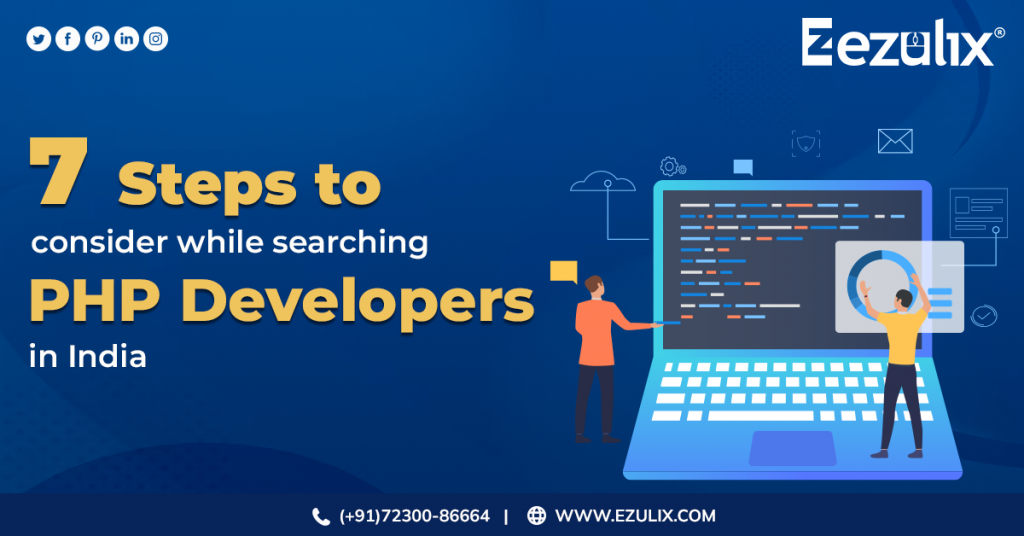 Introduction
Any business that wants to prosper in the modern digital world needs to have a strong online presence. This necessitates having a well-designed website that is not just aesthetically pleasing but also useful and approachable. Working with a capable PHP developers in India who can realize your vision is essential if you want to do this. However, with so many website development companies out there, it can be challenging to find the right one.
This is especially true in India, where there are countless options to choose from. To help you navigate the process, we have put together 7 key steps to consider when searching for PHP developers. By following these steps, you can ensure that you find a reputable and experienced website development company that can deliver the results you need to succeed in today's competitive digital landscape. Before getting into the whole world of hiring let's first understand what PHP is:
What is PHP?
According to the website for PHP, "PHP is a widely used open source general-purpose scripting language that is especially suited for web development and can be embedded into HTML." PHP is also known as "PHP: Hypertext Preprocessor." The server runs the PHP code, and the client then receives the produced HTML. Learning the language is quite simple for a beginner. Even though it seems straightforward, it has a wide range of sophisticated features that any proficient coder would find helpful. 79% of websites that employ a well-known server-side programming language do so. The language is widely used and is favoured by well-known websites like WordPress, Etsy, Facebook, Pinterest, and Tumblr.
What are the Key Responsibilities of a PHP Developer?
A PHP developer is a specialist who uses PHP, a dynamic programming language, to develop software, websites, and applications. Does that seem easy enough? No! PHP developers are sometimes referred to by more general terms like "software developer" or "web developer." However, the developer role only includes a narrow subset known as PHP developers.
Building dynamic and reliable web applications using the PHP programming language is the responsibility of professional developers. A proficient PHP developer can make your website come to life by transforming your concepts and ideas into a fully functional website that engages users and aids in the accomplishment of your commercial objectives. Knowing the primary duties of a programmer is important if you're considering hiring a PHP development company or looking for web development services. 
PHP developers in India plan and create web applications that adhere to your particular needs and specifications. Working closely with clients and stakeholders is necessary to comprehend their objectives and convert them into functional specifications. Strong technical abilities are also required, including proficiency with HTML, CSS, JavaScript, and the PHP programming language, as well as exposure to various web development frameworks and tools.
Writing code that adheres to industry standards and best practices while being clear, effective, and maintainable is another duty of PHP developers. It entails ensuring the code is well-documented, simple to comprehend, and scalable to account for potential expansion and adjustments. They must be skilled at testing and debugging code to ensure it works as intended and adheres to all specifications.
Moreover, to have excellent technical abilities, PHP developers should also be able to collaborate with other team members, such as project managers, designers, and quality assurance specialists or testers. They must be able to clearly communicate technical concepts to non-technical stakeholders and frequently update stakeholders on the project's status.
Expertise Level of a PHP Developers in India
The development of dependable and economical applications is now essential, given the development of technology. As a result, many companies use PHP to create complex and fully featured apps. The language is scalable and compatible, and it can accomplish practically anything. Numerous PHP frameworks can help programmers at every stage of the development process. As a result, the tech sector has a significant demand for recommended PHP Development Services offered by the developers. It's imperative to look for PHP developers who can be hired and who have expertise working with businesses as per your requirements. They should be able to alter your website to suit your company's market demand: 
PHP-savvy developers know the technology required to start a firm. Therefore, constantly seek developers with experience building dynamic, user-friendly applications that suit your company's objectives.
A PHP developer stands out from the competition by being skilled with various database servers. The most helpful aspect of PHP is exactly this. For instance, PHP allows for the free use of MySQL, the most widely used server.
PHP developers offer skills unequaled by other developers because of their creative and original approach to software development. You may develop an interesting application for your clients, and it helps you attract more business by taking a passionate approach to project creation that embraces only the best practices.
One of the most admirable facets of the language is the use of basic PHP functions. PHP functions can assist you in comprehending the reasoning if you need to become more familiar with the phrase. Now, there's a fair possibility you'll run into a predefined PHP function if you're creating basic code (like sorting). Conceive over a thousand distinct built-in PHP functions at your disposal when you're writing. Remembering that a developer can utilize these PHP functions repeatedly is also important. Finding PHP programmers for hire who are knowledgeable with PHP functions is therefore beneficial.
Things to Know Before Hiring a PHP Developer
Choosing to work with a PHP developer might be a wise decision whether you're trying to create a new website or improve an existing one. PHP is a well-liked programming language employed for creating websites, and many skilled developers out there can assist you in realizing your idea. To make sure you choose wisely, you should know a few things before hiring a PHP developer. It's crucial to comprehend the needs and scope of your project. This entails determining your company's objectives, target market, and features and functionality your website must have. After you have a clear idea of what you want, you can hire a PHP developer to satisfy your expectations.
The budget and timetable for your project must be taken into consideration. Get a thorough price and a project timeframe before hiring a PHP developer in India. Also, it would help if you enquired about any potential extra charges or expenses that can be incurred during the development process.
It's decisive to think about a PHP developer's degree of experience and competence when employing them. A good portfolio of completed projects and a track record of success in PHP web development are things to look for in professionals. It would help if you also considered their technical abilities, such as their knowledge of the PHP programming language and their practical knowledge of numerous web development frameworks and tools. Another crucial aspect to take into account when selecting a PHP developer is communication. Seek developers that can communicate well, are responsive, and are simple to work with. They have to effectively communicate technical ideas to stakeholders who need to be more technically savvy and give frequent updates on the project status.
Where to Find Professional PHP Experts in India? 
There are a number of possibilities available to you if you're seeking a skilled PHP developer. You might look in the following places to discover the ideal developer for your requirements:
Job Searching Portals  
You may localize PHP developers on job boards like Indeed and Glassdoor and quickly filter the results on these sites to discover the ideal PHP developer for your requirements. These platforms feature a wide selection of job ads for PHP developers. 
Referrals
Obtaining recommendations from friends, coworkers, and other businesspeople in your network can also be a very effective strategy for identifying a skilled PHP developer. Ask those you know who have previously collaborated with PHP developers for their recommendations.
Freelance Marketplaces
Upwork, Freelancer, and Fiverr are excellent options for finding PHP developers. These platforms have thousands of PHP-trained professionals available for project-by-project employment.
Social Media Platforms
PHP developers in India can also be located via social media sites like LinkedIn and Twitter. You can publish job postings on your profile or in pertinent groups, use relevant hashtags and keywords to search for developers, and more.
Testimonials
Client conceptual reviews are reflected in as testimonials. If past clients have provided positive feedback, you can be confident that the company or the developer you selected offers exceptional customer service. Analyze each testimonial in detail. Even getting in touch with the clients via any means of communication will give you a sense of customer satisfaction the individual offers.
Although PHP is a server-side programming language, several frameworks, like Symphony, Zend, Yii, and Laravel, employ it to create reliable applications. It doesn't matter if you choose, at least not right now. The most important thing right now is figuring out how to work with the best website development company in India. Completing your research and carefully vetting possible prospects while seeking a PHP developer is the core requirement. Verify that they have the qualifications you want by looking at their portfolio, calling their references, and conducting interviews. These pointers should help you choose a qualified PHP developer that can assist you in reaching your objectives.
Final Wrap-Up
As of now, you must have understood after reading about the elements that PHP development is all about evolution. Just make sure to work with the greatest PHP development companies such as Ezulix Software, as they have proven records of going above and beyond to help your business to succeed. You should be aware eyes that picking a PHP developer in India is not only about getting a web app produced quickly; rather, it is about getting the greatest outcomes over a substantial period of time. 
1,067 total views, 1 views today