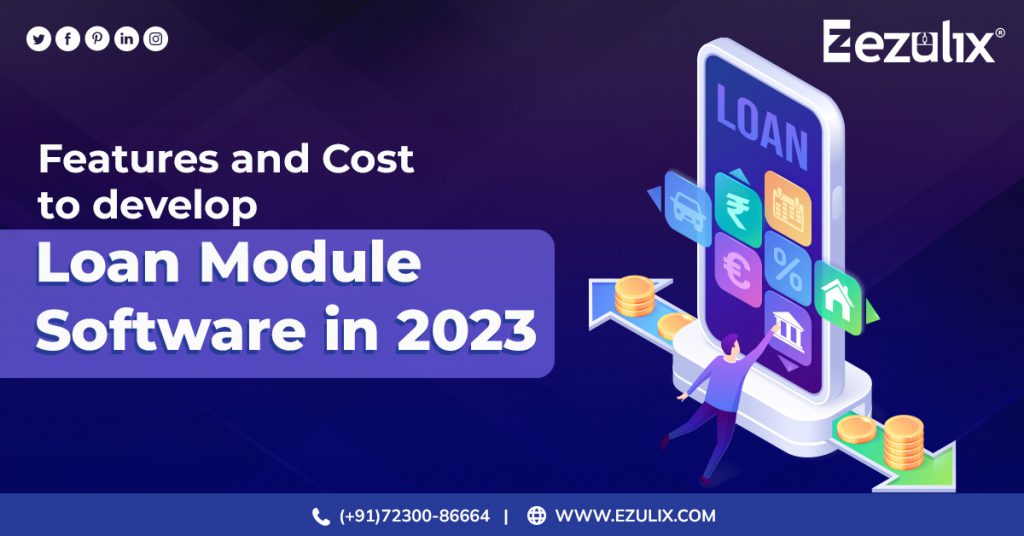 Introduction 
The development of the internet has fundamentally changed how we conduct business, and the financial industry is no exception. Online loan management solutions are becoming more and more common because of the rising need for rapid and simple access to financial services. Every financial institution that wants to stay on top of the rapidly shifting market trends in 2023 must make an investment in the development of an online loan management system. A complete platform created to automate the full loan management process, from application through approval, distribution, and repayment, is known as an online loan management system, sometimes referred to as loan module software. It offers borrowers a simple and practical way to request loans, keeps track of the progress of their requests, and handles repayments.  
In this blog, we'll look at the many aspects of an online loan management system and the cost of creating one in 2023. We'll also examine how loan module software may help the borrower and the financial institution.
What is Loan Module Software?
A loan module software is a comprehensive platform that automates the entire loan management process, from loan application to approval, disbursement, and repayment. The technology streamlines the loan processing procedure for lenders and borrowers, saving time and effort. The loan module software has a wide variety of capabilities and tailored to the individual requirements of the financial institution. For instance, the system could have modules for loan origination, service, collections, and reporting. To enable quick and easy loan processing, the software may be linked with the financial institution's current systems, including accounting, customer relationship management (CRM), and credit reporting systems. The loan module software also offers several advantages to the borrower and the financial institution. 
For Financial Institutions
The software for the loan management system contributes to lower operating costs, more effectiveness, and higher client satisfaction. Several loan processing activities work automatically by the system, which minimizes human mistakes and reduces manual work. 
The loan management system software offers borrowers a simpler and more effective loan application and administration procedure. The system allows for the ease of online loan applications, application status checks, and loan repayments for borrowers. Borrowers may also have access to information about their loans using the loan module software, such as payment histories, outstanding balances, and payment due dates.
Features of a Loan Management Software
Loan management software is an essential tool that helps financial institutions streamline their loan processes. It is now more necessary than ever because of the rising demand for loans.
Handling of Loan Application – Financial organizations should be able to handle loan applications using loan management software effectively. The program should be able to gather all required data from the applicant, including their financial and personal data.
Handling of Document – Financial institutions should be able to store and manage all loan-related documents using the software's document management capability. All papers should be accessible with ease, and security mechanisms should be available to prevent unwanted access.
Processing of Payments – A payment management function in the program should be able to handle loan payments, including automated payments and creating invoices.
Electronic Underwriting – An automated underwriting function in the program should be able to ascertain a loan applicant's eligibility swiftly. To make a prompt and correct conclusion, the feature should be able to evaluate the applicant's credit score, income, debt-to-income ratio, and other elements.
Customer Relationship Management – A CRM element that enables financial institutions to manage their client connections successfully should be included in personal loan management software. Because of this functionality, financial institutions should be able to contact clients via chat, email, and other channels.
Regulation Management – A compliance management function in the software is necessary to assist financial institutions in adhering to the numerous regulatory standards. Tools for managing compliance with know your customer (KYC), anti-money laundering (AML), and other regulatory obligations should be included in the feature.
Analytics and Reporting – Financial institutions should be able to gain insight into the performance of their loan portfolios using the reporting and analytics functionality of the program. Because of the functionality, financial institutions should be able to make informed judgments, which should produce information on loan applications, approvals, rejections, and defaults.
Cost to Develop a Loan Management System  
Developing the best loan management software requires a significant investment of time and money. The cost of developing loan management software varies based on several elements, such as the features and functionalities needed, the software's complexity, the technology employed, and the development team's expertise. Typically, the price range for building debt management software ranges from $50,000 to $500,000. Since that rates differ by nation and area, the price may also change depending on the development team's location.
A team of developers, designers, and project managers must be hired, software licenses must be purchased, hardware must be purchased, and ongoing maintenance and support fees must be all included in the development cost. It's crucial to understand that establishing debt management software involves ongoing costs. The entire cost increases with recurring charges like hosting and server fees, software upgrades, and feature additions. 
Although creating loan management software might be expensive, investing in the correct people and technology is essential to ensuring the program is reliable and efficient. Financial organizations can benefit from an investment in well-designed loan management software by streamlining their lending procedures, increasing productivity, and improving customer service.
Summary
Due to the demand for quick and simple access to financial services, online loan management systems are becoming more and more widespread in the financial sector. It is simpler for borrowers and lenders to handle the process when the whole loan management process, from application to repayment, works automatically. Both parties can profit from the software's decreased operational expenses and more effective loan application and management processes. Features including document management, payment processing, electronic underwriting, customer relationship management, rule management, analytics, and reporting are important assets in loan management software. The price of creating a nbfc loan management system varies according to the features and functions required, the difficulty of the program, the technology employed, and the level of experience of the development team. 
1,439 total views, 1 views today