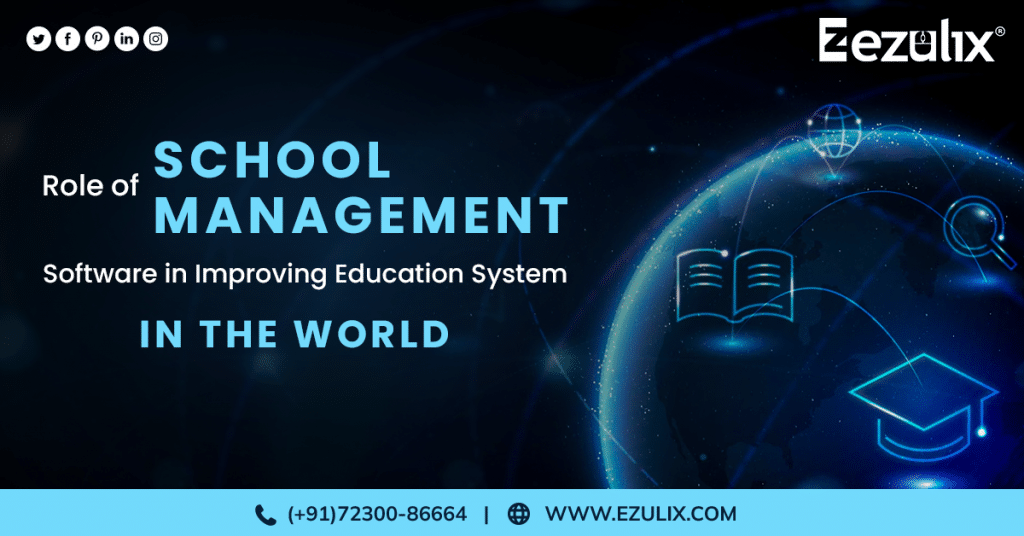 Introduction
With the COVID-19 pandemic inclusion, students are aligned toward virtual classes. They make regular demands for systems to get advanced data for notes or class recordings. Because of these pandemic regulations, students are teachers are getting close to each other. Parents are also in connection with school authorities. Students' regular demand for class work and given homework over online platforms makes virtual assistance a need for both.
Here with this blog, we are taking steps to make a virtual required platform software for academic better performance. Now come and scroll down for better revolution steps for your school management system. 
What is School Management Software? 
School management software brings a new digital platform to organize the education system. Now the teachers or students are no longer limited to an old traditional system. Schools can manage with new system software to make upgraded backgrounds for students' better advancement.
The necessity to develop software systems is to enhance the overall efficiency, productivity and effectiveness of education systems. Generally, it manages the school's different departments, like academic progress, resource management, fee management, parent-teacher communication, and online learning with many more features.  
Why do We Need School Management Software? 
Teachers can integrate the learning process with new effective solutions. Let's explore the integration of software systems with old-school traditional systems. Now teachers can make an online presence to make study with better understanding. The school management software provides access to the timetable for teachers, students, and parents to monitor the report of the study.
Educational institutions can streamline the process of managing schools. It provides you with a complete solution to every day-to-day task. Developing school academic sessions will ensure reduced paperwork and accurate and timely records of students. It will really make a progressive success for students and schools.  
What is the Solution Offered by the School Management Software? 
Students are getting advanced with their laptops or tablets. They want everything with virtual assistance, but we are also advancing with structural progressive steps to make learning better.  From our blog, we are consulting with new dynamic steps to tackle the world with digital platforms. It will make beautiful connections between teachers and parents to give a future to their children. Now look at some solutions offered to your school for better management of your academic session.
Academic Progress Monitoring
The Software system can track the performance of the student with a regular track record of his/her grades. It will give a clear and monitored report to their parents. Parents can access academic records and get real-time information about their children. This tracking report helps to identify the teachers to track the academic progress of students. These reports provide an exact analysis of students' progress trends, strengths, and weaknesses. 
Attendance Tracking 
Academic progress completely depends on the attendance of a student. It leads your school students to understand the topic well. Integration of an attendance tracking system will allow students to give better performance. Teachers can mark student attendance performance digitally through a web interface. This software automates the report alerts to their parents if a student gets absent or comes late.
School staff can manage attendance for different classes and get the exact record of the progress of students. Overall performance calculates analytical record on the basis of number of days present, absent, and late reach.  
Fee Management
By automating fee management processes, you can improve the management of the fee collection process. You can join with new technical advanced software to reduce administrative burdens and enhance the transparency of the financial system. The application allows defining the structure of fees, including all the applicable charges like tuition fees, transportation fees, and any extracurricular activity fees.
With this digital transformation schools also can make a change to take online payment gateways, to reduce the normal manual handling of cash or cheques. This change starts to give satisfactory improved results and better management of the school's financial resources. 
Timetable Management
Your efficient software system efficiently manages, creates, and sets schedules for students and teachers. The school software allows us to edit and update the timetable. Adjustments of teachers in class or any extra classes for students can update in a system by the administrator. The software can generate the schedule of examinations and ensure a smooth flow of examinations. The system manages the holiday or any important event in a school for better news transmission for updates. 
Resource Management
Resource management helps to track and availability of resources. Teacher's material like extra notes and some important assignments can regularly be updated for better learning. This will improve learning, cost savings and provide a streamlined environment for teachers and students. Resource management allows students to take book resources from online platforms.
You can transform your old school journey into a new modern developed infrastructure with the new era's progress. Educational institutions efficiently manage the school resources whether they're physical or non-physical. 
Integration with Learning Technologies
School management system integrates with a new digital system for a better learning experience. Now the students are connecting with a virtual online class with the learning management system. It enables you to give live online classes and recorded classes. They can understand again from the recorded class. It was not possible earlier to take any classes again. Integration of new digital technology will create fun with learning and classes will be more interactive for both students and teachers. Students and schoolteachers will enjoy the learning process with a digital platform to deliver online classes, interactive quizzes, learning games, educational videos and assignments.  
Conclusion
Overall, the school management system enhances your education system. By integrating with the latest technology schools can administer the situation and leaks arise with the working capability of the education system. Give a new understanding of the architectural design of software to your school for a better future for your students. With this blog, we understand how important it is to make the new technology a part of the new education system.
Now make a judgmental decision to tackle the school with new system software which will simplify your hassle schedule of school's academic. 
553 total views, 1 views today