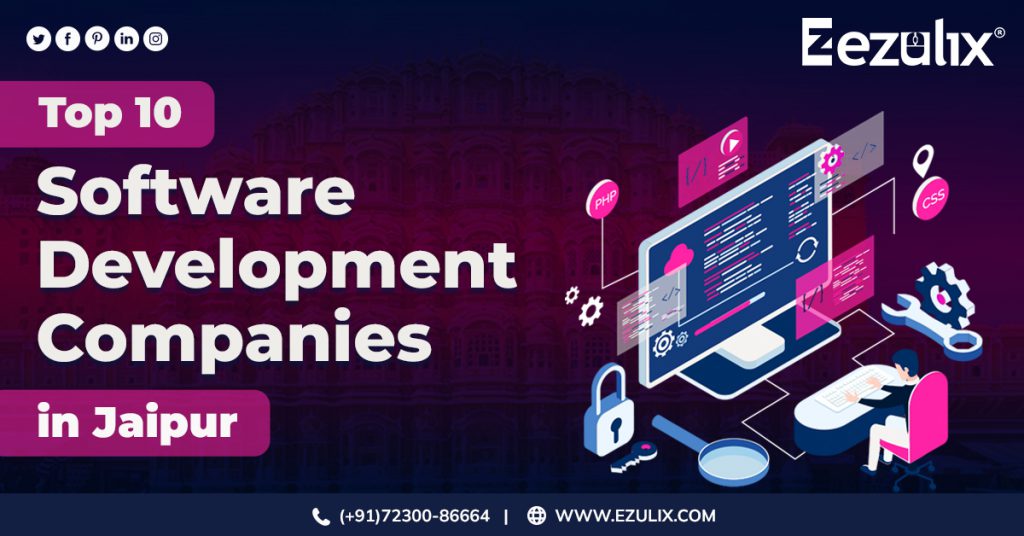 Introduction
Nowadays, custom software development is the easiest and most practical way to obtain a service or product. These applications are fantastic since they quickly access and take up little time. As a result, software has become much more expensive everywhere. Like this, there are now more businesses that produce software. Therefore, we have created a list of Jaipur's top software companies in Jaipur to make choosing the ideal business partner easier. More individuals use these devices as new, cutting-edge ones are released yearly. The primary goal of developing business software or mobile applications is to expand your company's clientele. 
List of Top Software Development Companies in Jaipur
Therefore, we have compiled this list of the top software development companies in Jaipur to help you in your quest for the ideal business partner. View the facts, justifications, reviews, and honours to choose which best meets the requirements of your business. However, one of the developing marketplaces for Indian software development firms is in Jaipur. Many major corporations, medium-sized organizations, and startups that have received funding offer software development services here. 
Ezulix Software Private Limited
Ezulix Software Pvt. Ltd. is a web development business founded in Jaipur, Rajasthan, in 2015. They started incorporating innovative technological solutions to help clients grow their businesses. The business launched in full, verified and authorized fashion in 2018. After the start, they quickly evolved from a small web development company to the leading provider of IT services, meeting the needs of various well-known companies. The company is a digital native with a cutting-edge approach to IT solutions for e-commerce, web development, web design, software consulting, digital marketing, mobile app development, and graphic design, to be more exact. 
Dev Technosys LLC
With more than 950+ successful software development and mobile application development projects under its belt, Dev Technosys was formed in 2010. They were founded on the principle of "Bringing IT to Life" from the outset. Consequently, they achieved remarkable success as a team and became one of Jaipur's top 10 software development firms. 
The business has established a strong history of providing enterprise-level businesses with supported software created for various technologies. To maximize their development and leadership, they continually address the digital demands of consumers who support new technologies, software developers working internationally, and worldwide marketers.
SITSL
Shubashish IT Services Limited (SITSL) aimed to provide strong and commercial software development solutions when founded in 2015. Its creators have successfully finished thousands of tasks and amassed precise expertise. As a result, they briefly rose to the top of Jaipur's software development enterprises.
They developed and enhanced a basic client solution using cutting-edge tools like Salesforce, AR/VR, and AI. They can provide better and faultless company solutions because of their advancing and traditional experience. SITSL is a multinational, CMMI Level 3-rated IT solutions integrator and consultancy firm with offices in over 16 nations.
A3logics
A3logics is a multinational provider of IT services, consulting, and business solutions that offers top-notch support for businesses worldwide. They strive for the highest level of client satisfaction by fusing excellence with cutting-edge technological concepts. Due to its high-quality services, it is one of Jaipur's top software development firms. They work with industry leaders from various sectors, including healthcare, e-commerce, e-education, retail, shipping & logistics, etc., daily in a dynamic market environment. They have a committed staff of high-level specialists.
Semidot
Semidot is a prestigious software development firm offering our customers exceptional solutions. They utilize and enhance the latest technology to deliver excellent online and mobile app development services. Everything that comes from SemiDot is of the most remarkable calibre and unparalleled. The company has a hand-picked team of the best online and mobile app developers that constantly think that every work can be completed more effectively and that any system in place can be tested and, in the end, enhanced.
They provide a variety of engagement and recruiting models to satisfy the needs of different organizations, from startups in the planning stage to those that service millions of customers. Look at their portfolio for its diversity regarding the mobile applications and websites they have created; they have experience in practically every industry and speciality.
Dotsquares
Dotsquares is a well-known company that offers software development services and builds online applications. On its website and mobile app, Dotsquares employs technology to make user input a reality. As a result, it briefly rose to prominence as one of Jaipur's top software development firms.
With more than 14 years of experience working with large and small organizations, they are successful by utilizing an Agile strategy, trust, and sophisticated communication skills. Their 600+ staff members are fantastic and adaptable to customer demands. Users are not marketers; instead, they rely on their reputation to maintain timeliness and high corporate performance. Dotsquares Ltd. has offices in Albourne, England, Bethesda, Maryland (USA), and three development centres in Jaipur, India.
Next Big Technology (NBT)
Since 2009, NBT has been a prestigious web development and design company. His access to the most recent website creation technologies has long been a goal of the business. As a result, it rose to become one of Jaipur's top software development firms. They are experts in website application development and are aware of the potential of a website with careful planning and design. The headquarters of NBT is in Jaipur, Rajasthan, India, and the company employs more than 50 people with diverse skill sets. Due to its committed staff, Next Big Technology earned a reputation for providing high-quality services during a time of need. They work to make quality products without sacrificing expenses in this process.
Emizen
Emizen Tech Pvt Ltd started as a web development company in Jaipur, Rajasthan, in 2013. The company began integrating cutting-edge technology solutions into its operations to assist clients in expanding their businesses. Soon after the beginning, we develop from a young web development firm to the best IT provider, serving the requirements of numerous well-known brands. To be more exact, they are digital natives with a cutting-edge approach to software development, digital marketing, mobile app development, graphic design, and other IT solutions. These have been greatly expanded to satisfy the current global environment's ever-expanding technological and business needs.
Planet Web Solutions
Through innovative and creative online marketing/optimization solutions, Planet Web Solutions has helped businesses maximize their earnings since its founding in 2004. They became one of the top software development firms in Jaipur thanks to the level of their work.
With their in-depth knowledge of computers, logical interpretation, practices, and processes, the Planet Web Solutions team aims to provide the finest service possible to satisfy the demands of consumers. Their major objective is to create exceptional web services, digital platforms, and brand campaigns that target today's consumers to raise awareness, effect change, and encourage brand consideration.
Owebest Technologies Pvt. Ltd.
Owebest, a multifunctional and quickly expanding Indian IT firm with its corporate office in Jaipur, India. This is not your typical web development firm. It is concentrated on making things work for you, and it does. As a result, it rose to become one of Jaipur's top software development firms. 
Through their superior service delivery, they assist clients in identifying their most significant business prospects and maximizing them. Being a customer-focused company, they take care to comprehend the various demands of consumers and work to satisfy them not just to their level of satisfaction but frequently above and above their expectations.
Software Development Cost in Jaipur
Generally, estimate software development costs based on various business sizes. Web Development, Hybrid App Development, E-commerce Development, and App Development cost $5K to 40K on average for startups or SMEs. Along with this for major enterprises, the cost ranges between $20K to $1000K.
The cost is one of the top considerations while developing software. Clients want to know how much their project will cost and take time to finish. But the main problem is that! A standard fixed list doesn't determine every instance's cost. Various features, accurate scalability measurements, feature complexity, and other factors will influence it.
Conclusion
For all kinds of enterprises, there is an increasing global need for mobile applications and software solutions. The number of software development companies in Jaipur is growing daily, so it is crucial to research before your program is ready to choose the ideal option for your needs. Yes, you can demonstrate your whole vision for efficiency with the support of these updated lists of the top ten software development firms in Jaipur. Read carefully, pick the best, weigh your options, and select the ideal business partner. You will get along well with these best software development companies in Jaipur since we have put a lot of time and effort into compiling this list.  
1,537 total views, 7 views today