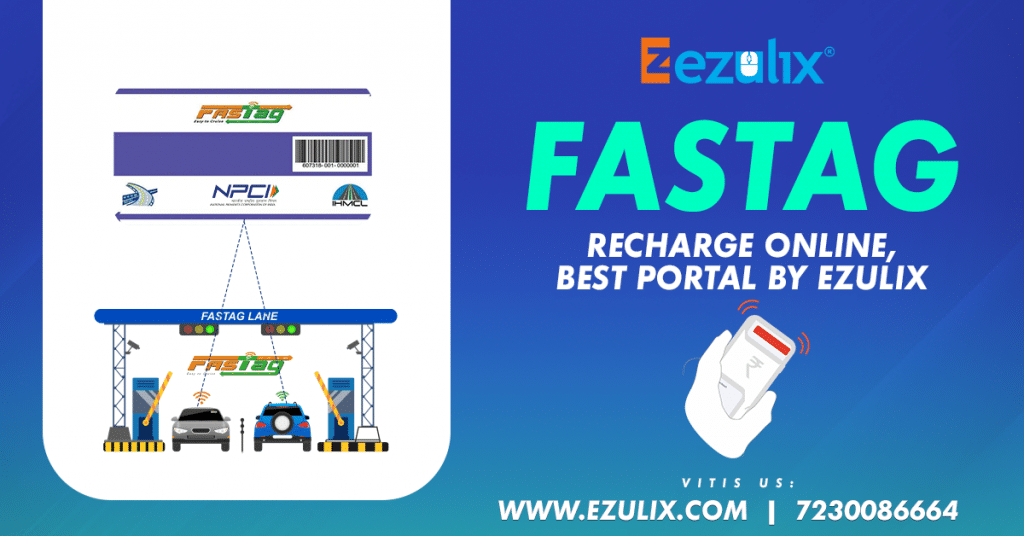 What is FASTag?
Fastag is a new way of paying toll at highway, a prepaid rechargeable tag that can be pasted on a vehicle's windscreen. It is operated by the National Highway Authority of India (NHAI).  Fastag stickers have been made mandatory for all commercial and personal vehicles in India from December 2019.  Best Fastag recharge online service is provided by Ezulix BBPS Software.
Fastag Cards do not have any expiry date, just recharge them from time to time and nothing else is needed to maintain a Fastag. These cards work on Radio Frequency Identification (RFID) technology. We are introducing the best portal to recharge Fastag and earn money.
How FASTag Works?
Fastag works automatically when a vehicle passes a toll plaza. The applicable toll amount automatically gets deducted from the linked pre-paid wallet or the linked bank account.  The ones not having Fastag pasted on their vehicle need to pay twice the normal rate at toll plazas all over India.
Prices of Applying FASTag?
The National Payment Corporation of India (NPCI) has fixed the upper limit for the price to Rs. 100 per tag in India. Other charges are also added including bank's security deposit and charge for the first recharge in the wallet.
How to Buy or Apply for FASTag?
There are three ways to get Fastag
You can get it from any National Highway Toll Plaza in India
Apply at any certified bank branches
Get it from an e-commerce platform that is permitted to issue Fastag.
Introduction to BBPS (Bharat Bill Payment System )
An integrated online platform which being is developed by the National Payments Corporation of India (NPCI) offering all kinds of bill payments instantly. BBPS facilitates bill payments for various categories such as Electricity, Water, Gas, DTH recharge, Fastag Recharge, Insurance, Loan repayment, Data card, Landline bills, Telecom, etc. This is considered as an efficient, cost-effective and helpful in enhancing consumer confidence and experience. BBPS portal is the best instant Fastag recharge portal in India.
Why Choose BBPS to Recharge FASTag?
BBPS is the fastest online payment portal serving many customers in India. You can earn attractive commission on every Fastag recharge. There is no minimum amount of recharging Fastag; it totally depends on the toll rates. We are providing Ezulix BBPS portal with the aim of serving our clients with the best online service assistance. Ezulix team applies strategic thinking, dedicated support, complete efforts, and practical approach to serving their customers.  Fastag can save fuel, time and help to reduce traffic. Other then this Fastag can be a big business opportunity by earning commission. Here are more benefits of recharging Fastag through BBPS-
Easy payment of toll – Fastag eliminates the need to pay cash at toll plaza.
Instant online recharge option – You can easily recharge any Fastag online through BBPS, which is fast and reliable.
Keep track of all your recharge: BBPS allows you to keep track of all transactions as you receive an SMS alert every time you transact at toll plaza.
How to Recharge FASTag Online with Ezulix BBPS?
You can recharge your Fastag online from various online payment options. BBPS by Ezulix is the best Fastag online recharge portal in India. Select the bank, enter vehicle number and enter the amount.  Recharge your Fastag online anytime, anywhere. Earn commission on every Fastag recharge through our BBPS portal.
Conclusion
Ezulix BBPS offer various recharge and Bill Payment services in India. Fastag is one of the fastest services among them. Get Ezulix BBPS software to start something big by earning an attractive commission on every Fastag recharge online. You can apply for a free Live Demo or contact our executive today.
5,866 total views, 1 views today