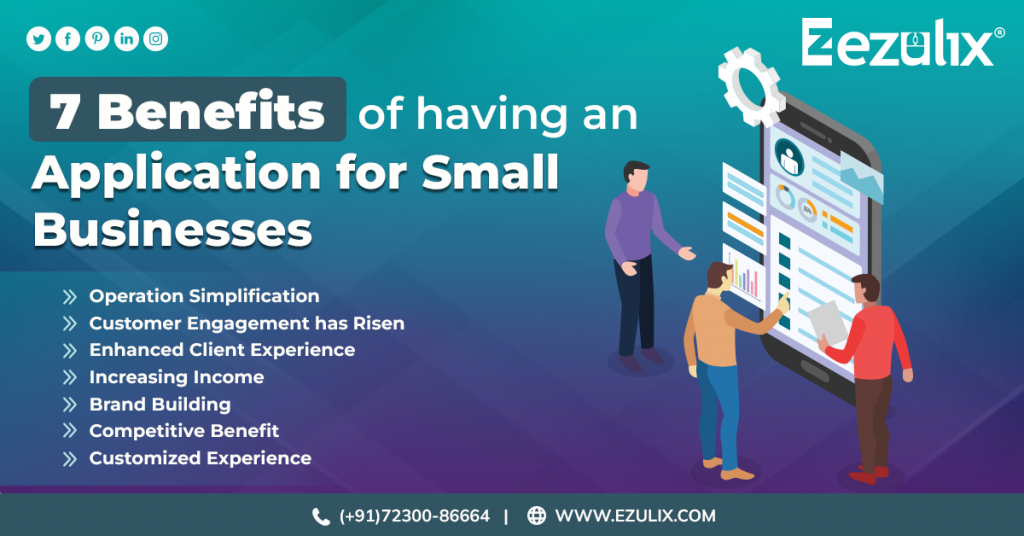 Introduction
Small businesses are the backbone of any economy, but they often face challenges in keeping up with larger enterprises. The use of mobile applications by small enterprises might level the playing field due to the rising significance of technology in today's environment. Mobile applications have recently evolved into a crucial tool for small businesses to increase productivity, efficiency, and customer satisfaction. In this blog, we will discuss the benefits of having an application for businesses. We'll examine how mobile applications might help small companies become more visible and appeal to a larger audience. Then, use the latest trends to discuss how mobile application development may increase user engagement and loyalty. Furthermore, explore how mobile apps may help small businesses run more efficiently, spend less, and make more money.
Mobile Application Development Trends 
New trends and technology emerge every year in the world of mobile app development, which is a subject that is always changing. Every mobile app development firm that wants to be competitive and provide its clients with cutting-edge solutions must keep up with the most recent developments.
Trends in iOS App Development
SwiftUI: Apple has unveiled a new framework called SwiftUI, making creating user interfaces for iOS applications easier. It shortens the development cycle and enhances app performance by enabling developers to construct dynamic and responsive UIs with less code quickly.
Augmented Reality: Augmented reality (AR) technology allows digital material to be superimposed on the physical environment. Many iOS app developers are already incorporating AR into their apps to give users a more immersive experience due to its rising popularity recently.
Machine Learning: A subset of artificial intelligence (AI), machine learning (ML) enables computers to gain knowledge from data and enhance their performance without explicating programming. Many iOS app developers employ machine learning (ML) to tailor user experiences and enhance app performance. 
Trends in Android App Development
Kotlin: The modern programming language Kotlin is becoming increasingly well-liked among Android developers. It has numerous advantages over Java, including shorter syntax, null safety, and improved efficiency. Many developers have already adopted Kotlin, and it is anticipated to overtake other languages as the standard for creating Android apps. 
Android Jetpack: Android Jetpack is a collection of libraries and tools that make it easier for developers to create top-notch Android apps. It contains elements that make app development easier and boost performance, such as Navigation, WorkManager, and ViewModel. 
Instant Apps: You may access Instant Apps, scaled-down versions of Android apps, without downloading them from the Play Store. For consumers with little storage space or sluggish internet connections, they offer a flawless user experience. As instant apps gain popularity, more companies are creating them to appeal to a larger market.
What is Preferred – Website or Mobile Application Development? 
Website and mobile app development are separate processes, each with benefits and constraints. The sort of user experience each provides is the main distinction.
Developing software programs for mobile device usage, such as smartphones and tablets, is known as mobile app development. Mobile applications provide customers with a more immersive and engaging experience by running offline and may be downloaded and installed straight into a device via an app store. Mobile apps may also use a device's hardware components like the camera, accelerometer, and GPS to offer more complex functionality. Nevertheless, unlike website development, creating a mobile app takes a unique set of programming abilities and can be more time-consuming and expensive. 
On the other hand, website development involves creating web pages that are accessible through a web browser on a desktop or mobile device. Websites are often simpler and quicker to design than mobile applications and may be viewed from any device with an internet connection. As updates can be done on a central server and are immediately accessible to users, websites are simpler to manage and update. Nevertheless, as websites cannot run offline or utilize a device's hardware components, their functionality and user experience are constrained. 
The two decisions ultimately rely on the company objectives, target audience, and budget. Both website development and mobile app development offer advantages and drawbacks. Mobile application development may be the ideal choice. If the objective is to offer a more immersive and engaging experience. If the app needs access to the device's hardware features. Website creation could be more suited if the objective is to reach a larger audience and provide simple access to information or services. To achieve the intended user experience and commercial objectives, combining the development of mobile apps and websites is important.
Benefits of Mobile App Development for Your Business 
Operation Simplification
By automating procedures like inventory management, order fulfillment, and personnel scheduling, mobile applications may assist businesses in streamlining their operations and lowering expenses. This can increase productivity and lessen the possibility of mistakes and delays.
Customer Engagement Has Risen
Thanks to mobile applications, businesses have a direct route to interact with their clients. The app lets customers quickly obtain details about goods and services, make purchases, and offer comments. To increase client loyalty and retention, push notifications can also tell customers about exclusive deals, ongoing promotions, or new goods.
Enhanced Client Experience
Thanks to mobile apps, businesses may be able to deliver more individualized and effective customer service. Customers may simply use the app to examine their purchase history, monitor their purchases, and get help. Customers will be more satisfied, and customer support employees will work less.
Increasing Income
Businesses may find new revenue-generating potential thanks to mobile apps. Businesses may, for instance, provide subscriptions, advertising, or in-app sales. Moreover, mobile applications may give companies insightful information about consumer behavior and preferences that can be utilized to create focused marketing campaigns and enhance product offers.
Brand Building
By offering a dependable and identifiable user experience, mobile applications may assist businesses in developing their brand. Businesses may reinforce their brand identification and raise brand awareness by including their brand aspects in the app design and providing features that support their brand values.
Competitive Benefit
A more convenient and customized user experience provided by mobile applications may give firms a competitive edge. Companies that provide mobile applications are more cutting-edge and contemporary, which may help them draw in and keep clients.
Customized Experience
Mobile business applications also offer a personalized experience, which is a beneficial aspect of developing an application. For instance, developers use geolocation technology to schedule alerts so that your customers are notified once they reach your address nearby. However, collecting such huge data can be tricky in the initial stage of the business.
Mobile application development services can provide businesses with many benefits. From increased customer engagement and improved customer service to streamlined operations and increased revenue. By leveraging the expertise of mobile app developers, businesses can develop custom mobile apps tailored to their unique needs and requirements. These apps can improve their competitive position and provide a more convenient and personalized user experience for their customers.
Conclusion
This blog discussed the benefits of developing mobile applications for small businesses. Mobile applications can help small businesses in many ways. It makes a business more visible and appeals to a larger audience. It increases user engagement and loyalty, runs more efficiently, and makes more money. We also discussed the latest trends in mobile app development for iOS and Android. Such as SwiftUI, augmented reality, and Kotlin.
Finally, we compared website and mobile app development. The decision between the two ultimately depends on the company's objectives, target audience, and budget. A reputable mobile app development company such as Ezulix Software can simplify operations, increase customer engagement, enhance customer experience, and generate revenue for the business with guaranteed results.
1,209 total views, 1 views today