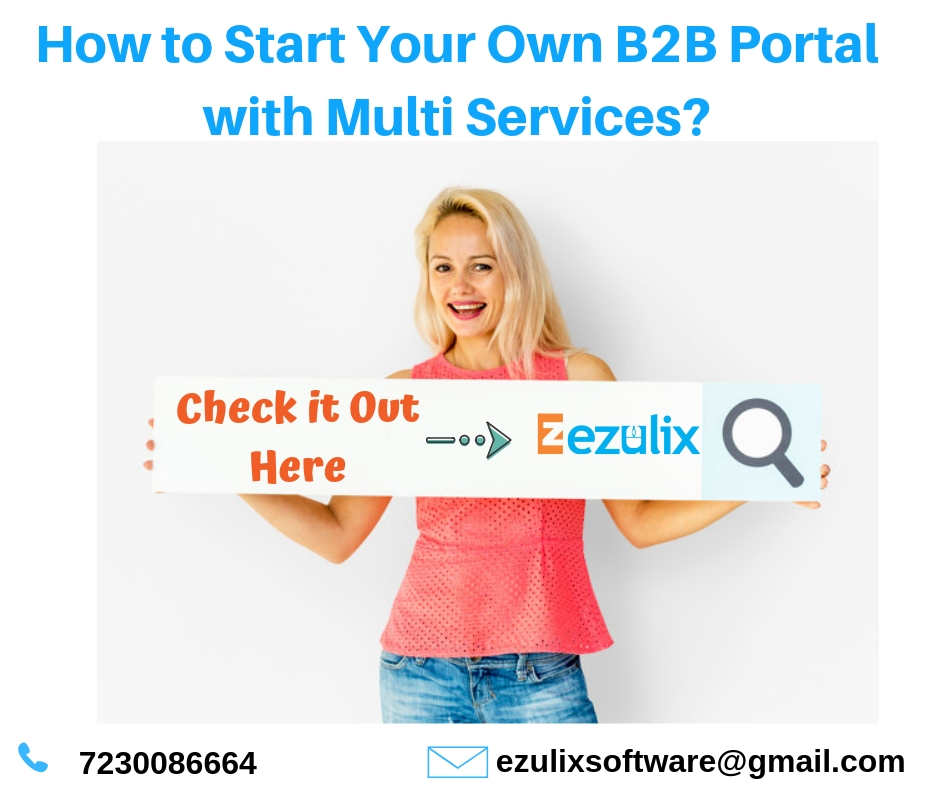 What is B2B Portal & How Can You Start Business?
Do you want to start your own business in India at low investment then this article is only for you? Here I will tell you how you can start your own business or b2b portal and how you can earn the highest commission. But first of all, we need to learn what b2b portal is?
B2B portal is a channel or system by using we can offer services from business to business. In other words, we can say that this is a type of software which is used to offer services between businesses.
Today, there are lots of companies who provide the opportunity for you to start your own b2b portal and offer services to your customers and earn commission?
But for the success of the business, it is very important to start a business with the best b2b portal provider company in India. This will help you to run your business smoothly and successfully.
If you start your business with a company, which don't offer you the best b2b portal and services then there are most of the chances to failure of your business. So take this step very smartly because this step decides the future of your business.
Which Company Offers Best B2B Portal in India?
Ezulix software offers best b2b portal in India over the last few years. We offer the best portal in India with high stander software integration and endless service support. Our main aim is to offer the best services to the client so that they can use it at the optimum level and can earn more money.
Our b2b portal is fully customized and based on the latest technology. Most important thing is, this is user-friendly systems which make use of it easy for you. If you don't belong to the technical background, even you can use this software or portal very easily and run your business.
How This B2B Portal Works?
Our highly qualified and skilled team working on this concept from a long time and finally we make this b2b portal fully modernized and customized system. As we offer you a stander b2b software. You can add on multiple services to this portal by using API's. We offer you free API integration service for a lifetime so you can add on unlimited services in your b2b portal and can offer unlimited services to your customers.
Which Services You Can Offer By Using Our B2B Portal?
As I told you, by using our b2b recharge portal you can offer unlimited services. There is some following software which we integrate with the b2b portal, by using them you can offer multiple services.
Mobile Recharge Software
Aadhaar Enabled Payment System
Bharat Bill Payment System
Money Transfer Software
Travel Software
Pan Card Software
Hotel Booking
mPOS Machine
So you can offer all the services using these software's.
Mobile Recharge Software
If you want to offer only mobile recharge services then we integrate mobile recharge API into your b2b recharge panel. By using mobile recharge software you can offer prepaid mobile recharge, postpaid mobile recharge, landline mobile recharge, data card recharge, and DTH recharge services to your customers and can earn commission on each and every service. Learn more about mobile recharge software.
Aadhaar Enabled Payment System
Aadhaar enabled payment system or AEPS software is the type of payment system which enabled us to use basic banking activities like balance inquiry and cash withdrawal. These services in very beneficial for those who are not enabled to go bank or ATM. They can use these activities by using Aadhaar card and thumb impression. Learn more about Aadhaar enabled payment system.
Bharat Bill Payment System
Bharat bill payment system or BBPS software enables you to pay bills anytime, from anywhere. By using bbps software you can pay bills of all types. At present by using our bbps software you can offer electricity bill pay service to your customers. Learn more about Bharat bill payment system.
Money Transfer Software
By using money transfer software you can offer money transfer service to your customers. By using this money transfer software, you can transfer money to any bank. Learn more about money transfer software.
Travel Software
By using this travel software you can offer bus and flight booking services to your customers. Learn more about bus booking software.
Pan card Software
By using pan card software, you can offer pan card services to your customers. By using this software, you can create pan cards by two methods. First one is UTI and another one is NSDL. Learn more about pan card software.
mPOS Machine
By using mobile POS machine you can offer service to your customers to pay the payment by card swiping. Learn more about mPOS machine.
These are some services which I describe to you. You can add on unlimited services in b2b recharge portal and can earn the highest commission in the market.
How to Start Business at Low Investment with Ezulix B2B Portal
Ezulix software offers the best b2b portal in India. You can start your own b2b portal with Ezulix and can earn the highest commission. We offer you the highest commission in the market.
To start a business with Ezulix there are some steps which you have to follow.
Register Your Firm
Issue GST Number
Issue TIN Number
Get Domain name & Web Hosting
After completing all these basic steps, we integrate your desire services into your portal. Along with b2b recharge portal, we provide you manual training so that you can understand the portal.
We offer you all the above services with an endless service commitment. You can add on any service into your b2b portal by using API. We offer you a free API integration service.
Along with the web version of the b2b portal, we offer you free mobile app of software, so that you can promote your business online line Play Store and can boost your business.
Conclusion
So here I am wrapping up this article with all the valuable information. Here we learned what b2b portal is and which company offers the best b2b portal in India. So why are you waiting for, start your own b2b recharge portal and earn the highest commission in the market? Visit us now for LIVE DEMO.
7,910 total views, 1 views today