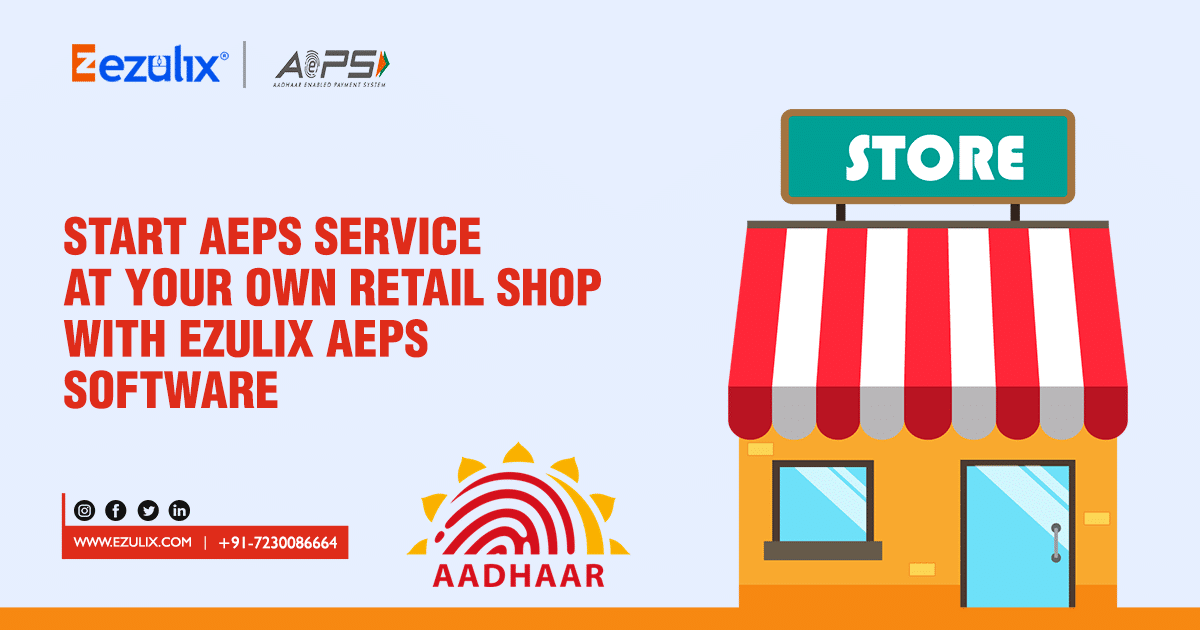 What is AEPS?

What is the Use of AEPS Service?

Which Services can Operate Using Aadhar Card (AEPS Service)?

How AEPS Works?

How Can You Start Mini Banking (AEPS Service) Business?

Which is the Best AEPS Software Provider Company in India?
Time has changed, now everyone wants a cashless transaction. The Indian government is also encouraging the cashless economy through digital India projects. AEPS is the part of digital India project to create a cashless society. This creates a business opportunity for you. You can start your own AEPS service business at your small retail shop at low investment. But the question is how? In this article,
I will describe to you how can start your own AEPS service business at low investment and what are important credentials to start this business.
So keep tuning with us till the end if you really dream to run your own business.
First, we will discuss the term AEPS.
What is AEPS?
AEPS stands for Aadhaar enabled payment system, a type of payment system which enables us for cashless transactions using Aadhaar card.
Before some time Indian government collected all our identity details and convert it into a 12 digit number which is known as Aadhaar number. This number is a unique identification number for each and every person. This card is known as the Aadhaar card. Aadhaar card is the biggest identity in India nowadays.
Further, they connect our Aadhaar card number to our individual bank accounts. As result, now we can operate our bank accounts using our Aadhaar card. This is known as Aadhaar enabled payment system.
What is the Use of AEPS Service?
AEPS service enables us to use basic banking transactions like cash deposit, cash withdrawal, fund transfer, and balance inquiry. This is very beneficial in rural areas where people are unable to visit ATM and Banks. By using AEPS service they can use banking activities using Aadhaar card and fingerprint impression. They can use all services by visiting their nearest AEPS service provider.
Which Services Can Operate Using Aadhaar Card (AEPS Service)
By using this Aadhaar card you can operate many basic banking activities which are known as AEPS services. There are the following AEPS services you can use in AEPS.
Cash Withdrawal
Fund Transfer
Balance Inquiry
Mini Statement (Updated)
So by using AEPS, you can use all the above services by using Aadhaar card.
How AEPS Works?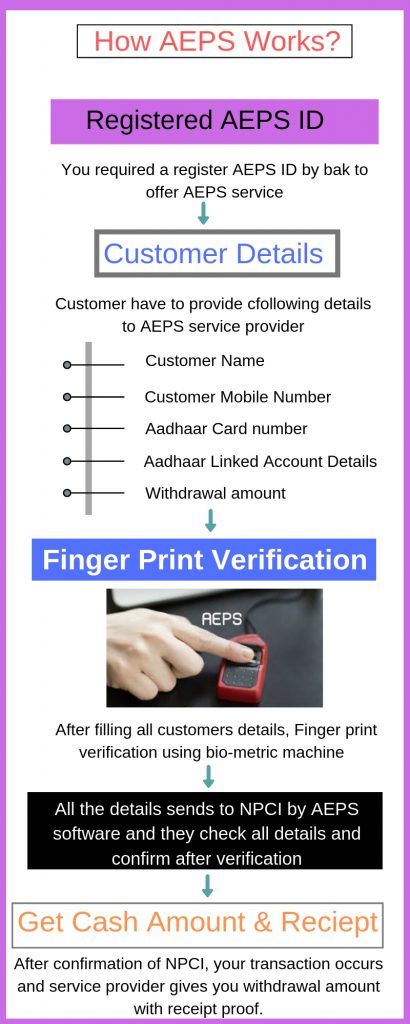 In the last topic, we learn, which services we can use in the Aadhaar enabled payment system. Here we learn how this process works. Suppose you want to withdraw 2000/- rupees from your account then how this will work.
First of all, to use AEPS Services customer's account number should be linked with Aadhaar card
Visit your nearest verified service provider
You have to provide your Aadhaar card number which linked to your account number.
He asks you for which activity you want to perform
Although here you want to withdrawal 2000/- rupees
He process for this activity and you have to verify your transaction through fingerprint impression
A biometric machine is connected to AEPS software
AEPS software sends these details to NPCI and they check your verification details, your account details, and balance inquiry
If everything is right, then they approve your request and 2000/- transfer from your account to AEPS service provider account
After completing the process, He gives you 2000/- rupees cash
He also provides you a receipt for your transaction as proof
So this is the complete process of AEPS which is performed in this. Now we have learned about AEPS, services, benefits and working process. Now we are moving towards the second part of this article which is very important for you.
Here I will tell you how you can start your own AEPS service and how you can earn from this. Also, learn which company offers the best AEPS software to offer AEPS service. So now you can't miss a single line. Keep attention here if you want to start your business.
How Can You Start Mini Banking (AEPS Service) Business?
If you want to start your own business first you have to complete some basic steps which are following-
Firm registration
Issue GST number
Issue TIN number
Register Domain Name
Web Hosting Service
First, you have to these legal formalities before starting any business. Ok, now come to the main point. To offer AEPS service you required AEPS software. There are many AEPS software service provider companies in India. You can start your own business which any company but I will suggest taking this step very wisely. You must start your business with the best AEPS software service Provider Company. This will lead your business to success.
Which is the Best AEPS Software Service Provider Company in India?
Ezulix software is one of the best AEPS service provider company in India over the last few years. This is the reason today we have a huge portfolio of potential customers all over India. You can start your own AEPS service with us by applying for the free live demo.
Here, we offer you a live demo of b2b software portal which we will provide you so that you can understand the portal. Although we offer you b2b software portal, you can add on multiple services in this portal by our Free API integration service.
After completing the deal, we prepare your software portal with your desired services. Although, here we are talking about AEPS service so we integrate AEPS software Into your b2b software portal. Along with AEPS service, you can also offer mobile recharge software services to your customers which are default software.
Now the software portal is completely ready to start work. We provide a manual training session to you and your staff so that you can understand the software portal completely. This leads you to use it at an optimum level.
Now you can create AEPS agents all over India. It means, now you have the authority to create AEPS agents who have the rights to offer AEPS services. You can create your agents at the following levels.
Master Distributor
Distributor
Retailer
Here you work as Admin of the system and all these are in your team. All of them have to verify e-KYC from the admin before offering AEPS service. Learn how to do AEPS registration.  After completing e-KYC they can offer AEPS services to their customers and earn commissions.
Ezulix software offers the highest commission in the market, so this is a great opportunity for you to start AEPS service with Ezulix AEPS Software.
Why Choose Us
Our high experience and the skilled technical team makes it fully customized software
User-friendly software system
A safe and secure transaction system
Easy to use for the non-technical person
Log in and log out facility as a security feature
Every account have a unique identity
Secure payment gateway by API integration
Offer Highest commission in the market
Free API integration service
Free AEPS mobile app for AEPS service
You can offer multi-services by using this b2b recharge portal
Members can get a real-time settlement using Xpress Payout
So these are some point which will help you to choose us. Although, you know this is b2b recharge portal, not white label software. You can add on multiple services by API integration service.
You can offer the following services by using b2b Ezulix software portal.
B2B Ezulix Software Portal Services
Mobile Recharge Software
Bharat Bill Payment System
Money Transfer Software
Pan Card Software
Prepaid Card
mPOS Machine & Software
Bus, Hotel, Flight booking Software
By using b2b software portal you can offer all the above services to your customers and can earn commission on each and every transaction. So we can say by using all the services you can cover most of the market and can increase your earning.
Conclusion
I am wrapping up this article here. It's a really great article I hope you will enjoy and also learn too much from this. Now you know everything about what is AEPS, what is the use of it, which services it offers, and how it works.
And in the second part, we learned how you can start your own AEPS business and can offer AEPS services with Ezulix AEPS software.  So if you like this article and you think this is a little bit valuable for anyone, please share it with your friends and family, and don't forget to share on your social media.
11,274 total views, 1 views today