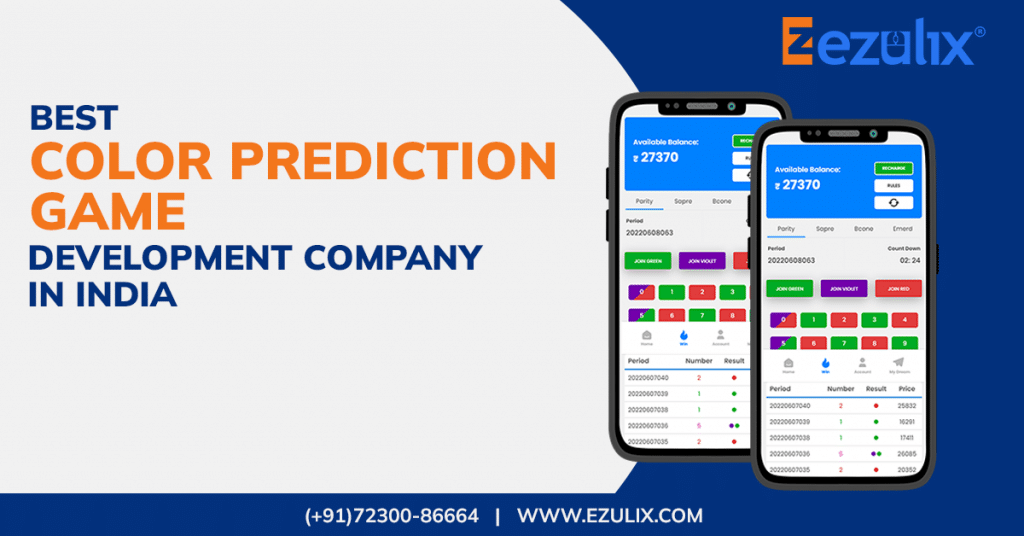 Do you also wish to own a robust and highly profitable online game of color prediction for your business? The demand for gaming software development companies has increased dramatically in recent years due to the gaming industry's enormous rise in popularity. With the emergence of new technologies and the advent of smartphones, mobile games have become a significant source of entertainment for people worldwide. One of the most popular categories of games is color prediction games. These games have become incredibly popular in India, and many companies have emerged to offer their services. Ezulix Software Pvt. Ltd. is India's best color prediction game development company.
Founded in 2018, Ezulix has emerged as a leading technology company that provides various IT solutions, including software development, mobile app development, website development, e-commerce solutions, and game development services for color prediction. This blog post will discuss India's best color prediction game development companies and why they stand out.
What is Color Prediction Game Software Development?
A color prediction game is a betting software where you can make bets to guess the right color or set of colors. If the expected hue or combination appears, the player wins. The people who enjoy betting and want to make real money should use it.
Color Prediction Game Software Development companies' offshore staff is committed to designing and programming, so we can produce games that operate quickly, responsively, and smoothly and draw in lots of players. Also, we have the most cutting-edge technology stack available, which enables us to create thorough color prediction games for your business requirements. We have the ability to stand out from the competition thanks to our top-level tools, the best team of experts, and years of experience in producing color prediction games.
We have provided our services to more than 300 businesses throughout India and around the world. We have highly skilled color prediction game developers on staff that are constantly prepared to meet any development-related issues. A significant advantage of our color prediction games is their reliability and stability. The games are tested rigorously to ensure that they run smoothly without glitches. Moreover, we provide round-the-clock technical support to resolve any issues quickly and efficiently.
Finest Features of Color Prediction Game Software 
Eventually, the success of color prediction games depends on the features that they offer. Here we will tell you the finest elements of color prediction game software provided by Ezulix Software that make it highly engaging and addictive.
User-Friendly Interface: One of the critical characteristics of color prediction game software is its user-friendly interface. The UI of the game should be straightforward, clear, and user-friendly to make it simple for consumers to play and navigate. 
Customization: These choices enable companies to tailor the game to their intended audience. Personalization options for the game's design, layout, and color scheme should be available. 
Multilingual Support: The game needs to support different languages to appeal to a worldwide audience. This will increase the game's accessibility to a larger market, boosting its popularity and profitability. 
Real-Time Insights: These tools give firms insightful information about customer behavior, engagement, and revenue generation. The game should provide advanced analytics so businesses can monitor player performance, revenue, and other essential variables. 
Push Notifications: Push notifications are an excellent method to keep players interested and updated on game events and developments. A push notification tool should be in the game that notifies players of updates and alerts regularly. 
Social media integration: Users may connect and share their progress and accomplishments with friends and family on social media platforms thanks to social media integration. The game should integrate with social media so players can post updates on their gameplay and achievements. 
Secure payment gateway: A secure payment mechanism that guarantees the privacy and security of user financial information should be included in the game. The payment gateway should be linked with top payment systems to ensure smooth transactions. 
Benefits of Color Prediction Game Software by Ezulix
The development of color prediction games has grown in popularity recently and for a good reason. Color prediction games are a popular option for folks searching for a quick and enjoyable way to kill time because they are straightforward yet incredibly fascinating. Here are a few advantages of color prediction game software development and why firms should consider investing.
Low Development Charge: Color prediction software has a comparatively minimal development cost compared to other game genres. This is due to the game's relative simplicity and the fact that it took little time or resources to develop. This makes it an excellent choice for companies wishing to produce a game without spending a fortune.
Rapid Processing Time: Creating color prediction game software is a quick procedure, and the games may be created quickly. Companies may soon launch their game, enabling them to make money immediately.
High Productivity: One of the critical advantages of creating software for color prediction games. These games earn a substantial amount of money while having modest overhead expenses. The game's accessibility and high level of addiction cause gamers to play them regularly, generating a consistent flow of income for the company.
Customization options: Various customization choices are available for color prediction game software creation. Companies can create a game that matches their brand and target market by selecting the game's look, feel, and gameplay. The game becomes more engaging due to customization, enhancing user retention rates.
User Engagement: Games that anticipate colors are entertaining, making them a favorite among players. The user interface is easy to use, and the games are simple to comprehend and play. This indicates that users only need to go through a drawn-out tutorial or challenging instructions to begin playing the game immediately.
Informal Monetization: Color prediction games are simple to commercialize because player count directly affects how much money is made. The games can be made money through various means, such as in-app purchases, advertisements, and sponsorships. This makes it simple for companies to monetize and profit from the game.
Conclusion
In conclusion, if you are looking for the best color prediction app development company in India, Ezulix Software Pvt. Ltd. is the way to go. We provide the ideal solution for customers looking to develop entertaining and lucrative color prediction games with the help of our team of experienced developers, a user-friendly interface, dependability, and stability, multiple payment options, an advanced analytics system, customization options, and compliance with regulations and guidelines. 
For more details visit our website or request a free live demo.
6,935 total views, 1 views today