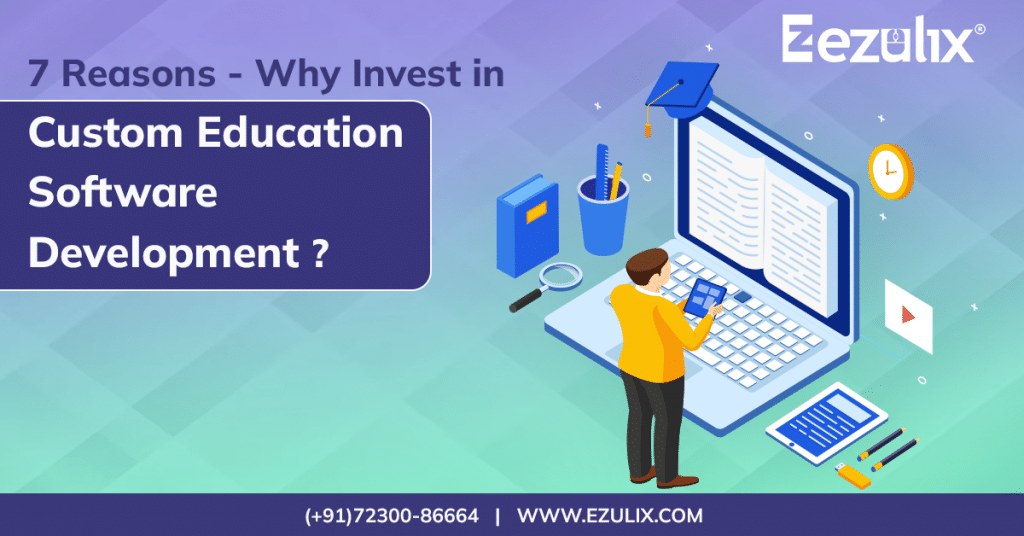 Introduction
Education software development refers to creating personalized software solutions that cater to the specific needs of educational institutions. With the rapid advancement of technology and the growing demands of the education industry, investing in custom education software development has become a crucial strategy for institutions looking to stay ahead of the curve. This article will explore seven compelling reasons educational institutions should invest in custom education software development. From improving student engagement to streamlining administrative tasks, custom education software development has the potential to revolutionize the way educational institutions operate and deliver their services.
What is Custom Education Software?
Custom education software for online learning and e-learning initiatives is known as education software. Online education software is no different from other types of custom education software. In that, it is made to meet the unique requirements of educational institutions. It allows teachers to provide a variety of courses and educational materials in a virtual setting. Also provides students access to top-notch education from any location in the globe. Virtual classrooms, video conferencing capabilities, course management systems, interactive learning tools, and other features are frequent features in online education software. With the help of these characteristics, teachers may design informational materials that students will find interesting and valuable. 
These materials come in various ways, such as live lectures, recorded videos, interactive quizzes, and online conversations. The adaptability of online education software is one of its main benefits. It allows teachers to provide individualized education and assistance while allowing students to learn quickly and on their own time. Online education software may also enhance conventional classroom instruction, giving students more resources and learning possibilities. 
Why Invest in Custom e-Learning Software?
Organizations looking to enhance their training and development initiatives may greatly benefit from investing in bespoke e-learning software development services. Employee training may be made more individualized and efficient with the help of custom e-learning software, which can be adapted to an enterprise's unique requirements.
Custom e-learning software's versatility is one of its key benefits. Off-the-shelf e-learning systems may only partially meet a business's specific training requirements and corporate culture. Organizations may construct training programs that are more dynamic, engaging, and personalized to their unique business objectives.
Moreover, customized e-learning software enables businesses to manage the educational process and guarantee that the information is current and applicable to their profession or industry. Moreover, customized e-learning software may be connected with current HR or LMS platforms. It makes it more straightforward for staff members to access training resources and monitor their development. Also, tailored e-learning software may save businesses money and effort over time. Customized e-learning software enables employees to study at their own pace and on their schedules instead of depending on pricey in-person training sessions. This can be very advantageous for teams spread out geographically or remotely. 
Features of Online Education Software
As more people and organizations want to profit from online learning, the creation of online educational apps has grown in popularity in recent years. It's crucial to incorporate elements to make studying entertaining and successful for students in online education app development.
The user interface of online education software is simple. With simple menus and controls, the app should be simple to use. This will prevent pupils from becoming sidetracked by technological issues and allow them to concentrate on the learning content.
The capacity to access material from any device is a further significant element. This indicates that the program must work on desktop computers, tablets, and smartphones. This makes it simpler for students to fit learning into their hectic schedules and enables them to learn on the go.
Interactive elements that promote participation and teamwork should also be into online education software. For instance, the app may have interactive discussion boards, virtual classrooms, or live chat tools that let students talk to their teachers and other students. 
Gamification is another helpful element that may be added to the software for online education. The software can assist in motivating students and enhancing learning by including game-like components like points, badges, and leaderboards.
To track student development and evaluate the efficiency of an app, online education software should include robust analytics and reporting systems. This can assist teachers in identifying areas for development and modifying their pedagogical approaches as necessary. 
Develop an Education Software Development 
Creating bespoke education software has several advantages for organizations and educational institutions aiming to enhance their training initiatives. A bespoke education program may be made to fit the goals and specifications of a company, providing students and staff with a more effective and personalized learning environment. Working with a reputable and knowledgeable bespoke education software development business is essential for creating custom educational software.
Such businesses may guide the whole development process since they specialize in developing custom software solutions for their customers. A quality-oriented custom education software development company will begin by carefully examining the needs and specifications for training inside an organization. To provide a successful learning experience, they will work closely with the customer to determine crucial features and functions. The program will then be designed and developed, focusing on user-friendliness, intuitiveness, and compatibility with the client's brand and image.
Final Note 
Investing in bespoke education software development has become a critical approach these days. Educational institutions and businesses may provide employees and students with a more efficient learning environment by developing custom e-learning software. Ezulix Software's eLearning development services may be the answer you need if you're seeking a trustworthy and knowledgeable partner to assist you with creating custom e-learning software. We can work with you to design specialized educational software that satisfies your particular requirements. Make the first step towards transforming the way you provide training and education by contacting Ezulix Software.
1,375 total views, 1 views today