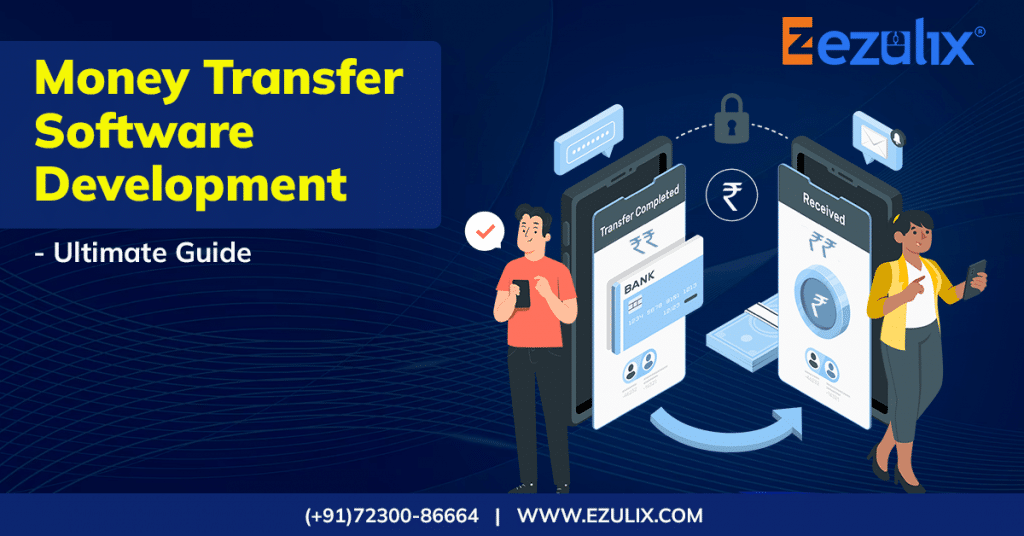 The capacity to rapidly, safely, and reliably transmit money between people and corporations is essential in the modern global economy. Money transfer software development is the technology and infrastructure that make it possible to move money domestically from one account to another. The creation of money transfer software has completely changed the financial sector, making it possible to do operations that were before impractical in a smooth, virtually instantaneous manner. Users will benefit from the program's flexibility and simplicity by utilizing it on various platforms, such as computers, mobile devices, and web browsers.
The money transfer software market has become more competitive as the need for electronic payment systems keeps rising. Businesses must create safe, simple, and adaptable software to their consumer's demands to stay ahead of the curve. This comprehensive guide on developing money transfer software seeks to provide readers with a thorough grasp of the steps required in producing a successful money transfer software, including the essential elements, difficulties, and factors that companies should keep in mind.
What is Money Transfer Software?
Users may send and receive money electronically using money transfer software, a digital solution. Using several channels, including bank transfers, mobile wallets, and online payment gateways, it is a technological platform that enables people, companies, and organizations to move money from one place to another. Accessible from any device with an internet connection, the program is designed to be simple, dependable, and secure. Money Transfer Systems have become popular in recent years due to their practicality and effectiveness. Digital money transmission has become a faster and safer substitute for old techniques like wire transfers and cheque payments.
Software for money transfers can be used to pay bills, send money to loved ones, and complete online transactions. Businesses now use it to handle payroll, pay suppliers and vendors, and collect client payments. The money transfer system offers consumers complete transaction records and real-time reporting and allows money transfers. This makes keeping track of payments and handling money simpler. The program also has security measures to safeguard users' private data, including encryption and multi-factor authentication.
Money Transfer Software Development
Money transfer software development has become an essential part of the fintech industry. With the increasing need for digital money transfers, businesses are investing heavily in developing software to facilitate fast and secure transactions. Money transfer software development involves creating software that allows users to send and receive money through various payment channels. This software can be customized to meet the specific needs of a business, such as integrating with existing payment systems or incorporating additional security measures.
Creating a user-friendly interface, integrating several payment options, and adding security elements like encryption and fraud detection are all everyday development tasks. The software's developers must also ensure it conforms to legal regulations and can process a high volume of transactions without experiencing any downtime. Companies that provide money transfer services might greatly benefit from spending money on technical software development. They may set themselves apart from rivals and provide clients with special features thanks to their software. Also, businesses may have more control over their payment procedures, increasing transaction speed and accuracy.
How Can You Create a Money Transfer Software System?
Creating a universally functional money transfer software system involves careful design, development, and testing. But companies may develop a system that offers quick, safe, and practical money transfers for their clients if they take the appropriate approach. The technical system is generally developed with a vision that it could support all bank money transfer software.
The first stage in developing a software system for bank-to-bank money transfers is to decide which features and specifications are required. The many payment methods that will be offered, the supported currencies, and any legal compliance needs are all included in this. Following that, companies should pick a development team with expertise in building payment software solutions. Developers, designers, and testers who can collaborate to create and improve the program should be on the team.
Businesses should ensure that the software is integrated with all required payment systems and complies with applicable security requirements throughout development. In addition, the system must be simple to use and open to all users, regardless of their level of technical proficiency. When created, the program has to be rigorously tested to ensure it is error-free and functions as intended. This process includes scalability, security, and usability testing.
Features & Benefits of B2B Money Transfer Software?
B2B money transfer software is created to speed up business-to-company transactions. It gives businesses a safe and effective way to manage payments, move money, and balance their books. The following are some of the main characteristics and advantages of B2B money transfer software:
Multi-Currency Support: Businesses may send and receive payments in the currency of their choice thanks to B2B money transfer software's ability to handle transactions in several currencies.
Connectivity with Various Payment Methods: B2B money transfer software can link with several payment methods, including credit cards, ACH transfers, wire transfers, and e-wallets, making it simple for businesses to handle their payments.
Customized Payment Schedule: Companies using B2B money transfer software may create their payment schedules, which can include batch payments, scheduled payments, and recurring payments.
Automatic Invoice Generation: Businesses may handle their accounts payable and accounts receivable more efficiently by using B2B money transfer software that automatically produces transaction invoices.
User Management: Businesses may control user access and permissions with B2B money transfer software to ensure that only authorized workers can start and approve transactions.
B2B money transfer software has the following advantages:
More Efficiency: Automating payment procedures with B2B money transfer software saves time and effort compared to manually managing transactions.
Improved Security: To guard against unauthorized transactions and data breaches, B2B money transfer software uses robust security features, including data encryption and multi-factor authentication.
Better Cash Flow Management: B2B money transfer software helps companies track payments and invoices, improving their cash flow visibility and optimizing working capital.
Improved Decision Making: Firms can make wise financial decisions by providing businesses with real-time transaction data with B2B money transfer software.
Conclusion
So here we learned how money transfer software is helping us to make fast, and secure payments individually as well as for organizations. If you are planning to start your own money transfer business or looking to add on a money transfer service to your existing system, Ezulix money transfer software is best for you. By using Ezulix b2b admin portal, you can offer various fintech solutions like mobile recharge, AEPS service, utility bill payment, pan card service, travel booking service, and so on.
For more details visit our website or request a free live demo now.
2,081 total views, 1 views today