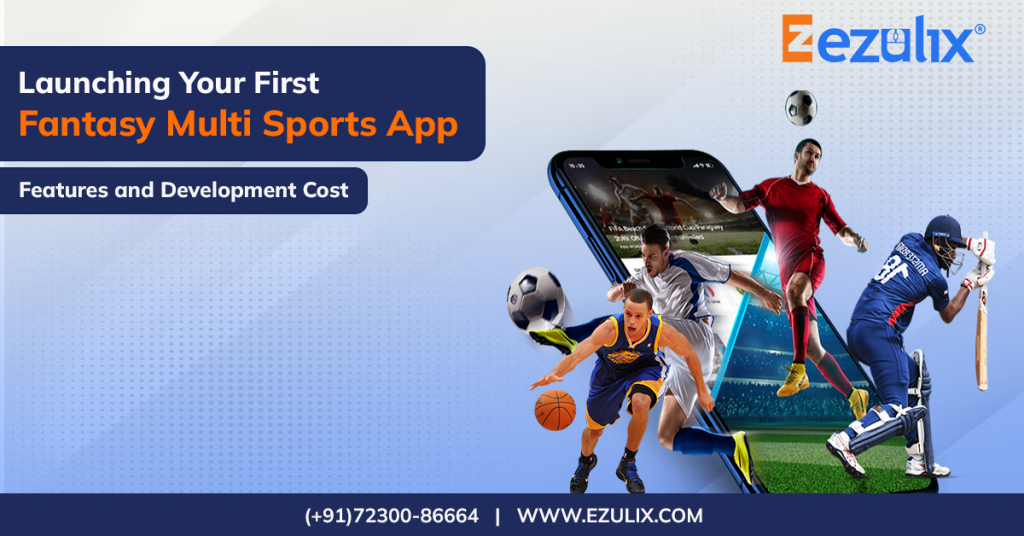 Introduction
That so many individuals are interested in fantasy multi sports app is not surprising. Although it's difficult to overlook such an engaging and participatory game, not everyone gets the opportunity to take part in it. Fortunately, mobile application development made it feasible for anybody to enjoy these games without a computer. Today, I'd want to discuss fantasy sports app development and what you need know before doing so. Although fantasy sports have been around for a while, their popularity didn't truly take off until the internet and smartphone boom of the twenty-first century.
Sports fantasy software, a form of online game that replicates real-life games using players from certain sports, allows players to build and manage their own virtual teams. Players in a virtual league are measured against other players or teams of players to determine how well they performed. By selecting players from various professional clubs, creating lineups, making trades, and controlling other parts of their teams, these applications are meant to assist gamers in winning their leagues or tournaments. Some well-known sports fantasy applications offer coverage of many sports, including hockey, baseball, basketball, and football.
Features in Multi Sports Gaming App
Sports have always been an integral part of human life, and with the advent of technology, it has become easier to access and play different sports. A multisports gaming app can be an excellent platform for sports enthusiasts to engage in various sports and games. In this blog, we will discuss some essential features that a multisports gaming app must-have.
User-friendly Interface: The app's user interface should be intuitive and easy to navigate, making it easy for users to access all the features without any difficulty.
Multiple Sports: The app should have multiple sports options, including popular sports such as football, basketball, cricket, tennis, and so on. It should also have less common sports such as table tennis, squash, and others, allowing users to try out different sports.
Live Streaming: The app should have a live streaming option, allowing users to watch live sports events and matches from across the world.
Leaderboards: The app should have a leaderboard feature, which allows users to see how they rank among other players. This can encourage healthy competition among users.
Social Media Integration: The app should have social media integration, which allows users to share their achievements and updates on social media platforms.
Personalization: The app should allow users to personalize their profile, including choosing their favorite sports, teams, and players.
Rewards and Prizes: The app should offer rewards and prizes for top performers, motivating users to participate more actively and improving their performance.
Gamification: The app should incorporate gamification elements, such as badges and levels, making it more engaging and enjoyable for users.
Notifications: The app should have a notification feature, which alerts users about upcoming matches, game results, and new features.
In-app Purchases: The app should have in-app purchases, allowing users to buy premium features and access exclusive content.
Cost to Develop a Fantasy Cricket Software
The complexity of the game, the features it includes, the platform selected, and the location of the development team are just a few of the variables that can dramatically affect the fantasy cricket app development cost. Nonetheless, based on industry statistics, we can offer a rough cost breakdown. The platform of choice will affect the price of app development. The costs of creating an app for iOS or Android will be different. As Swift or Objective-C are required for development, iOS apps are often more expensive to create than more widely available Android apps, which may be created using Java or Kotlin.
Depending on the complexity of the software, the price to design it for one platform might range from $10,000 to $50,000. The main screen, live scores, match history, match preview, player selection, and other screens are all included in fantasy cricket applications. The price of creating the app might be between $5,000 and $20,000. Backend development might cost anything between $10,000 and $50,000. The management of the data, authentication, security, and other aspects that enable the functioning of the app fall within the purview of the backend development.
Cost to Develop a Fantasy Sports Software for Different Games
As fantasy sports have become so widely popular, there has never been more need for fantasy sports software. Many variables, like the features incorporated, the complexity, and the size of the project, might affect the cost to design for various games. Football is one of the most played fantasy sports, and developing a fantasy football programme may cost anywhere from $10,000 to $50,000. If you wish to include sophisticated features like live streaming, real-time analytics, and in-app chat, the price can go up. Like fantasy football, establishing a fantasy basketball programme can cost anywhere from $10,000 to $50,000.
If you wish to include more sophisticated services like live stats, injury updates, and player news, the price can increase. A fantasy baseball programme may be developed for anywhere between $15,000 to $60,000, and if you want to include features like real-time data, in-app chat, and player news, the price may go up. A fantasy soccer software development project can cost anywhere between $15,000 and $60,000, and the price may go up if you want to include extras like real-time stats, injury updates, and player news.
Hiring a Best Gaming App Development Company
Hiring the best gaming app development company is crucial for creating a successful and engaging game. A top-notch development company will have a team of skilled and experienced gaming software developers, designers, and testers who can create a high-quality game that meets your requirements and resonates with your target audience. They should have a deep understanding of various gaming platforms, technologies, and tools to ensure the game is optimized for performance and scalability. In addition, the company should have a proven track record of delivering successful gaming apps and be willing to collaborate with you throughout the development process to ensure the game meets your vision and expectations. Lastly, they should be committed to providing ongoing support and maintenance to ensure the game remains up-to-date and bug-free after launch.
Ending Note
Choosing the right gaming app development company is critical to the success of your game. It is essential to consider factors such as the company's reputation, experience, portfolio, and pricing before deciding. With the right partner like Ezulix Software you can create a game that resonates with your target audience and generates substantial revenue. They help bring innovative and exciting games to life, providing users with unforgettable gaming experiences. As the gaming industry continues to evolve, we can expect to see more gaming developments emerge, pushing the boundaries of what's possible in mobile gaming.
2,139 total views, 1 views today