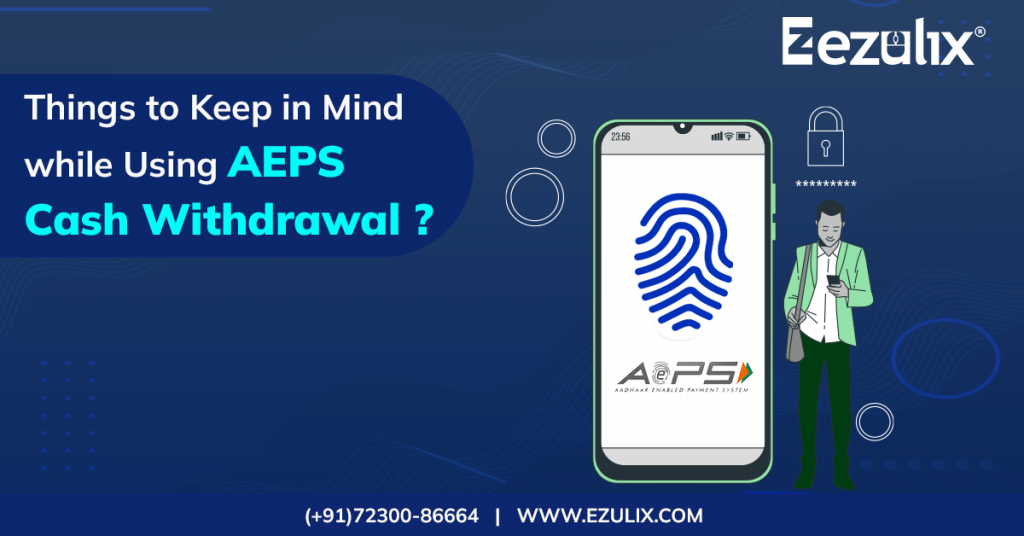 Aadhaar cardholders can make banking transactions via the AePS, or Aadhaar-enabled payment system. It is a project that empowers all strata of society by allowing people to undertake banking transactions using an Aadhaar card. The owner of an Aadhaar card needs present biometric data at PoS or micro-ATMs in order to complete the transaction. The bank account associated with the Aadhaar card will be used for the banking transactions like AePS cash withdrawals.
AePS will be covered in-depth in this blog, along with its advantages and practical use.
What is AePS?
The National Payments Corporation of India developed it. To use the AePS service to perform transactions on a micro-ATM, customers simply need to supply their biometric data and an Aadhaar number. AePS's specifics are as follows:
• The transaction is completed by providing the Aadhaar card number and biometric details at Points of Sale (PoS) or micro-ATMs via any bank's business correspondent using Aadhaar authentication
• AePS is a mechanism that enables an Aadhaar card holder to make transactions through an Aadhaar-linked bank account in a manner similar to debit/credit card transactions
• Fingerprint or iris scans may be used as the biometric data
• To complete the transaction, users are not required to enter their bank account information
• AePS transactions are secure since users must provide their biometrics in order to complete the transaction
• AePS allows users to move money from one bank account to another
What are the Benefits of AePS or Aadhaar Enabled Payment System?
All societal segments can benefit from AePS, or the Aadhaar-enabled payment system, in the following ways. The following are some benefits of using an Aadhaar-enabled payment system:
• It is simple to use
• It requires the submission of biometric data and the Aadhaar card number
• It empowers the socially disadvantaged
• Users are not required to provide their bank details to complete the transaction
• It allows users to easily access their bank accounts using Aadhaar authentication
• AePS is completely safe as one needs to submit biometric data and Aadhaar number
Features of AEPS
The mechanism enables an Aadhaar card holder to carry out standard banking transactions such as cash deposits, intrabank to interbank fund transfers, cash withdrawals, balance inquiries, and obtaining a mini bank statement via banking correspondence. The transaction amount will only be deducted from the Aadhaar-linked bank account.
How to Withdraw Cash Using AEPS?
The National Payments Corporation of India (NPCI) has created AEPS to simplify banking services by utilizing the Aadhaar authentication procedure. Using AEPS, clients can access banking services including AEPS cash withdrawal, balance inquiries, and fund transfers using their Aadhaar number and biometric authentication. Here's how to make a cash withdrawal with AEPS:
1. Locate a local AEPS service provider such as a banking correspondent or business correspondent. To identify the closest location, utilize the "AEPS finder" function on the NPCI's website or mobile app.
2. Once you have identified the banking correspondent, go to their office and give them your Aadhaar number.
3. The banking representative will then utilize your Aadhaar information to verify your identification using biometric authentication equipment (like a fingerprint scanner).
4. You will be asked to input the withdrawal amount after successful authentication.
5. After that, the banking correspondent will start the AEPS system's cash withdrawal process, and you will receive the money from the banking correspondent's cash balance.
6. You will receive an SMS confirmation with the transaction details on your registered mobile number once the transaction is complete.
It is significant to remember that AEPS cash withdrawals are subject to a number of restrictions and fees, which can change based on the bank and the size of the transaction. Also, it's always advised to protect your Aadhar information and prevent sharing it with unauthorized people.
What is required to use the AEPS facility?
The following are the must-have requirements to use the AePS facility:
• An Aadhaar card should be linked to the bank account
• Aadhaar number
• Fingerprint biometric of the Aadhaar card holder
• Micro ATM
Objectives of AePS Service
The following are the goals of the AePS service:
• Clients can access their Aadhaar-linked bank accounts using the AePS system to carry out operations such cash deposits, withdrawals, intrabank or interbank fund transfers, balance queries, and obtaining a mini statement
• It makes it easier to distribute monies under several government programs, including NREGA, Social Security pensions, Old Age Pensions for Disabled People, and others
• It helps the Indian government and reserve bank achieve their objectives of promoting payment electrification and boosting financial inclusion
• Its objective is to build a strong basis for banking services based on Aadhaar
Conclusion
So here we discussed AEPS, its features, and benefits and how can you withdrawal using AEPS. If you are planning to start your own AEPS business and looking for the best AEPS service provider company, Ezulix software can be a good option.
For more details visit my website or request a free live demo.
1,154 total views, 1 views today