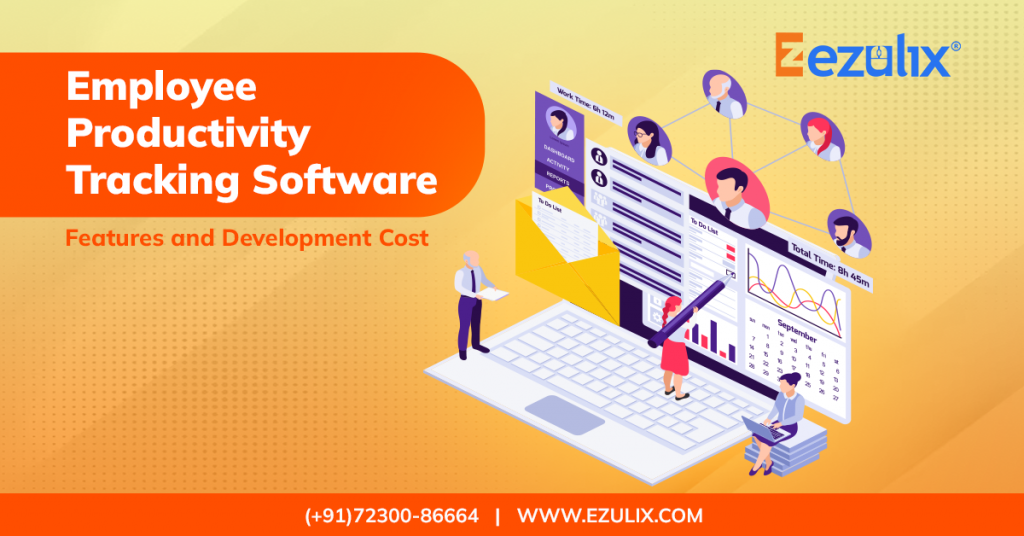 Introduction
Employee productivity tracking software is a tool that enables businesses to monitor and analyze the work of their employees. This software can help organizations to identify areas where their employees are performing well and areas where they need improvement. In this blog, we will discuss what employee productivity tracking software is, how it works, and the benefits it offers.
What is Employee Productivity Tracking Software?
Employee productivity tracking software is a type of software that helps organizations to track and monitor the work of their employees. This software enables businesses to measure employee productivity, identify areas where their employees need improvement, and track the progress of their employees over time.
How does it work?
The way employee productivity tracking software operates is by gathering information about employees' work. The time spent on tasks, the number of activities performed, the calibre of work, and other productivity-related indicators can all be included in this data. The programme then analyses this data to offer insights into the productivity of either a single employee or the entire workforce.
Benefits of Employee Productivity Tracking Software
With this function, companies may monitor how much time employees spend on various jobs and initiatives. Software used to track time may have features including timers, automatic tracking, human time entry, and thorough reporting. Companies can use this data to assess how much time is being spent by staff on various tasks and projects.
This tool keeps track of all computer usage by employees, including the websites and programmes they utilise. Software for activity monitoring may have functions like snapshots, keystroke logging, and mouse tracking. This data can be used to check if staff members are making acceptable use of corporate resources and to spot any security or compliance issues.
Employers can assign and monitor tasks to workers using this tool. Software for managing tasks may have features like task lists, reminders, and notifications. Employers can utilise this information to make sure that staff members are informed of their obligations and due dates.
This tool offers data about employee performance to firms, including productivity, accuracy, and completion rates. Software for measuring performance may have capabilities like benchmarking, goal-setting, and progress tracking. This data can be used to pinpoint areas where workers need to improve and track development over time.
This tool offers firms in-depth analyses and reports on worker performance, time management, and productivity. Custom dashboards, data visualisations, and real-time reporting are examples of features that may be present in reporting and analytics software. This data can be utilised to uncover trends and patterns in employee behaviour and to influence data-driven decisions.
With this capability, companies may link staff productivity tracking software to other resources including timekeeping, project management, and communication tools. By using this data, workflows may be streamlined and made sure that all employee work actions are monitored and analysed in a single spot.
Productivity Monitoring Software for Remote Work
Businesses with workers that work remotely must invest in productivity tracking tools. Businesses need solutions that enable them to track employee productivity and make sure that work is being completed effectively as more and more companies embrace remote work practises.
Businesses can check how much time employees spend on various tasks and projects thanks to productivity monitoring tools for remote workers. Time monitoring is an essential component for remote work since it enables companies to precisely gauge productivity. Businesses can identify areas where workers may be spending too much or too little time and alter their workload by analysing how much time employees spend on each task.
Employee Tracking Software Development Cost
The complexity of the software, the features it offers, the technology stack used, and the location of the development team are some of the variables that affect the development cost of an employee tracking system. The price of a basic personnel tracking programme might range from $10,000 to $50,000. Nevertheless, more sophisticated software can cost as much as $100,000 and include capabilities like real-time monitoring, analytics, and reporting. The location of the development team can also significantly affect the cost of development.
For example, it will cost more to hire a development team in the United States or Europe than it will to hire one in Asia or South America. It's crucial to remember that the development costs for an employee monitoring system are only one component of the overall cost of ownership. The price of continuous support, maintenance, and updates should also be taken into account. In the end, it's advisable to speak with a software development firm to obtain a more precise quote depending on your unique requirements and spending limit.
Conclusion
Employee productivity tracking software is a valuable tool that can help businesses to improve the performance of their employees, increase accountability, optimize workflows, make better decisions, and save money. When implemented correctly, this software can be a powerful tool for businesses looking to improve their bottom line. To know more visit www.ezulix.com.
1,549 total views, 1 views today