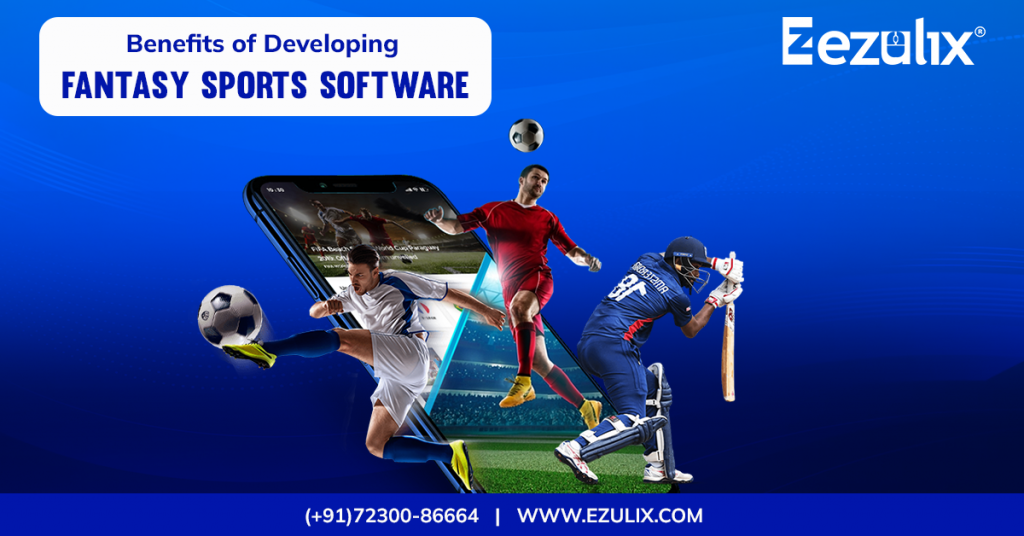 Introduction
Even while the global epidemic has adversely affected the profitability of numerous other enterprises worldwide, the Fantasy Sports sector is unquestionably booming. Due to the sudden cancellation of significant sporting events and the shutdown of stadiums, sports enthusiasts have turned to websites to quench their need for top-notch sporting entertainment. That is the main reason why white-label fantasy sports software has become increasingly popular in recent years. Many businesses and entrepreneurs have started to develop fantasy sports software to enter the lucrative and rapidly growing fantasy sports market. Businesses may design and launch their own fantasy sports platform using this pre-built software solution without starting from scratch. The program is created, branded, and changed by a fantasy sports app development company to match its own identity and requirements.
What is Fantasy Sports Software?
Fantasy sports software is created by one business and sold to another. In this instance, the creator of the software is anonymous. The organization that bought the program also gains ownership of it. The product can then be represented by its brand name. Various features and activities, including team construction, player drafting, live scoring, and league management, are frequently included in the software.
It might also provide features like mobile optimization, social media integration, and real-time data streams. Aantasy sports software has several significant benefits, one of which is that it enables companies to enter the fantasy sports industry rapidly and affordably. Businesses may use off-the-shelf software and concentrate on branding, marketing, and user acquisition rather than spending time and resources constructing a platform from the ground up.
Why does a Business Need Sports Software Development?
Fantasy sports software development is becoming increasingly common these days and is highly preferred by business owners. The following list includes a few of the causes:
With the help of this service, businesses may improve their brand recognition. They can create and market a product under their own name. They may establish a name for themselves and make money.
White-label solutions alter the entire software development process. This saves both time and money for the investor. There won't be a lot of knowledge, labour hours, or personnel needed.
This software also helped large businesses. That gives them a range of options. The sports software assists company owners in increasing revenue and ROI.
Investors can save time and money by experimenting with cutting-edge services. Due to the pre-built testing services that white-label solutions offer, testing phase risks can be avoided.
Advantages of Fantasy Sports Software
Acquiring fantasy sports software from a fantasy sports application development company has several benefits. A few of them are mentioned below:
Swift Take-Off – Businesses may swiftly build their fantasy sports platform with white-label software. Businesses do not need to invest time and resources in software development because it has already been created. They might instead concentrate on promoting and branding their platform.
Cost Reduction – Creating custom fantasy sports software can take a lot of effort and money. Yet, by adopting an existing platform and adjusting it to fit their needs, businesses can save a substantial amount of time and money by using fantasy sports software.
Custom and Flexible Settings – Fantasy sports software is flexible and adaptable, enabling organizations to customize the programming to meet their demands. This implies that companies can create custom features not found on other fantasy sports sites and brand the program to meet their branding.
Scalability – Fantasy sports software is made scalable, enabling it to expand along with the company. The software can be altered to meet the growing need as the company gains more customers. This makes it possible for enterprises to launch small and gradually grow.
Revenue Generation – Platforms for fantasy sports make money in various ways, including subscription fees, sponsorships, and advertising. Businesses can tap into these revenue sources and generate revenues for their operations by creating a fantasy sports platform.
Fantasy Cricket App Development
Cricket is undoubtedly an unmatched zone by any other sport in the world. The last-ball sixes, spellbinding prayers, violent roars when the opposition's stumps are d obliterated, and unforgettable moments when the third umpire makes run-out decisions always create excitement. The fantasy cricket software includes all the components and updates necessary to set your game application apart from the competition. Fantastic fantasy cricket software development for software to get you playing:
A single app offers coverage for all well-known leagues.
Enjoyable gaming with the user interface
White-label products that are readily available for your gaming business
High-security fantasy cricket software with the opportunity to add additional security features.
Providers of cutting-edge fantasy software development services.
Fundamental Features of Fantasy Sports Software
Internationalization – One platform for all geographical locations. You may manage any currency and run your business in several time zones using fantasy sports software that supports internationalization.
Advanced UI with Cross-Platform Compatibility – White-label products are created through iterative cycles of enhancements that continue long after the product has been released. The aesthetically appealing user interface ensures high availability while enabling a smooth gaming experience on various devices, including desktop websites, mobile websites, and native mobile applications.
Leaderboard – With carefully constructed leaderboards, users may keep track of both their own scores and the scores of their opponents in a tournament.
Referral Bonuses – Offering enticing referral bonus points is a terrific way to maintain current customers and draw new ones to your platform.
Admin Dashboard – Admin dashboards with advanced features can help you work more quickly. Every customer interaction and touchpoint, such as signups, deposits, site traffic, and app usage, is represented by clear graphs and data points to help you analyze trends, develop insights, and monitor your company's key performance indicators (KPIs). They can be completely tailored to fit your business needs.
User Management – A robust solution will give platform administrators the tools to oversee various users and tournaments easily.
Multiple Payment Gateway – Excellent sports software will be equipped with numerous payment gateway systems to make it simpler for consumers to conduct transactions and withdraw money from the app.
Hire a Fantasy Sports App Developer
With millions of users engaging in daily fantasy cricket app development companies across various sports leagues. If you're looking to develop a fantasy sports app for your business or organization, you need to hire a skilled and experienced fantasy sports app developer. Considering the factors mentioned above, you can find the right developer for your needs and ensure that your fantasy sports app is developed to the highest standards. The software developer typically offers ongoing technical support and maintenance to ensure the platform runs smoothly and stays up to date with the latest trends and technologies.
Conclusion
Developing a fantasy sports software offers many benefits for businesses looking to enter the fantasy sports market. Among the ample developers, Ezulix Software is the most preferred fantasy sports app development company, which is a cost-effective and scalable solution that can be customized to suit your specific requirements. You can launch your platform quickly, get technical support, and make money from various sources with the proper software provider.
1,777 total views, 1 views today