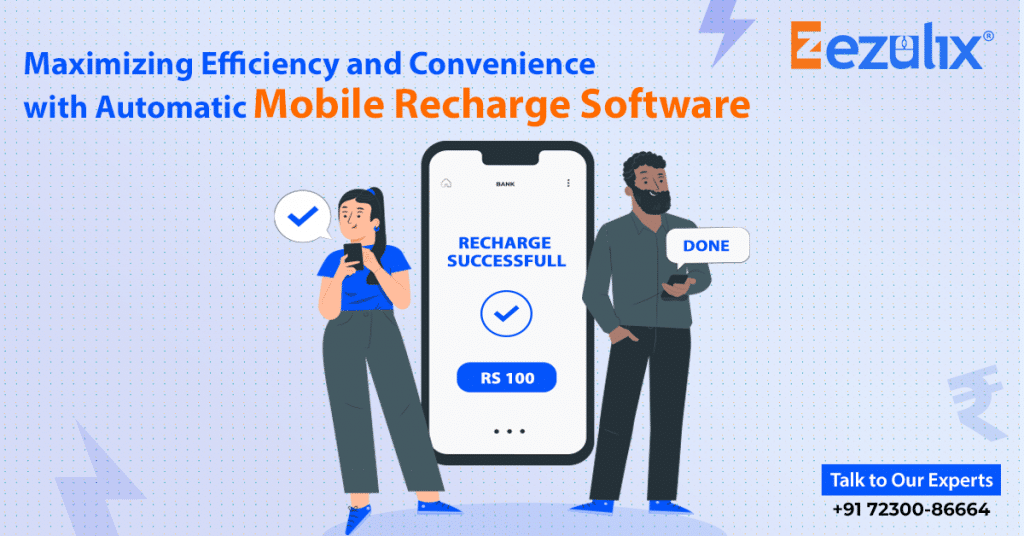 A firm that specializes in creating and offering mobile recharge software for organizations or private users is known as a multi-recharge software development company. Using a web portal or mobile app, the program often enables customers to simultaneously recharge several mobile phones, DTH, and data card accounts. The business could also provide software installation, instruction, and technical support. They might offer integration services, allowing their software to connect to additional platforms, including payment gateways, SMS gateways, customer relationship management systems, inventory management systems, and more.
Companies that supply multi-recharge software typically target admin, service providers, and resellers who want to give customers a quick and easy option to top off their mobile or DTH accounts. These businesses enable clients to recharge many devices and accounts at once using a single payment and frequently offer their services through websites, mobile apps, and physical stores. Several multi-recharge businesses additionally provide further services like ticket booking, AePS, and pan card services.
Benefits of Automatic Mobile Recharge Software
The recharge portal is built with the newest features in accordance with market expectations, making the recharge service more dependable, adaptable, and precise in terms of functionality and performance. Each recharge software is developed by a multi-recharge software firm and is completely supported by all search engines.
The vast array of APIs offers rapid and simple beginnings. Because of capabilities like the option to customize your processes and portal any way you want, achieving client goals is now much easier.
By giving you the tools you need to understand your clients better than ever, automatic Mobile Recharge Software encourages brand loyalty and raises customer engagement. The help desk option offered in the portal aids in understanding user needs.
The best automatic mobile recharge software provider with many online payment alternatives. They also work hard to provide customers with various online recharge payment options, which helps them provide smooth experiences so that customers may quickly reload many devices.
The lack of a minimum investment need makes this type of software appealing. Unlike traditional banking programs or web portals, wallets don't have any requirements for maintaining a minimum account balance.
Critical Features of Automatic Recharge Software
Transaction History Preserved
The transaction history is helpful to a user in a variety of situations. So, in order to effectively manage the system across the entire system, information on every transaction must be provided. If there is no transaction history in your app, it significantly impacts how well your mobile recharge app does. Thus, this feature must be built into any application that uses API. Security is crucial in a B2B recharge software to bind the clients for extended periods.
Responsive and Fast Processing
The system becomes responsive and effective when the API is coupled with the appropriate protocol. Software lagging with a quick user interface is now safe. But a business needs an admin panel for its mobile recharge site software that works properly and produces better results. The main aspect affecting how successful your business is will depend on the design of your software.
Round-the-Clock Tech Support
A 24×7 recharge capability is an essential element that increases the value of recharging API software. The user will be safeguarded if this feature is offered. Nonetheless, most web programs offer this convenience and are available in online mobile recharge software.
The provision of commissions, interests, cashback, bonuses, or scratch cards on any recharge is a requirement for recharge software. Also, it should provide enticing special offers and discounts following a mobile recharge. These benefits can be used for upcoming purchases or recharges. A site should include recharge commission software and offer numerous operators to work together in service users to draw visitors to it.
What is Mobile Software Admin Portal?
All-in-one Mobile Recharge Software Development companies in India offer a one-stop solution for recharge admin, master distributors, distributors, and retailers in order to offer their top clients greater support and flexible services:
They may easily sustain any user level with the aid of specialized mobile recharge software thanks to their extensive CRM component, which is essential.
With this program's help, the administrator can accurately evaluate the entire accounting cycle, rebill services, detect sales, track down prospects, increase revenue, and reduce administrative costs.
With this online mobile recharge software, you may build an unlimited number of retailers and distributors, which also supports all management levels, including the administrator, master distributor, distributor, agent, and retailer.
With a 99.99% success rate, our protected mobile recharge API allows quick and safe online recharge. You can create an unlimited number of subscribers using our cutting-edge mobile recharge portal, and you can provide them with all the following services:-
Prepaid mobile recharge
Postpaid mobile recharge
Landline mobile recharge
Data card recharge
DTH recharge
The need for mobile recharge software is wider now than before. Everyone wants to use different recharge software to recharge their mobile number. Using the suggested API, you may quickly restore several operators and handle the recharging easily. For companies looking to expand their mobile recharge company, Ezulix Software offers mobile recharge software development services. If you are also searching for an authentic and authorized company to entertain you with all such qualities, feel free to request a demo.
1,902 total views, 1 views today