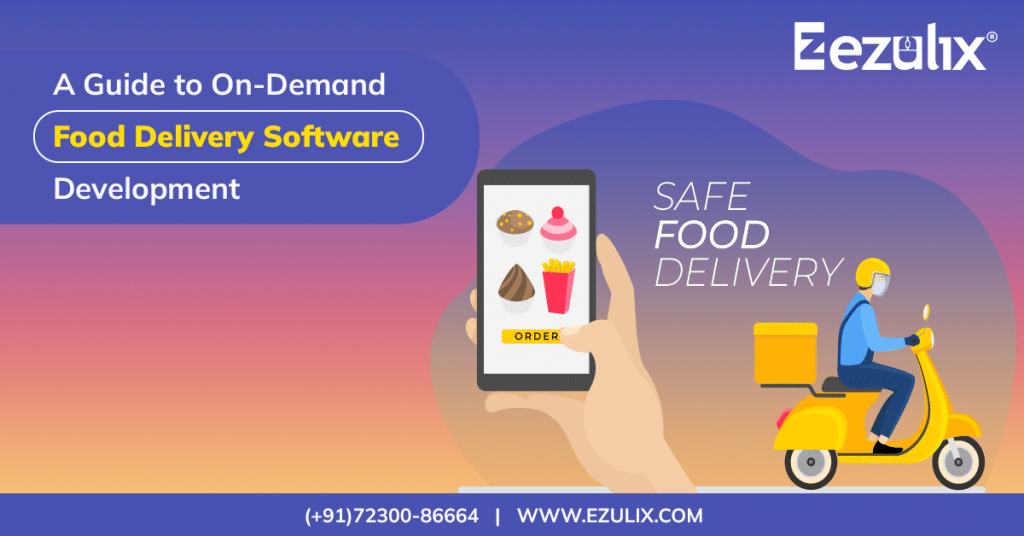 Introduction
Food delivery software play a significant role in the restaurant business. This is one of the explanations for why so many reputable restaurants have their apps, but it's true that some must be fully adapted at using them. Many individuals even prefer using an app to order meals by phone or going to a website since it's more convenient for them and takes less time for everyone else. Before making a choice, consider a few things to consider if you want to develop a meal delivery app. 
Boom in the Market of Food Delivery Software
The ease of use and transparency for app users and merchants are two main factors contributing to the explosion of food delivery applications. According to a National Restaurant Association poll, 71% of millennials and 60% of Americans are more inclined than ever to order delivery. And even when the epidemic is finished, individuals will continue to deliver. It is common knowledge that consumers like quick, simple, and affordable items. These are the leading causes of the explosion in meal delivery applications. Your food business might need to consider the development of mobile food delivery options.
Although users may think that all food delivery apps are the same, the best ones are designed to utilize certain tactics and run on various business models. They provide a wide range of services (personalization, user experience, order status, live tracking, etc.), in addition, to ease, that set them apart from the competition.
Future of Food Delivery Business in 2023
The food delivery business has experienced explosive growth in recent years and has become an integral part of our daily lives. With the COVID-19 pandemic forcing many restaurants to close their doors to dine-in customers, the demand for food delivery services has skyrocketed even further. The convenience and safety of ordering food online and delivering it directly to one's doorstep have become more appealing. So, what can we expect from the food delivery business in 2023 and beyond?
It's critical to remember that there are many competitors in the fiercely competitive food delivery industry, including restaurant chains that provide their delivery services and third-party delivery services like Uber Eats, DoorDash, Grubhub, and Postmates. As competition rises, we may anticipate a concentration on innovation, technology, and efficiency. The use of artificial intelligence and machine learning to improve delivery routes and cut down on delivery times is one trend expected to persist in 2023. Deliveries will be made more quickly, and customers will be happier. Also, we may anticipate a rise in the usage of delivery drones and driverless cars, which will enhance productivity and lower costs.
Features of Food Delivery Application
Recent years have seen a rise in food delivery applications, partly because of the Covid-19 outbreak, which pushed many eateries to switch to a takeaway and delivery-based food delivery management system. A revolution called a food delivery app enables users to order food from various restaurants and deliver it right to their door. Below-Mentioned are some of the essential characteristics that an application must have: 
Registration and Authentication of Users
Every app for food delivery must include user registration and authentication as its initial feature. The software must allow users to register an account and provide personal data such as name, address, and phone number. To maintain security, the app must additionally verify the user's identity.
The search and filter features are an additional crucial component of meal delivery software. Users should be able to do searches for certain foods or eateries and apply filters based on the kind of cuisine, region, or price range. Thanks to this functionality, users may spend less time searching for what they want.
Details about the restaurant's menu
An app for food delivery must provide the menu and details about the eatery. This data should include the name of the eatery, its address, operating hours, and menu specialties. The menu should include pricing and cuisine descriptions and be simple to explore.
Online ordering and payment are any meal delivery service's two most essential features. Customers should be able to add things to their online shopping carts, choose delivery or pickup, and then pay with a credit card or another payment mechanism. This functionality needs to be secure and simple to use.
A meal delivery app's next function is real-time order tracking. From when an order is placed until it is delivered, customers should be able to monitor it. The app should include updates on the order's status, the anticipated delivery window, and the position of the delivery driver.
Users should be able to rank and comment on the restaurants and meals they've ordered on a food delivery app. Users may share their experiences with others using this feature, which improves the app's overall quality.
To keep consumers, several meal delivery apps include loyalty programs. Discounts, free shipping, and other incentives may be part of these schemes for placing repeated orders. Customers are more likely to order more frequently and are more satisfied because of loyalty programs.
Customer assistance is the final aspect of a food delivery software. If customers have any problems with their orders or the app, they should be able to contact customer service. To guarantee that customers can swiftly fix difficulties, the app should include numerous support channels, such as phone, email, or live chat.
Cost to Develop a Food Delivery App in India
Depending on the aforementioned points, the cost to develop a food delivery application in India might range from INR 50,000 to INR 30 Lakhs. The cost of developing an app depends on the degree of customization, technological stack, app platform, features, and development team size. Creating a food delivery app is a wise investment for businesses that want to compete and flourish in this industry. The Indian food delivery market is expanding quickly.
The price is much lower in India, where the least expensive meal delivery app ranges from $20 to $50. The cost of developing a whole app with all the features might be as high as $17,000 to $25,000.
Conclusion
Food Delivery Software Development is now crucial for restaurants and food companies to remain competitive given the rising demand for food delivery services. For food delivery software to offer a smooth user experience and stand out from the competition, the characteristics described above are essential. We may anticipate further industry innovation as technology develops, including the possible use of delivery drones and autonomous autos as well as the application of AI and machine learning to enhance delivery routes. In the end, if you also want to increase your clientele base and hoping to succeed in the quickly expanding food delivery sector you may find Ezulix Software a perfect platform for investing in a on demand food delivery software.
1,511 total views, 1 views today