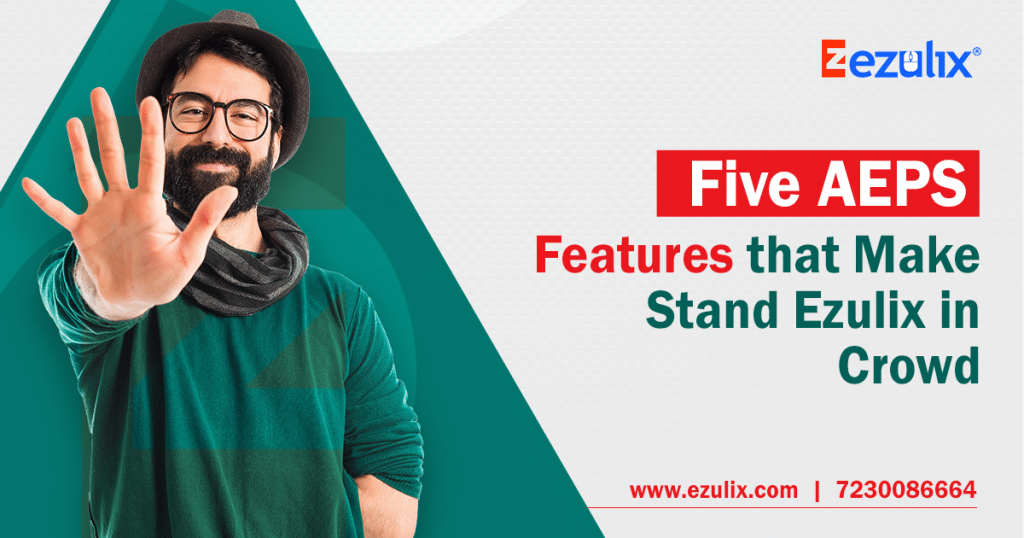 All You Need to Know  about AEPS
AEPS (Aadhar Enabled Payment System) is a new payment system, initialised by the Reserve Bank of India to build a cashless India. The main purpose of introducing AEPS in India is to provide easy and fast banking especially in rural areas, where banks and ATM are not easily available. This is the safest and reliable service approved by the National Payment Corporation of India (NPCI) and supported by the digital India project own by the Government of India.
You just need an Aadhar card linked with your bank account and you can perform bank transactions without visiting any bank or ATM machine. You can have access to cash withdrawal, cash deposit, money transfer, balance enquiry, and mini statement of your bank account. Visit your nearest AEPS service provider and provide your 12 digit Aadhar Number and fingerprint authentication, it's that easy!
WHY CHOOSE EZULIX?
Ezulix Software is the leading company of India, providing best AEPS services over the years. We use cutting-edge technology to develop advanced AEPS software which is fully customized according to the market needs. We already have more than 350 active portals and above 1000000 active members in India and working hard for more. Ezulix help you to start your business with AEPS as an admin. You can have tremendous growth in your business by adding more members all over India. We develop fastest, safest, and most secured AEPS API to avoid financial fraud. We are proven to be the best AEPS service provider company in India. Starting your AEPS business with Ezulix Software is as easy as you think. Just go through these steps below –
Register Your Company Name with us
Get your GST Number
Company PIN Number
Get your Domain Name Registered
Web- Hosting Service
After following the above-mentioned steps, our executive will contact you and provide you the manual training process to make sure you will understand the complete portal and the business. We will also provide you B2B portal with Integrated AEPS Service.
As an Admin, you will earn commission by creating unlimited AEPS service providers all over India. You can add various AEPS service provider distributors and they will add retailers to earn more commission and to reach out to more people who need AEPS service in their areas.
Services Provided By Ezulix in AEPS
We provide various services in AEPS for more easy and fast services. There are some services we provide that make us stand out in a crowd. AEPS performs basic transactions such as cash deposit, cash withdrawal, balance enquiry, and generate a mini statement of your account. The process should be reliable and safe. We provide 24*7 securities to your money through e-KYC AND Video KYC of the AEPS service provider. We just don't provide AEPS services with a single bank,  always keep alternates for you.
Let's go through the services offered by Ezulix in AEPS-
Our unique Xpress Payout System
We provide 24*7 Real-Time Settlement Service through Xpress Payout, a simplest, most convenient and affordable way to transfer your money from AEPS Wallet to your Bank Account from anywhere. When a customer withdraws money from the bank account, that amount is collected in AEPS wallet along with the commission. Whenever a retailer needs cash he can transfer the money from AEPS wallet to the bank account through Xpress Payout system. This is a simple and fast service and provides you the ability to put more money back in your pocket. This is a powerful tool to grow and scale your business.
Easy and Instant Cash Withdrawal
This is the major service provided through AEPS. All you need is to visit your nearest AEPS service provider, insert your 12 digit Aadhar number in the PoS Machine, select your bank, enter the bank account number and amount and get a fingerprint authentication done to withdraw cash. The retailer will give you the respective amount. Generally, a person can withdraw up to 10,000 Rs. at a time through AEPS service but we provide Aadhar Pay service which enables you to withdraw more than 10000 Rs. by charging a small amount i.e. surcharge.
Reliable Cash Deposit
This service enables you to deposit cash in your bank account without visiting a bank, through AEPS. Visit your nearest AEPS Service provider insert your 12 digit Aadhar number in the PoS Machine, select your bank, enter the bank account number and amount and get a fingerprint authentication done to deposit cash in your bank account. As an Admin you can earn a high commission on every transaction of cash deposit. We provide two ways of cash deposit through AEPS. The first way is Aadhar based cash deposit and another way is OTP based cash deposit which is faster having a high success ratio than the former one.
24*7 Security Availability
– It's our responsibility to keep your money safe and to send them safely to your bank account. Many people start working with a fake identity which leads to fraud and deceiving. Without knowing the real identity of any person we have nothing left to do after fraud.  The purpose of authentication is to enable Residents to prove their identity. The KYC details of a Resident like a Name, Address, Date of Birth, Gender, and photographs are provided by UIDAI in a secure manner to the end-user. To avoid fraud, we ensure to authenticate each and every agent, distributor, and retailer through e-KYC and Video KYC. KYC stands for Know Your Customer, which is the key area of starting your business genuinely.  We authenticate through all the legal documents of the respective person and the documents include Aadhaar Card, Pan Card, Voter ID, and Passport.
AEPS Through several Banks
What if your transaction doesn't get complete because of a problem in a bank server? Don't worry; we have two more banks with us. We provide APS service through three banks i.e. ICICI Bank, Yes Bank and Fino Bank. If the transaction is not getting completed because of any problem in bank server then we have other banks to complete your transaction instantly. You can perform transactions among these banks anytime. This is our unique and advanced feature that makes Ezulix the best AEPS Service provider company.
Conclusion
Ezulix is the best AEPS service provider company in India, serving many customers over the years. We provide unique services that help you to grow your business as an admin and as a customer; it helps you to access your bank transactions without going to the bank. We stood first in every service we provide. In the terms of security, ease, and reliability. What else you need!
For more details visit my website or apply for a free live demo.
3,422 total views, 1 views today