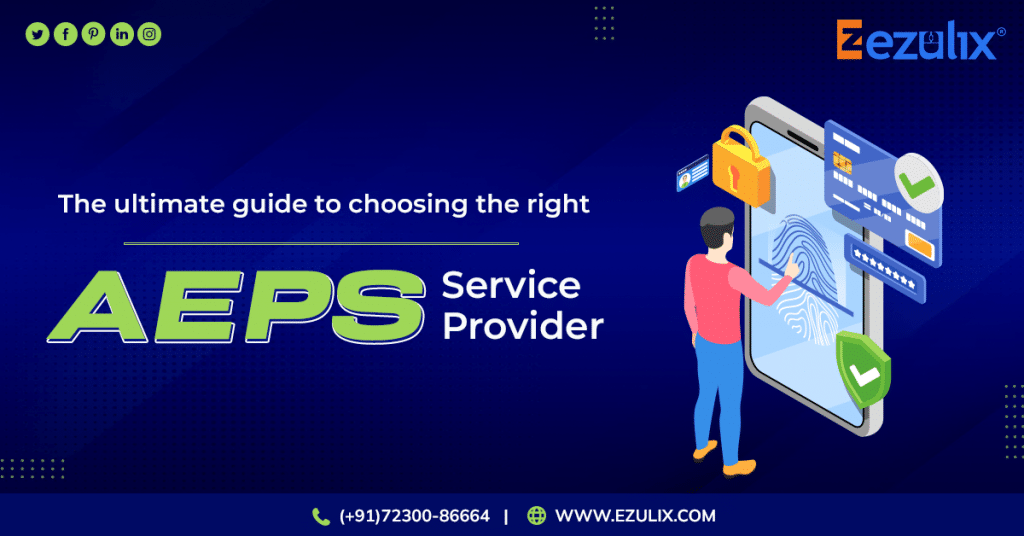 India's economic growth is comparatively high as compared to earlier past data reports. Almost every year, we are making success to succeed towards growth. Everybody is taking part in the growth procedure. Over the past decade, technology is making connectivity with almost every sector. The Banking sector is taking a change with initiatives like Pradhan Mantri Jan Dhan Yojna (PMJDY) bank accounts for development in rural sectors. Rural citizens have awakened options to develop their livelihood with advanced technical structures. Traditionally infrastructure creates a problem in developing rural areas. But now, AEPS service provider groups are making collaboration with traditional financial institutions to make them aware of banking in rural areas. Services like cash deposits, aeps cash withdrawals, bill payments, and loan payments can be made in rural areas and get benefits.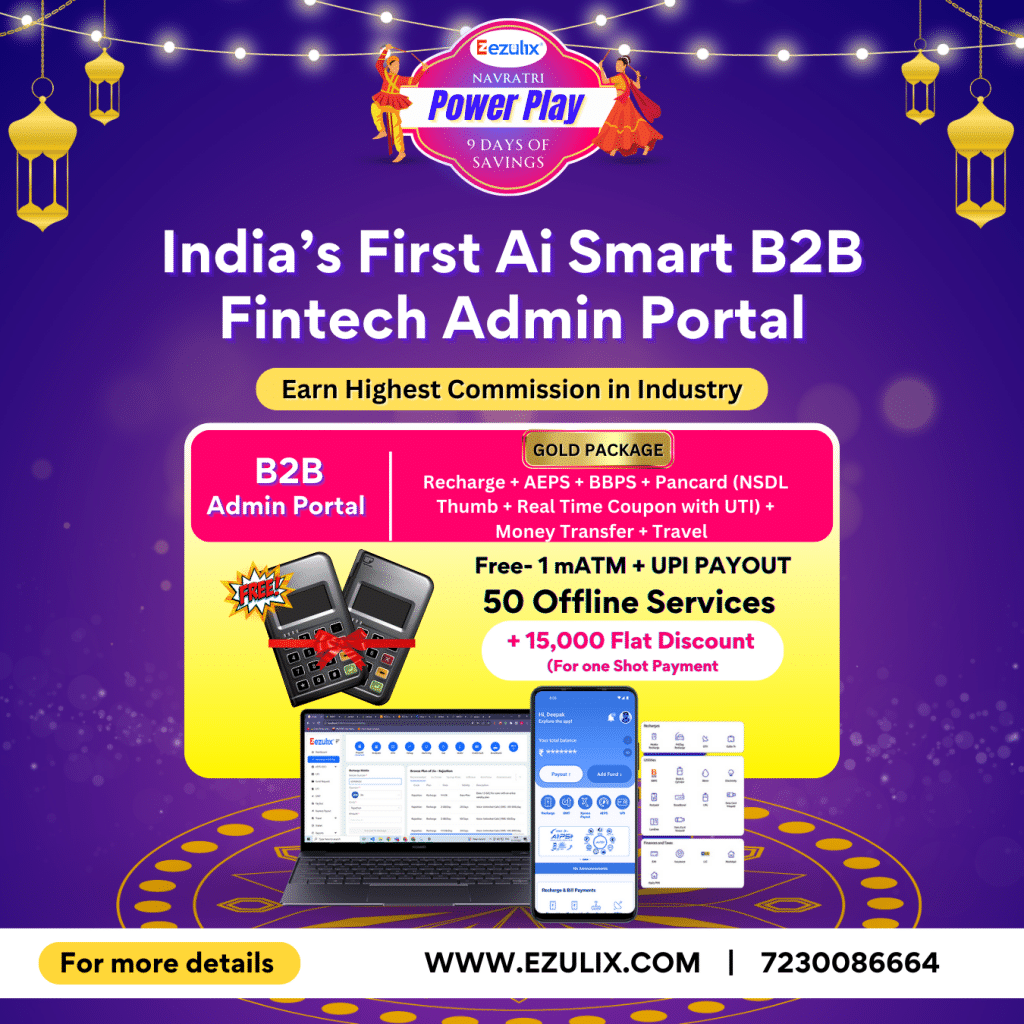 Explanation of AEPS (Aadhaar Enabled Payment System) and its significance in the financial industry
Banking agents are developing structures to manage the rural banking sectors, To monitor and provide secure connectivity of banks in rural areas. AEPS provides better and long-term connectivity for growth in the banking sector. AEPS service was introduced in India by the National payment corporation of India (NPCI). Now AEPS is assisted with banking outlets to provide rural citizens with an online interoperable financial transaction based on an Aadhaar Card. Banking agents operate with Micro-ATMs to perform secure transactions. The complete total network of banking agents acts between banks and customers to provide authentic services.
AEPS emerged as a transformative change in the financial industry, promoting digital payments, fostering financial inclusion, and empower to rural areas people in India. Here now we are connecting with some important changes in the financial industry with AEPS support:
AEPS Provides secure and convenient payment options which contributed to the vision of creating a cashless economy.
Entrepreneurs and small business owners can create employment opportunities and support the local economy.
It develops financial stability with an accessible platform that empowers individuals in rural and remote areas.
The Use of Micro-ATMs eliminates the need for brick-and-mortar branches and enables to expand the bank services without the infrastructure costs.
Importance of selecting the right AEPS service provider for seamless transactions and enhanced user experience
A reputable AEPS service provider ensures reliable and secure transactions, wide network coverage, seamless integration, technical support, efficient transaction processing, and compliance with regulatory requirements. Here are the key features which need to consider while taking an AEPS service provider :
A reliable and trustworthy environment includes encryption of data, protection against fraud, and unauthorized access.
A secure AEPS service provider offers a widespread network of Micro-ATMs to ensure their user can access AEPS service conveniently, even in remote areas.
It provides a user-friendly interface, intuitive navigation, and responsive design, ensuring secure transactions. Additional features are multi-language support, transaction history, and status.
A proficient AEPS service provider will be able to handle a high volume of transactions with fast processing time for user experience.
It offers a seamless integration option to integrate existing systems and infrastructure. They provide clear documentation, developer resources, and APIs to integrate AEPS functionality into your applications
What is AEPS: A brief overview of AEPS and its features
AEPS or Aadhaar Enabled Payment System provides innovative infrastructure for financial transactions using an Aadhaar card. Now banking services can be accessed in remote areas also. The rural and remote areas people get facilitate financial transactions with AEPS service provider banks using their Aadhaar card numbers. This revolutionary payment system managed to provide a secure and convenient method to make financial transactions using an Aadhaar number. It stamps out the need for physical documents, signatures, and PINs, for remote area people. AEPS transactions include cash withdrawals, cash deposits, fund transfers, bank inquiries, and Aadhaar-to-Aadhaar payments.
Features of AEPS
Financial Inclusion
AEPS provides a path between the unbanked and banking services to promote financial inclusion. Individuals without a bank account can perform basic transactions like cash deposits, withdrawal money, fund transfer, and balance inquiry.
Biometric Authentication
Biometric authentication usually takes fingerprints, or scanning of the iris which is captured using a scanner of a Micro ATM service. It's data is sent to UIDAI database authentication.
Interoperability
AEPS allows customers to transact across different banks seamlessly. It operates with a centralized platform and conducts transactions in a hassle-free manner.
Real-time Transactions
This feature enhances transparency and allows users to access up-to-date reports of financial activities. It offers real-time processing and enables immediate account balance and transaction history.
Factors to Consider When Choosing an AEPS Service Provider
Secure Measures
Encryption ensures to provide robust encryption techniques to protect user data during transmission. It stores sensitive information and makes it confidential and secure.
Biometric authentication ensures that only authorized users can access and perform financial transactions, reduce the risk of theft, and enhance security.
Two-Factor Authentication
Implement an additional layer of security for AEPS transactions. It requires two types of identification, scanning of the iris or fingerprint with a One-Time Password (OTP), to provide secure transactions.
Firewalls and Intrusion Detection Systems
The AEPS service system provides robust firewalls and intrusion detection systems to protect from unauthorized access and external attacks. It detects suspicious activities and prevents to access unauthorized access.
Integration Options
Fully featured AEPS software provide Seamless integration with different banks, payment gateways, and financial systems. It allows us to connect securely with multiple banks and financial institutions, providing a wide range of services. Users can access their account services, make payments, and withdraw cash through a single platform. This integration enhances accessibility and compatibility between different systems. Scalable platforms meet the demand of the user and perform transactions smoothly.
Transaction Speed and Reliability
AEPS provides prioritize optimizing transaction speed and reliability to meet the expectations of users and establish itself as a reliable financial service provider. AEPS service enhances convenience, saves time, builds secure systems, increases customer satisfaction, improves business efficiency, provides advantages, risk mitigation, and ensures compliance. The best AEPS portal provides quick and reliable transactions for a positive user experience.
Customer Support
Responsive Customer support impacts the provider's reputation and enables continuous improvement. Effective issue resolution demonstrates the provider's commitment to customer satisfaction and ability to overcome challenges. It ensures a smooth user experience and reduces frustration.
Key Features to Look for in an AEPS Service Portal
Aadhaar Authentication
Leveraging the strong Aadhaar biometric authentication system offers secure access to the AEPS platform. The system is authorized to connect with the UIDAI system for verification. It creates a system for secure transactions for rural area people who are not educated to perform all transaction processes. Features like fingerprint or iris scanning performs well structured secure authentic system.
User-Friendly Interface
The significance of an intuitive and user-friendly interface leads to generating satisfaction and promotes users' engagement with available services. Intuitive design, clear instruction, and logical flow drive efficient user experience on the AEPS platform. It will Increase adoption and engagement rates among agents and customers. A User-friendly interface allows them to navigate through the AEPS platform, able to explore features, and securely perform transactions.
Transaction Limitations
These limits are set by the AEPS service provider for maximum and minimum transactions conducted through the Aadhaar number payment system. Limits are set to prevent misuse or fraudulent activities. By understanding and adhering to the transaction limits, AEPS businesses can avoid penalties or legal issues. Transaction limits are set by the AEPS service provider to conduct transactions efficiently. If the limit is too low, it may restrict your transaction and if the limit is too high it may create unnecessary risk. For effective business financial management aligning the limits of the transaction is essential.
Additional Services
AEPS services expand the scope of the AEPS platform and provide extra value-added services to users. Users can recharge their mobile phones and pay their utility bills directly through AEPS services. These features streamline the payment process and provide solutions to many financial transactions. AEPS service providers enable us to make payments directly, eliminating the need for separate bill payment platforms. Users can initiate to transfer money by entering their Aadhaar Number. This value-added service enables transferring money with the AEPS platform and reduces the dependency on traditional banking services.
How to Choose the Right AEPS Service Provider
Choosing the right service provider can impact the success and effectiveness of your business operations. You need to choose the right AEPS service provider company to meet your business needs and provide secure and convenient service.
Research and Compare
Gather relevant information and evaluate your specific requirements. Complete your research into the services and relevant options offered by AEPS service providers.
Identify your needs
Research online
Go with demos and trial
Evaluate technical support
Seek recommendations and references.
Reviews and Testimonials
Tracking and recording the customer reviews, ratings, and testimonials of AEPS service provider companies provide valuable insights into the experience of actual users who are associated with providers. By reading feedback, you can understand the process and quality review of services. User share service quality, responsiveness, customer support, and overall customer satisfaction.
Integration and Compatibility
Choosing a service provider that integrates seamlessly with your existing system and infrastructure, to allow for smooth data exchange and streamlined operations. It reduces the risk of errors, saves time, and eliminates the need for manual processes.
Scalability and Future Growth
Selecting the right service provider can accommodate your business's future growth. It scales your business to handle the growing demand. The number of transactions and users will increase as the business grows. So, choosing the right service provider can scale up the business.
Conclusion
So here we discussed AEPS service and how you can start your own brand AEPS business by choosing the best AEPS service provider efficiently for your business.
By selecting Ezulix software as your AEPS service provider, you can benefit from their bank network, robust integration, real-time transaction processing, enhanced security, customer support, and competitive price. Ezulix commitment to delivering a reliable, secure, and user-friendly AEPS platform to meet the needs of your business. Ezulix is NPCI registered AEPS company providing services in PAN India.
I hope this information will help you to fulfill all your queries. Still, If you have any questions or doubts you can directly connect with our team. You can also apply for a free live demo of our fully featured and latest technology-based AEPS software system by visiting here.
FAQs
How Do I Get AEPS Service?
To start AEPS service as an admin, buy AEPS software from no 1 AEPS company and activate AEPS service by eKYC. After approving eKYC by the AEPS service provider company, you are allowed to use the AEPS service. Now you can provide AEPS service to your agents similar to AEPS registration of your AEPS agent.
Which Portal is Best for AEPS?
Ezulix AEPS portal is one of the best portals for AEPS business. So If you are planning to start an AEPS business, you can choose Ezulix as your AEPS service provider.
Top 10 AEPS Service Provider Company?
Ezulix Software (No 1 AEPS Company in India)
ICICI AEPS
Fino Payment AEPS
Paytm AEPS
Yes Bank AEPS
Spice Money
Pay nearby
Fritware
IGglobal
NamoPay
Which is the Best AEPS Company?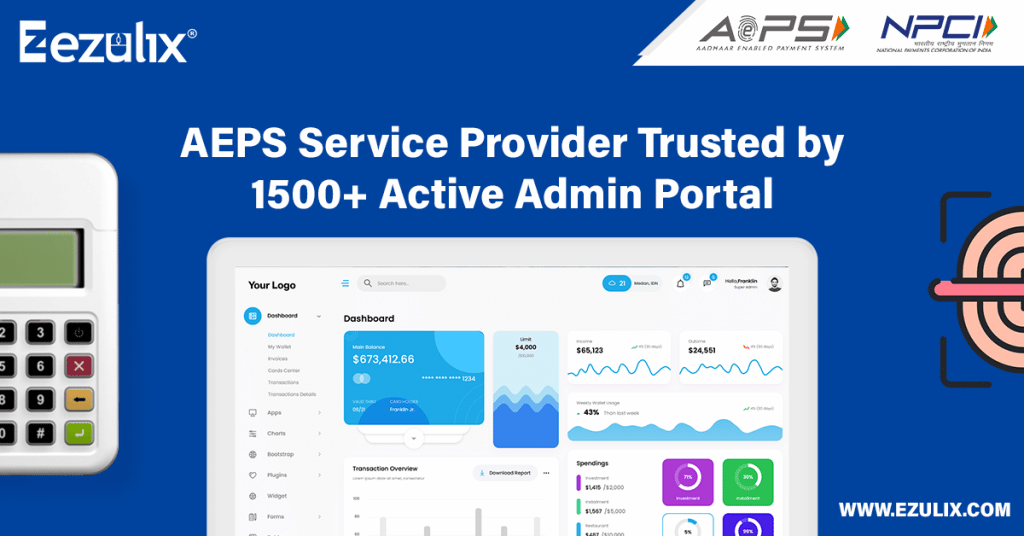 Ezulix software private limited is the best AEPS service provider company in India and offers a variety of banking services from multiple bank AEPS APIs.
Which is the Best AEPS App in India?
Ezulix AEPS app allows you to offer all basic banking services to your AEPS agents. They can further provide these banking services to their customers. We provide you AEPS portal with the AEPS app for business.
What is AEPS Retailer?
AEPS retailer is the last person who provides AEPS service to end customers. Retailers have also known as BC(Business Correspondent) or AEPS agents. Retailers can start AEPS service at the shop by taking the AEPS ID to the admin or distributor and can start providing AEPS services by AEPSt registration.
Who Can Do AEPS Transaction?
A bank customer whose primary bank account is linked with an Aadhaar card, can use AEPS service and perform AEPS transactions.
What is the AEPS Withdrawal Limit?
A bank customer can withdraw 10,000/- in a day by a maximum of up to 5 AEPS transactions.
47,942 total views, 35 views today