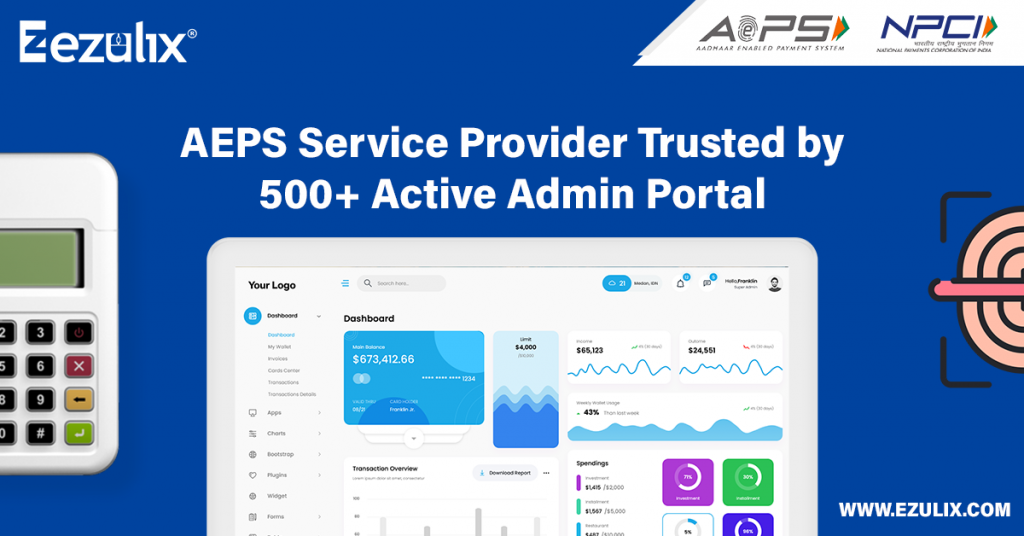 AEPS Service Provider – Advanced Features, Latest Services with Highest Commission
So If you are planning to start your own AEPS business and looking for an NPCI registered AEPS service provider company then this article is for you. 
Here I will explain you about an AEPS portal with advanced features, latest services and highest commission. You can run your mini banking business with this AEPS software and can earn highest commission on all AEPS services.
So without wasting time, I come to the point.
First we will go through Aadhaar enabled payment system.
What is AEPS?
Aadhaar Enabled Payment System (AEPS) is a new payment service offered by the National Payments Corporation of India.
This service was initialized to enable bank services using an Aadhar card. Unique Identification Authority of India (UIDAI) issues Aadhar card which is a unique identification number.
AEPS service can be availed at the nearest AEPS Mitra. They use devices with internet connections to provide AEPS services.
The main aim of introducing AEPS in India is to extend banking services in areas where bank branches & ATMs are not easily available.
This service empowers a bank customer to use Aadhar as his/her identity to perform basic bank transactions by using AEPS.
Only those customers can use AEPS service whose Aadhar Card is linked with his/her respective bank account.
AEPS is proven helpful in rural areas, where banks are located at far distances. There is no need to cover miles in order to reach banks.
AEPS works as a mini Bank for people. They can have access to all the basic bank transactions with the use of Aadhar card and biometric authentication.
Services provided through AEPS portal include Cash withdrawal, Cash deposit, Mini statement, Balance Enquiry, Aadhaar Pay, Micro ATM, & Payout etc.
How AEPS is Generating Employment in Rural Areas?
As we have already discussed, AEPS services are provided by various AEPS business correspondents and AEPS companies at retail shops, offices, or any other place.
All you need is a device connected with an active internet connection to provide AEPS service to the people. It means there is a lower investment in starting an AEPS company.
There is no technical knowledge required to use the AEPS software. It is generating employment as people are earning high income by providing AEPS banking services.
People in rural areas found AEPS very helpful as it provides ease of banking to them.
Almost 70% of India's population lives in Villages. There are large numbers of areas where bank branches are still not available.
AEPS is the best solution to provide them basic bank services while earning big profits.
We know that bank branches are not available in rural areas easily. If they will get all the services nearby, then there is no need for them to visit banks.
If an individual starts his/her own AEPS service, he/she will get a commission on every transaction performed through their AEPS.
This promotes employment as well as entrepreneurship in rural areas. Both, People and service providers will be benefited from AEPS.
Also, AEPS payment is an easy process. Any individual wishes to start his/her own AEPS business can get the AEPS portal and register themselves by linking their Aadhar card to their respective bank account.
After the successful authentication, they can start their AEPS service immediately.
You can cover your small office, retail shop into a mini bank with AEPS. People are successfully adopting AEPS in rural areas.
Best AEPS Service Provider Company in India
There are numerous AEPS service provider Companies in India. Every company has its own features that make it unique.
It's not about just providing the service, it's about providing quality service to your clients. Only a few companies can provide desired results to their customers and Ezulix is one of them.
Ezulix is the leading company in providing best AEPS portal in India. We are serving our customers with best software from several years.
We keep customer satisfaction as our priority, this is the reason we have gain a lot of trust and admiration from our customers.
Our team of professionals and experts helps clients in achieving desired goals in a given timeline. They developed an advanced and updated AEPS portal as per the customer's requirement.
The updated features of AEPS enables individuals to provide AEPS services to vast areas.
We allow our customers to earn higher commissions with the Ezulix AEPS portal. We have successfully delivered a lot of AEPS portals to customers and looking forward to more.
Service Offered by Ezulix Advanced AEPS Portal?
For all AEPS transactions, the AEPS BC uses his device and asks for the customer's Aadhar number. He/ She scan his customer's fingerprint using the biometric scanner attached to the same device.
A transaction will be successfully completed after successful Aadhar authentication.
For all transactions, a transaction receipt is printed against every successful transaction and handed over to the customer.
There are various services provided using the AEPS portal. Let's discuss these services in brief.
Cash Withdrawal
A customer can easily withdraw cash using AEPS. To perform AEPS cash withdrawal Just visit the nearest AEPS service agent and select the transaction type.
Select your bank and enter the amount. Scan your finger on the biometric scanner and the transaction will be successfully completed after authentication.
Cash Deposit
You can hand over your cash to your nearest AEPS agent and the cash will automatically get a deposit in your bank account. Select Cash deposit as a transaction type and enter the amount after selecting the bank.
Your cash will instantly get deposited after successful fingerprint authentication.
Mini Statement
You can have access to mini statement of your bank account with AEPS. Up to last 10 transactions can be checked that are done through your bank account. Select Mini statement as your transaction type and successfully get access to last transactions after verifying your identity.
Balance Enquiry
A customer can enquire about bank account balance through AEPS. There is no need to visit a bank or ATM just to know your bank account balance. After successful authentication of the Aadhar card and fingerprint, the customer's bank account balance will reflect on the device screen.
Xpress Payout
Xpress payout is a very useful feature for retailers, as it helps them to settle their funds anytime. Instant AEPS real-time settlement is possible anytime.
You can transfer money from AEPS wallet to your main account 24*7 without visiting bank or ATM.
AEPS Payout
Funds can be transferred from the AEPS wallet to the respective bank account only. This feature is available only during office hours.
This feature also provides AEPS real-time settlement for retailers or any other AEPS agents.
Micro ATM
Now you can offer MICRO ATM service to your customers in whom your customers can withdrawal money using the debit cards too. Along with micro ATM software, we facilitate you micro atm machine at low cost.
Aadhaar Pay
There is a specific limit to withdraw or deposit money. The limit is set at 10,000/-. To enable access to transactions more than 10,000, Aadhaar pay is very helpful. By using the Aadhaar pay service a customer can perform transactions of more than 10,000/- in a day.

Top AEPS Service Provider Banks in India
Almost all banks are providing seamless AEPS services. But what matters is speed and instant payment through banks.
Ezulix AEPS software offers you ICICI bank, Yes Bank and Paytm Bank. These banks are providing seamless AEPS service to their customers.
The biggest advantage of using these three banks is that if any of these banks go down, you can switch AEPS service to another bank.
This helps members to provide aeps service without any interruption.
This also enables AEPS service providers to create great service assistance in the market and building a successful brand.
How Agents Can Register for AEPS Service Activation?
Earlier, agents had to submit Manual KYC to activate AEPS service. This was a time-consuming and lengthy process. Agents need to wait for activation of AEPS service because only the admin can approve the request sent by the agent.
In new advanced AEPS portal, Ezulix has introduced the On-Boarding KYC process. It enables agents to start AEPS service by just onboarding their personal information like Name, Aadhaar card number, PAN Card number, and other basic information. Along with onboarding KYC, agent have to go through Offline KYC and at last eKYC for AEPS agent registration. This make our system safer and highly secured.  
This process is helpful in saving time and helps to enhance your brand visibility in the market.
Advanced Features of Ezulix AEPS Portal
Conclusion
As per the above discussion, we can conclude that choosing the right company to start your business is important.
We have made this task simple for you. Trust me Ezulix is the best AEPS service provider company in India.
Give us a chance to serve you and we bet you won't regret it.
Still, Advanced AEPS Features of Ezulix AEPS Portal have questions? Contact us today and Apply for a free live demo today.
35,246 total views, 4 views today