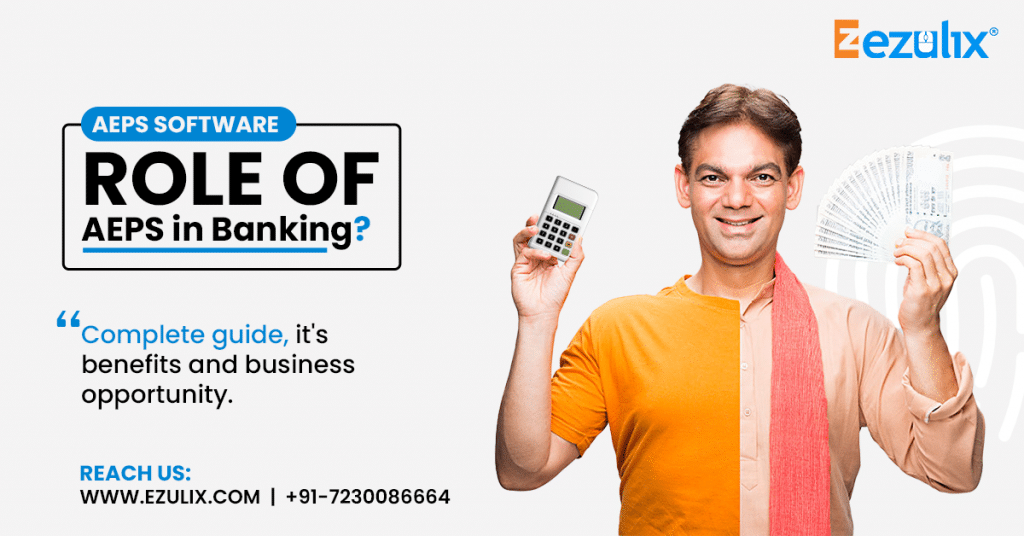 AEPS service is playing a vital role in banking today. It is widely known as Aadhaar based payment system. This is an advanced version of payment that uses the Aadhaar card number as bank account identity and fingerprint for your authentication or PIN. Before digging deeper into the nitty-gritty of AEPS, we need to understand its necessity of it.
There was a very big part of the population that unbanked or away to use banking facilities. Most of the rural areas were doesn't have any bank or ATM to use banking services. They were away to get the advantage of banking and government schemes. To eliminate this problem, the government found a solution as AEPS. AEPS is helping to bring all the unbanked sections of society together in the same banking framework.
Installing banks and ATM's was very difficult and also expensive for the government and banks to all those areas. AEPS solved all the problems as a minimum cost with the best potential.
How AEPS Helps You in Daily Life (Especially in Rural Areas)
Before some time, especially in rural areas where most of the people don't have smartphones were unable to use banking services. They had to visit cities to use banking services which were really panic. AEPS is helping people to use all banking facilities at their door. Now anyone can transfer money through AEPS, cash withdrawal, balance enquiry of account, and also can check mini statement by using Aadhaar card.
To use all the services, you just have to visit your nearby BC (business correspondent) or bank Mitra of any bank or company. You just have to provide your name, Aadhaar card number, bank name, and mobile number to perform any of the above services. AEPS has changed all banking systems due to its safe and comfortable framework. Now people who are unable to use cards or illiterate can use all banking services by using their Aadhaar card and fingerprint authentication.
Along with this, all the beneficiaries for government service get all the advantages directly into the account. Now they don't need to visit offices to get the facility. This is another benefit of AEPS which is changing all the systems in favour of Indian citizens.
What are the Key Benefits of Using AEPS Service?
First of all, it is very easy to use and fast transaction process
It is a fully secured transaction & controlled by NPCI
There is no need to use PIN or OTP
No paperwork required for the transaction
Authentication through finger-print that make it advanced
Use Aadhaar card as bank account Identity which is identical
Proof slip after completing the transaction
You can use all financial & non-financial transaction using AEPS
Easy reach of banking service for rural areas
Direct benefits of government schemes into the beneficiary account
Here we have gone through all the key benefits of AEPS service which you can get in 2020. Today AEPS service is trending in the market especially in lockdown it has doubled to 113 lack per day.
How AEPS Generate Business Opportunity for You?
Millions of people are using AEPS as the best business startup opportunity. So if you are planning to start your own business, you can start through AEPS. It can be the best business startup opportunity in 2020. So here we learn how AEPS helps you to start your own business.
To explore AEPS services all over India, the government and banks need BC (business correspondent) to provide service. You can start your own business as bank BC. To start the business through AEPS, you required AEPS software to become an authorized AEPS service provider. There are many AEPS portal provider companies in India that help you to start your own business at a small investment.
To start the business through AEPS, you don't require any specific qualifications. You can start the business through small manual training. If you are a small business owner, shopkeeper, college passes out, school pass out or with any other qualification, you can start with a small investment from home. For more details about AEPS business and AEPS software visit my blog or apply for a free live demo.
Withdrawal up to Maximum Limit of Bank Using Aadhaar Pay?
Now by using Aadhaar pay service, you can withdraw up to the maximum limit of your bank provides you. To withdraw money using Ezulix Aadhaar pay service, you need an Aadhaar card, mobile number, bank name, and account holder name. Earlier AEPS transaction limit was 10,000 in a day which is set by banks but now you can withdraw up to the maximum limit of your card.
Withdraw Money Through Debit Card Using Ezulix Micro ATM?
Along with the Aadhaar card, now merchants can provide cash withdrawal services through debit cards which are new add-on services in the Ezulix AEPS portal. This is a great service that facilitates advanced cashless transaction facilities to customers. By using Ezulix micro ATM, merchants can accept payments and bills and can earn a commission.
Conclusion
So here we learn the role of AEPS in banking 2020. In short, we can say this is a great cashless transaction service that is helping to create a cashless society in India. It is also helping people to generate business startup opportunities.
I hope this article will help you to understand the importance of AEPS in banking. If you seem it is informative, please share with your friends, family, and social media and if anyone wants to learn more about AEPS business, please apply for a free live demo. Here we will provide you all the details regarding AEPS business which you can start at low investment.
6,914 total views, 7 views today