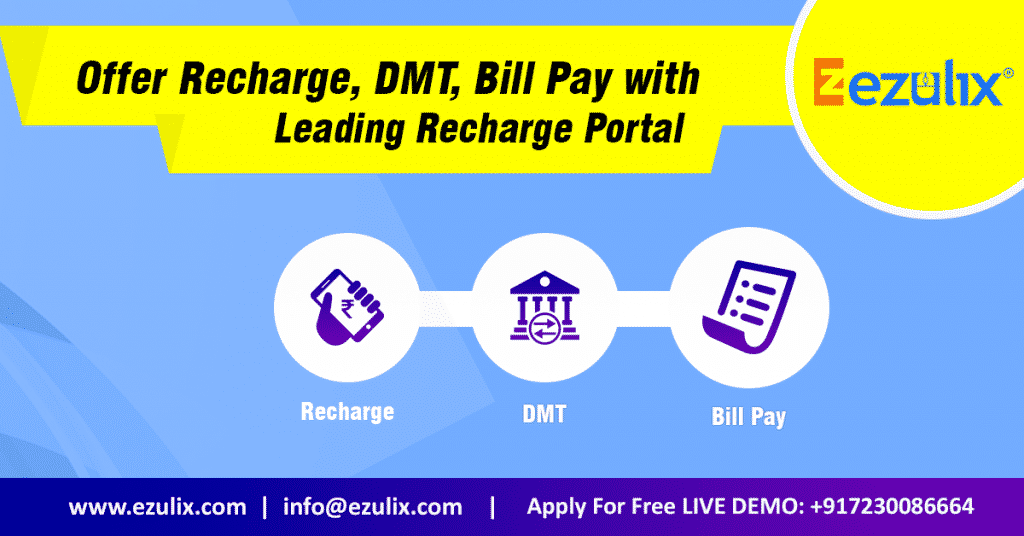 Offering quality service with customer satisfaction is a big task now a day while the market is full-on competition. If we do talk about b2b business in CSC industry, every company is trying to provide best service, best support to survive in the market. New clients, who are planning to start their own brand b2b business, are also want to start with best solution provider. At this time, it is very important for all the b2b service provider companies to offer best service & support to lead the market. Today here I will tell you about one of the best recharge portal provider companies to start your business.
Yes, if you are planning to start your own online multi recharge business and looking for the best recharge portal provider then this article is for you.
Ezulix software is one of the best recharge portal provider companies in India over the last few years. We have developed a new recharge portal based on the latest technology. This is advanced recharge software as the best recharge business solution. It helps you to fulfill all your recharge business needs at the lowest cost.
Top 10 USP's of Using Ezulix Recharge Portal
These are the top features of Ezulix recharge portal which help you to boost your business visibility & reach of your recharge business. Check out all the features which make it more favourable & reliable in the CSC industry.
It is Based on Latest Technology
Technology is growing day by day and It is necessary to be updated with it to lead the market. Ezulix advanced recharge portal is based on the latest technology. Our experienced professional team continues working on new technologies so that we can provide an updated recharge solution for your business.
Full Customized – Change Easily as You Want
Our new recharge portal is a fully customized software solution. As an admin, you can make your dashboard as per your choice just by drag and drop. You can check all required details at the dashboard just by setting which is not available in white label. Admin portal facilitates your control to set up everything like logo, personal details, feature etc.
Fast Speed with Easy Navigation
Today in this hurry word of technology everyone needs a fast process. Delay service always harms business. By keeping this in mind, we have used all the latest tools and coding language which make it fast and easily navigate which make it easy to find everything for customers.
User-Friendly & SEO-Friendly Recharge Portal
It is fully user-friendly which helps you to use it easily with zero technical background. This is the reason anyone can start a recharge business with Ezulix advanced recharge portal with small manual training. We have pay attention on the SEO-friendly portal which helps you to get rank easily on Google SERP. You can boost your brand visibility easily by using this SEO-friendly recharge portal.
How to Start CSC Point Effortlessly with Zero Technical Knowledge
Multi-Service Through Master Recharge API
By using the Ezulix recharge portal, you can provide multi recharge services of all the operators. By using this single software solution you can offer all operators recharge facility. Along with this, you can provide DTH recharge, data card recharge facility to your members and can earn the best commission with a single software solution.
Hi-Tech Security with Automate Backup
Payment and data security is a very sensitive point which matters a lot. By keeping this in mind, we have used a secure mobile recharge API integrated with our recharge portal. Along with this, we integrated a very secure payment gateway system in our portal to stop any fraudulent activity on our portal.
We have an automated backup facility to secure your data so that in case you lose your data, you can backup it.
You Can Create Unlimited Members
By using our latest recharge portal, as an Admin you can create unlimited members in your down line. There is no limit for members. Our portal is connected with a secure & huge database that allows admin to create and save unlimited members.
Admin can create a down line as a master distributor, distributor, and retailer. Admin has complete control on their down line.
Boost Customer Base Using Mobile App
We provide you free mobile app integrated with recharge portal. It helps you to increase your customer base by uploading app on Play Store. Most of the merchants don't have a laptop or system, in this case, they can provide online recharge service using Ezulix multi recharge app.
Virtual Wallet System- No Need to Stock for Each Mobile Operator
We provide you virtual wallet system in our new mobile recharge software which facilitates you to avoid separate stocks for each mobile operator like a LAPU recharge system.
Free Technical Support with Instant Complain Solution
This is the last but not the least. Support is very important in the service industry. To run a successful business in the service industry, you required a service provider that offers best support. We facilitate lifelong free technical support and instant complaint solutions so that you can provide the best service to your members. It helps to build faith in your brand in the market.
So these are some USP's of using Ezulix mobile recharge software which makes us first choice as a service provider for recharge business. This is the reason we have potential customers all over India. Today we have 350+ active portals and 10,00000+ active members who are helping us to grow as the biggest brand in the recharge industry.
Attract More Customer By Adding-on Multi Services in Recharge Portal
Now you can offer add-on domestic money transfer and online bill payment service using the recharge portal. By adding on multi API solution you can provide multi-services through our recharge software and can boost your customer base.
Our advanced recharge software has a facility to add on multi-software service. Through which you can add on multi API solution and can provide multi-services under a single roof. By offering more than one service, you can attract more customers and can maximize your profit.
By adding on domestic money transfer software and Bharat bill payment system in the recharge portal you can offer fund transfer and all online bill payment facilities to your members.
Conclusion
So If you are planning to start your own recharge business It can be a great opportunity. By using Ezulix advanced recharge portal, you can start your online multi recharge business at low investment. We provide you the best commission and support to explore your brand in the market. You can start your own brand business in just 48 hours and can start earning.
For more details visit my blog or directly contact our executives to apply for a free live demo.
14,319 total views, 9 views today