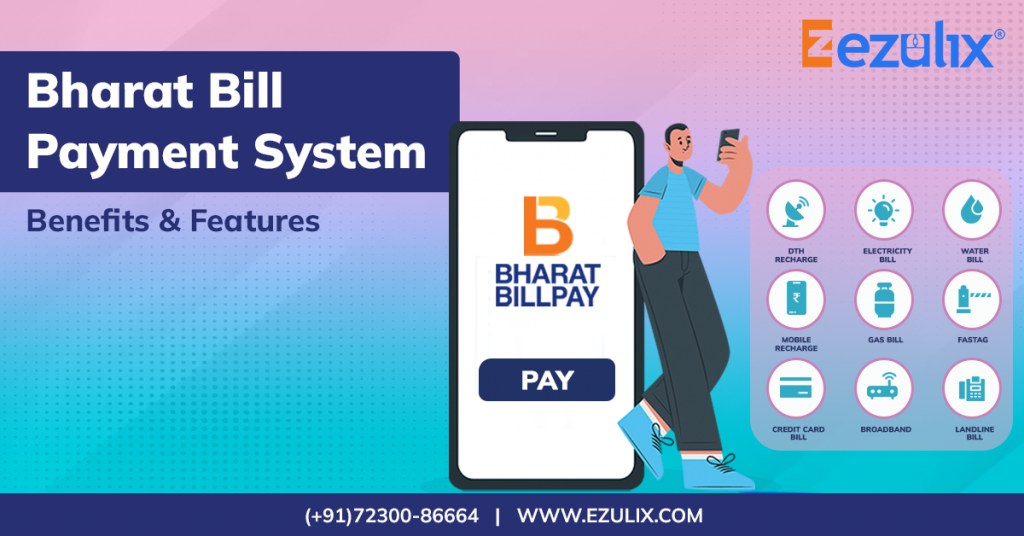 Everyone is seeking a quick and hassle-free way to pay bills in today's fast-paced world. The Bharat Bill Payment System (BBPS) is a ground-breaking technology that makes it easier for clients throughout India to pay their bills. BBPS, which was introduced in 2017, is an interoperable platform that enables users to pay several utility bills at once, including those for telecom, electricity, water, and gas. Customers may make payments quickly and securely using the BBPS system without having to visit several service providers or wait in line for a long time. The Bharat Bill Payment System's features and advantages will be discussed in this blog post, along with how it is altering the bill payment environment in India.
What is the Bharat Bill Payment System?
With the help of the ground-breaking Bharat Bill Payment System (BBPS), clients may now pay for a variety of utility services on a single platform. The National Payments Corporation of India (NPCI) launched the BBPS program, which aims to make bill payments rapid, simple, and secure. Customers may access the system nationwide in India as of 2017 when it was first introduced. Customers may pay their bills through BBPS for a number of services, including DTH, telecom, power, water, and gas. Clients have access to a variety of payment options, including online, mobile banking, ATM, and point of sale (POS). Customers may make payments using any bank account or digital wallet, regardless of the service provider, because the system is interoperable.
Highlighted Features of the Bharat Bill Payment System
The Bharat Bill Payment System (BBPS) is a centralized payment platform that enables people to pay a variety of bills, including telecom, electricity, water, and gas bills, as well as other utility bill payments, in a quick and safe way. The following are some of the BBPS's standout features:
One-Interface for Several Bills
All bills may be paid on one platform thanks to BBPS system, which offers this service. This makes it simpler for users to handle their invoices.
Numerous Payment Methods
To provide clients with more freedom, the BBPS offers a number of payment methods, including credit cards, debit cards, net banking, UPI, and mobile wallets.
Immediate Confirmation
Customers receive a receipt as evidence of payment from the BBPS, which offers quick confirmation of payments made.
Safe Transactions
To guarantee the security of transactions done on the platform, the BBPS employs cutting-edge security methods, such as encryption and authentication.
24/7 Billing Process
The BBPS is accessible 24 hours a day, seven days a week, allowing users to make payments whenever they choose, without being restricted by time.
Simple Billing Record
Customers have transparency and control over their money thanks to the BBPS, which enables them to trace their bill payments and examine their transaction history.
User-Friendly Layout
Easy navigation and a user-friendly interface make it simple for clients to make payments and manage their accounts using BBPS system.
Benefits of Bharat Bill Payment System
For Customers-
It has a quicker and more convenient payment procedure.
It can make use of any of the several payment methods offered by the Bharat Bill Payment System.
You may pay your expenses without worrying about your safety. Considering that it is a trustworthy, safe, and secure platform.
You receive immediate confirmation of bill payments and it offers transparency in bill paying.
For Agents-
Agents will receive quicker transaction settlements.
To make it simple for small billers to register, BBPS provides minimal entry barriers.
Agents will benefit from plug-and-play connectivity choices' versatility.
BBPS furthermore offers effective and streamlined interfaces to billers.
BBPOU/ADMIN:
BBPOUs have access to several billers through BBPS with just one integration.
Both ONLINE and OFFLINE transactions can be carried out via BBPOUs. It enables them to access a large client base.
The Bharat Bill Payment System also makes it possible to provide BBPOUs with value-added services. BBPOUs will be able to improve their internet visibility.
Guaranteed settlements are provided via the Bharat Bill Payment System. Moreover, settlements are completed on schedule.
Also, it includes an excellent BBPOU dispute-handling mechanism.
How to use Bharat bill payment system?
Follow these easy steps to use the Bharat Bill Payment System (BBPS):
BBPS is a payment platform that is used by approved service providers. Locate a BBPS service provider. A BBPS service provider can be located by visiting their website, mobile app, or authorized agents.
After choosing the service provider, choose the category of the bill you wish to pay. Electricity, water, petrol, telecom, insurance premiums, and other expenses may fall under these categories.
Input the bill information, including the biller's name, the bill's number, and the total. Usually, this information is included directly on the bill.
BBPS offers a variety of payment options, including credit/debit cards, net banking, UPI, mobile wallets, and more.
After entering your payment information, check your entry before continuing. Depending on the situation, provide your payment information, including the card number, CVV, or UPI PIN.
Upon the completion of the transaction, you will instantly receive a confirmation and a receipt. As evidence of your payment, save the receipt.
By accessing the website or mobile app of the service provider, you may look into the payment status and transaction history.
The Bharat Bill Payment System is a straightforward and practical method for paying bills. You may make payments quickly and securely by following these instructions without having to go to several locations or websites.
Which is the best Bharat bill payment system software?
Ezulix Software is a reputable software development company that specializes in creating advanced software solutions for fintech businesses of all sizes. One of their flagship products is the Bharat Bill Payment System [BBPS] software, designed to help admins grow their businesses seamlessly.  The Bharat Bills Payment System (BBPS) Software is easy to use, and secure, and comes with advanced features that make managing payments simple and efficient. With Ezulix's BBPS Software, admins can streamline their operations, reduce costs, and offer their clients and customers an exceptional experience.
For more details about fintech software service visit my website or request a free live demo.
1,802 total views, 1 views today