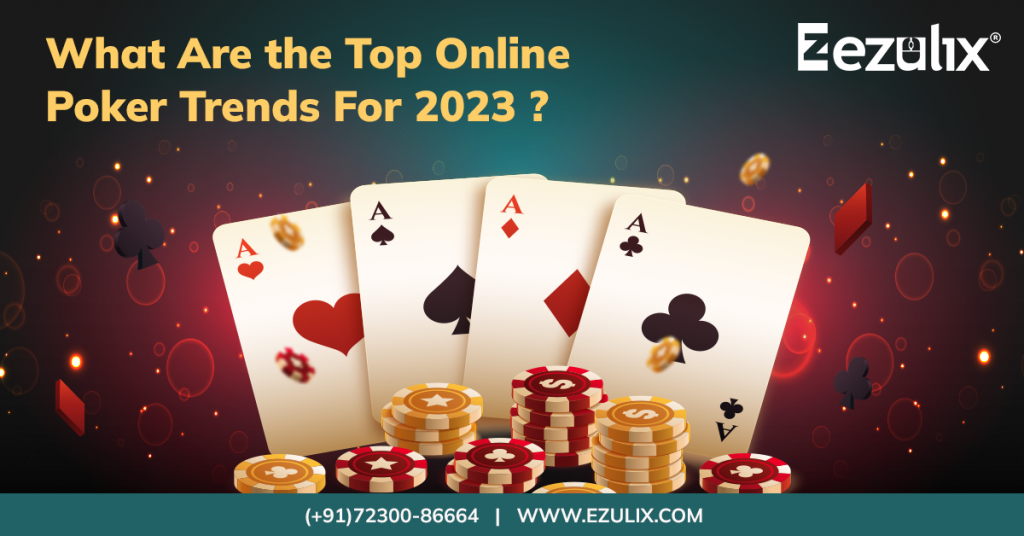 Introduction
Online poker has drawn the interest of gamers all around the world as one of the most well-liked casino game variations as the gaming business has advanced in poker game development. Poker comes in many forms. The ability to access such platforms has improved thanks to technological advancements and the popularity of online poker games. For all sports business owners and investors, the worldwide gambling sector has become profitable and attractive.
Online Poker Gaming Industry Stats
According to industry research, the market for video poker machines was worth $14.7 billion USD in 2020 and is expected to increase between 2021 and 2026. In 2020, the online poker market is expected to rise by a whopping 30%. The Indian online gaming market is projected to grow at a CAGR of 22%, from 4,380 billion rupees in 2018 to 11,880 billion rupees by 2023, according to a new analysis by KPMG. The online poker market is now showing a growth rate of 35–40% year over year, according to industry sources. This growth is driven by the increasing popularity of online poker games and the rise of mobile gaming. As the industry continues to evolve, poker gaming software development will remain a key driver of growth and innovation.
Online Poker Gaming Trends in 2023
The market for online poker is always changing. Poker is a widely acknowledged form of fun and wonderful entertainment in many places. The way consumers engage and place bets on gambling sites is changing as new trends in online gaming emerge. Here is a selection of the newest online poker trends that will be popular in 2023.
Virtual Reality in Online Poker
Virtual reality is the first technology that is completely reimagining the online casino software solutions sector. It is giving both gamers and viewers a gameplay experience that looks authentic and natural. To draw and keep a devoted community of both gamblers and punters, the majority of poker game development companies are refocusing their attention on VR-enabled solutions. The idea of VR gaming has really improved the gaming experience by making it more bright, realistic, and 3D. Overall, this broadens the options for developing poker software's audience and returns on investment.
Mobile Game for Poker in Demand
Companies like ours who specialise in building online poker software have expertise designing and creating cutting-edge poker gaming solutions that meet the demands and specifications of the customers. Poker is no exception to the increased demand for mobile gaming. With mobile poker, gamers may engage in gameplay, wager, and compete from any location at any time. In a word, the ease and flexibility that online mobile poker games provide to all players is the reason they are so well-known. They are also readily accessible on the iOS and Android operating systems.
Poker Live Dealer Games
Today's online poker gaming market is seeing a rise in popularity of live dealer poker games. Also, live or real-time outcomes, unparalleled visuals, and immersive features all contribute significantly to the popularity of live dealer poker games by heightening the excitement of the playing experience. With this style of online casino setting, gamers may play live online poker from the comfort of their homes against real dealers.
Increasing Online Rivalry
The main poker gaming businesses are contending with fierce rivalry as the online casino software development solutions of new entrants have a significant influence on the growth of the online poker gaming sector. For both current and future poker gaming enterprises, the market is beginning to seem attractive. Despite increased competition, the online poker industry continues to grow and has a significant influence because to improved ROI and market leadership.
Cryptocurrency's Emergence
The use of cryptocurrencies has made the world's gaming business significantly safer, more adaptable, and easier, which has solved half of the issue. Players that use digital currency may transact without connecting their debit or credit cards to the system because everything is done using cryptocurrency tokens. The development of crypto support has also increased transaction speed.
Appeal for Live Poker Streaming
A brand-new idea for a live streaming platform has emerged for the year 2020. Millions of individuals have been drawn in by this, one of the most well-liked online gaming trends. The potential of live-streaming websites like Youtube, Facebook, Twitch, and others has also been tapped into by the worldwide gambling industry.
Investing in Poker Game Development
If you're looking for an investment opportunity in the gaming industry, you might consider investing in poker game development. With the growing popularity of online poker and mobile gaming, poker software development companies are in high demand. A gaming software development company can create a range of products, including mobile apps, desktop software, and online platforms. These products can include features such as player analytics, real-time gameplay, and virtual currency.
As the popularity of online poker continues to grow, the demand for innovative and user-friendly poker software is only going to increase. When investing in a poker software development company, it's important to consider their track record, team expertise, and the potential for growth. Look for a company with a proven track record of success and a team that has experience in both gaming and software development. It's also important to evaluate the company's financials and projected growth potential.
Cost to Develop Live Poker Gaming App
Apps for playing live poker have become incredibly popular, especially recently in India. To construct their own live poker gaming app, many company owners and entrepreneurs are looking to invest in poker game development companies. The price of creating such an app, however, is among the most important things to take into account. The price of creating a live poker gambling app in India varies depending on the platform, features, development team, and marketing of the game.
A low-end software with simple functionality can run you anywhere from $25,000 to $50,000, while a high-end app with cutting-edge features can run you upwards of $100,000. It's crucial to speak with a competent poker game development business to obtain a precise estimate of the price of creating a live poker gaming app. Based on your unique requirements and demands, they can provide you a thorough pricing breakdown.
Conclusion
The industry for online poker is expanding unlike any other. You may already be aware of the online poker and gambling trends for 2023 that are reshaping the whole gaming sector. If the idea of the online poker market intrigues you, get in touch with Ezulix Software, a renowned poker gaming app development firm, for high-performance solutions.
Choose Ezulix to Obtain:
24/7 Technical Support
Advanced Technologies
Robust Development of Poker Games
Seasoned Development Team
1,573 total views, 1 views today