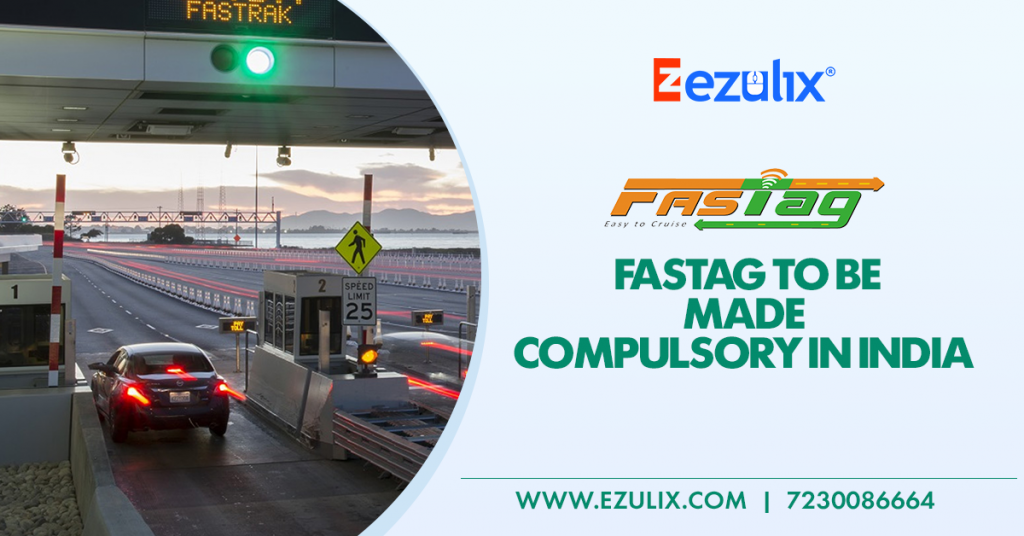 FASTag is now mandatory for all four-wheelers as announced by the Government of India. It reduces traffic at the toll plaza on the highway. This is a new way of making toll payments electronically. All the vehicles (except two-wheelers) traveling through toll plazas will have to pay toll charges using Fastag only. FASTag Recharge is as easy as a mobile phone recharge.
With the effect from January 01, 2021, it is mandatory for all four-wheelers that a FASTag should be affixed on their windscreen.
Firstly, we will discuss FASTag.
What is FASTag?
Fastag is a tag-based on Radio Frequency Identification (RFID) used to pay toll on the highway. This tag is linked to the bank account of a customer from which the toll amount is deducted.
It is a part of the National Payments Corporation of India (NPCI) initiative. FASTag is regulated by the National Highways Authority of India (NHAI).
Fastag is affixed on the windscreen of a four-wheeler. It enables you to drive through the toll plaza without stopping for paying cash on the highway. It creates an efficient and interoperable system on a national level covering all toll plazas.
When a vehicle reaches the toll plaza, the unique number on the tag pasted on the windscreen is read by the RFID reader. The applicable amount automatically gets deducted from the customer's bank account linked to it. An SMS is sent to the registered mobile number against the transaction done through Fastag.
A customer can recharge Fastag anytime up to the amount of Rs. 1,00,000. There are many ways available to recharge Fastag including BBPS, Credit or Debit card, and various payment gateways.
All Fastag users will always get a separate lane at toll plazas which will be only available for Fastag vehicles
It is simple to use a rechargeable tag that allows the customer to enjoy hassle-free tips. Additionally, there is no need to stop at a toll plaza to pay cash.
How to Get Fastag?
There are several banks providing Fastag in India. You can get Fastag easily and recharge it anytime. There are some documents you need to submit to get a FASTag.
Registration Certificate of your vehicle
A valid Driving License
Pan Card
Aadhaar Card
Passport size photo of the vehicle owner
The duly filled and signed Fastag application Form.
These are the documents you need to submit to get a FASTag in India. You can recharge your FASTag anytime with various payment modes.
You can apply for a Fastag through online or offline methods. On approval, the bank issues a tag for your vehicle. Just affix that tag on the windshield and add funds to that account.
You are ready to travel cashless across India's National Highways.
Benefits of FASTag
Fastag has many advantages over paying toll through cash. Firstly, it enables contactless toll collection. Secondly, it reduces traffic on highways. Moreover, it is a perfect solution for a hassle-free trip on national highways.
Let's discuss more benefits of Fastag.
Saves Fuel and Time
Stopping at the toll plaza for paying the toll through cash causes a traffic jam in addition to the wastage of time and fuel.
When the vehicle reaches the toll plaza, Fastag is read by the tag reader, and the amount is automatically deducted.
Therefore, it is helpful in saving both fuel and time by enabling instant toll payment.
Online Recharge
Undoubtedly, Fastag is a rechargeable tag that can be recharged through various modes. The best thing about Fastag is that you can recharge it online easily anytime and anywhere subsequently.
The easiest way of recharging toll online is BBPS. It offers instant and easy Fastag recharge for any bank in addition to all utility bills payment.
Contact-less payment
The customer doesn't need to worry about carrying cash for paying a toll. Fastag offers automatic amount deduction online through the bank.
It saves you from the hassle of waiting in queues and paying cash. The applicable amount of toll is automatically debited from your linked bank account.
Access Transaction History
Through Fastag you can keep a record of previously done transactions. Therefore, you can access history on BBPS, from where you recharge your Fastag every time.
Purchase Online
There is no need to go anywhere in order to purchase Fastag. Just search for the best Fastag provider bank. After that, apply online by submitting the required documents. You will get your tag in no time.
SMS Alert for Every Transaction
A customer will receive an SMS alert on every toll payment. It ensures that amount has been debited from his/her bank account.
Helps in Reducing Vehicular Traffic
Fastag is very helpful in reducing vehicular traffic as well as congestion on national highways.
Earlier, it was heavy traffic when people use to pay toll through cash. Every vehicle needs to stop and pay cash. As a result, a lot of time is wasted in addition to heavy traffic.
In other words, Fastag has reduced traffic along with saving time and fuel.
5 years Validity
Certainly, Fastag has 5 years of validity. There is no need to purchase Fastag again and again. You can use a single Fastag for 5 years continuously. Furthermore, you can recharge it multiple times whenever you need.
So, these are the benefits of Fastag. Moreover, Fastag is presently operational at more than 400 toll plazas across National and State highways. Undoubtedly, the government is planning to bring more toll plazas under the Fastag program in the future.
Best Fastag Recharge Portal in India
Clearly, there are many options for recharging Fastag online. But the best portal to recharge Fastag online and instantly is Ezulix Bharat Bill Payment System.
BBPS is an online bill payment system. It helps to pay your utility bills and recharge your Fastag online in no-time.
While using the BPPS portal you can not only recharge Fastag but you can also pay your day-to-day utility bills easily. Like electricity bills, water bills, insurance premiums, etc. In addition to this, any individual can provide BBPS services to the customers.
Why using Ezulix BBPS Portal?
There are a lot of benefits of using Ezulix BBPS Portal for Fastag Recharge. Not only customer gets benefits but service provider also enjoys numerous benefits of BBPS.
Instant Fastag recharge and bill payment.
Various payment modes available
Can generate more business
High commission on every successful transaction
Easily accessible by anyone
Frauds are easily detectable
99.7% success ratio
Payments are totally transparent
Instant confirmation of payment
Safe and secure payment
So, BBPS has a lot of benefits for both customers and service providers in India. The main aim of BBPS is online bill payment in addition to FASTag recharge.
Conclusion:
In conclusion, Ezulix is one of the leading companies in providing the BBPS portal in India. Furthermore, we have an updated and advanced BBPS portal. It offers easy and instant Fastag recharge and bill payment facility.
In short, to stop the wastage of fuel and time and enjoying cashless toll payment too, avail of the Fastag facility and say Goodbye to long queues and cash payment.
To start your own BBPS portal, you can contact us anytime and Apply for a FREE LIVE DEMO.
4,676 total views, 1 views today