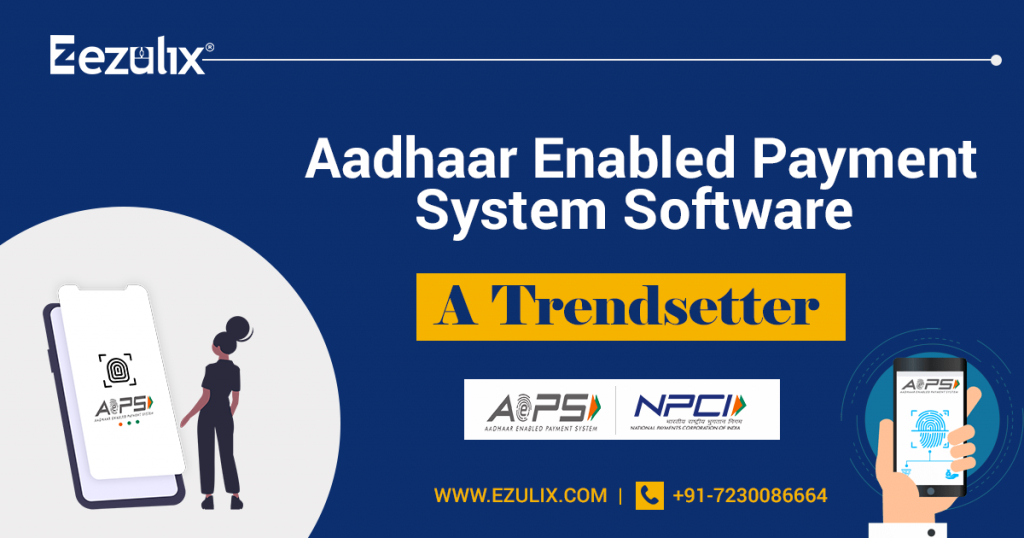 Aadhaar Enabled Payment System Software is an innovative way of payment method introduced by the Indian Government.
Is it possible to offer bank services at your own shop? Can your small shop be converted into a mini ATM?
Yes, of course!
It is certainly possible to offer banking services in your small shop. Moreover, it can be done through Aadhaar Enabled Payment System Software.
Ever heard about this software and its uses? If not, then this blog will be helpful for you. So, let us understand AEPS Software first.
What is Aadhaar Enabled Payment System Software?
Firstly, we will discuss the AEPS.
Aadhaar Enabled Payment System Software (AEPS) is a new payment system. This was initialized by the Reserve Bank of India. Moreover, the National Payment Corporation of India has approved this new payment system.
However, the main purpose of introducing AEPS is to build a cashless society in India. Meanwhile, it also aims at providing basic bank services in rural areas. There are low banking facilities available around rural areas. Therefore, AEPS works like a mini ATM for them.
AEPS Software allows Aadhaar linked bank account holders to avail of basic bank services. A customer needs to provide an Aadhaar number along with a fingerprint impression. A biometric machine is connected to AEPS software to take fingerprint impressions.
Any individual can start providing AEPS services through the software. He must have an Aadhaar card linked with the bank account. However, there is no technical knowledge needed to use AEPS software.
Not only this, he or she can add multiple members all around India. This will result in the tremendous growth of the business.
Certainly, Aadhaar Enabled System Software provides you a long term business. As it provides ease to people as well as a convenient way of banking.
Now the question is how to get AEPS software? Here is the answer.
How do you get AEPS Software?
Anybody can use AEPS Software. Moreover, there is no need for any educational degree. Furthermore, you must have an Aadhaar card linked with your bank account.
But the important point is from where you will get AEPS software. However, you can get AEPS software through India's leading software company, Ezulix.  Following steps are performed to get Aadhaar Enabled Payment Software:
Register your company name
Submit the required documents
Documents include:
Aadhaar card linked with your bank account
PAN card
Legal documents
Get your GST number
Get your PIN number
Domain name registration
Web-hosting Service
Subsequently, Ezulix's executive will contact you. They will provide you the manual training process also. Make sure you will understand the complete process of the portal. In addition, They will also provide you B2B portal with an integrated AEPS service.
Services provided through AEPS:
AEPS provides all basic banking services.  Subsequently, Aadhaar Enabled Payment System Software provides you the ability to deliver services to your customers.
These are the banking services provided through AEPS-
Cash Withdrawal– A customer can withdraw cash with just an Aadhaar card number in addition to fingerprint authentication.
Cash Deposit- Money deposited with the retailer and amount will be automatically transferred to the customer's bank account.
Mini Statement- Customer can fetch the mini statement and can see the last 10 transactions through his\her bank account.
Balance Enquiry– Enquire about the available balance in your bank account through AEPS.
Online Payment- Pay online at the retail shop that are providing AEPS services.
How to use Aadhaar Enabled Payment System Software?
It's easy to use AEPS software. As I have mentioned above, any individual can use this software. Moreover, there is no technical knowledge or experience needed. Here are the steps of using AEPS software as a customer and a service provider both.
As a Customer:
Visit any nearest AEPS service provider
Provide your Aadhaar card number
Scan your finger on the biometric fingerprint scanner
Select your bank name
Choose the transaction type
And your transaction will complete after you select the transaction type.
As a Service Provider:
An Aadhaar card linked with the bank account
A device with an active internet
Enter customer's Aadhaar card number
Get fingerprint authentication done
Provide cash in case of withdrawal or deposit the amount with you in case of deposit
Provide a receipt for every successful transaction
This is how you can use AEPS software as a customer as well as a service provider. However, there are rare chances of transaction failure through AEPS.
Features of AEPS Software
You might be wondering about the benefits of using AEPS software. I will tell you the benefits you will enjoy with the AEPS software.
For Service Provider-
Settle your funds online through Xpress Payout
High commission
Provides a 99.5% success ratio
Turn your small shop into a mini ATM
Increase your sales
Grow your business by adding distributor, master distributors, and retailers
For Customers-
No need to cover the long-distance for a bank or ATM
Safe and Secure Payment method
Easy to use
Interoperable across various banks
Encourage cashless society
No need to carry plastic cards and remember their PIN
Best Aadhaar Enabled Payment System Software provider in India
Let's get straight to the point. Among various software companies in India, Ezulix is the best AEPS software provider company in India.
Ezulix can successfully provide desired results to their customers. In addition, we are serving our clients for several years. However, customer satisfaction is our priority, this is the reason we have gain trust and admiration from them.
We allow our clients to earn a higher commission with Ezulix's AEPS software. Already, we have delivered many AEPS software and looking forward to more.
Our team of professionals and experts helps clients in achieving desired goals in a given timeline. So, they have developed an advanced and updated AEPS portal as per the customer's requirement.
Conclusion:
So, after this long discussion, we can conclude that Aadhaar Enabled Payment System Software is important. Ezulix provides genuine as well as convenient AEPS software.
Choosing the right company for AEPS software is important. Ezulix always keeps their customer on priority. That is why customers have blind trust in us.
If you are planning to start your own AEPS service, contact us today. You can also apply for a FREE LIVE DEMO.
3,402 total views, 3 views today