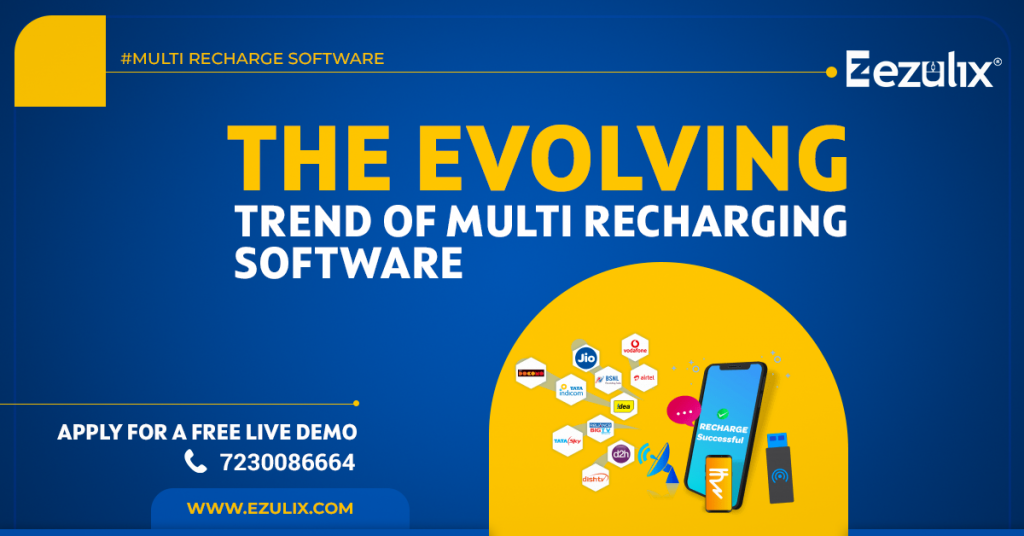 What is Multi Recharge Software?

Services offered in Multi Recharge Software?

Are there any benefits of Multi Recharge Software?

What are the benefits to customers?

Is there any benefit to a service provider?

Which is the best Multi Recharge Software Provider Company?

Why choose Ezulix for a Multi Recharge Software?
Multi Recharge Software business has become popular and certainly the new aspect of income for small businesses. It is an entire solution of business in the corporate world to manage mobile recharges in addition to DTH recharge, and Data card recharge.
Though multi recharge software allows an individual to operate all the above-mentioned services with a single wallet. It also allows recharge services from all the operators in India.
In this digital world, the use of mobile phones is increasing because of the low charges of internet recharges. People are so busy in their life that they want their job done easily without wasting time.
Undoubtedly, recharge software is the most demanded software. Moreover, it attracts customers directly to increase the traffic for boosting sales as well as enhancing the growth of the business.
Multi Recharge Softwareustomers directly to increase traffic. It helps in boosting sales as well as enhancing the growth of the business.
For instance, earlier people use to recharge with a coupon, which is a time-consuming and expensive way. But after the trend in the use of online recharge software. Any recharge can be done in a single click.
Therefore, you can reduce your extra expenses and operating costs with the use of Multi Recharge Software. You can start your own online Multi Recharge Business. It helps in connecting with the maximum customer. You can also create a business opportunity in a single click.
Services Offered by Multi Recharge Software
All in one Recharge Software not only provides mobile recharge service. But also offers DTH and Data Card recharge services. There is no need for visiting different departments. All the recharges can be done at a single nearby shop.
These are the services provided by Mobile Recharge Software:
Mobile Recharge: Easy and instant mobile recharge for all major operators in India. Including Reliance Jio, Vodafone Idea, Airtel, BSNL, MTNL, and Reliance Communications.
DTH Recharge: Enjoy a seamless DTH experience by recharging your DTH every month with single sim Recharge Software at your nearest shop. It works for all the major DTH service providers. Like Reliance Big TV, Dish TV, Sun Direct TV, Videocon, Hathway Digital TV, Tata Sky, Airtel Digital TV, etc.
Data Card Recharge: Get an uninterrupted internet connection and recharge your Data card with Recharge Software anytime.
In addition to these services, Multi Recharge Software provides a user-friendly platform. It can be accessed by anyone, as it is easy to operate. This is the best idea for business start-up and enhancing existing business.
Apart from this, there are a lot of benefits to using  Recharge Software. Let's discuss some of them.
Benefits of Multi Recharge Software
Multi Recharge Software offers many benefits to customers as well as service providers. Some major benefits are given below:
Benefits to customer:
It is made on the LAPU hardware system which covers all types of recharges like mobile, DTH, and Data Card.
Supports all major telecom operators available in India.
There is no need to visit different departments in order to complete different types of recharges.
Instant SMS or mail for every successful recharge.
Instant recharge facility available, no need to stand in queue and wait.
Online mobile Recharge Software is available anytime, anywhere.
Now we will discuss the benefits that are offered to service providers.
Especially designed and developed for the recharge industry with highly secure functionality and creative design.
You can easily operate the software for registration, changing passwords, logging in, or logging out.
High Commission on every successful recharge.
You can create numerous accounts of the retailers with the help of this software.
To convert or generate a user's commission is fully controlled by the Admin.
Instant fund reversal for any failure
User and search engine friendly panel
So, we are now familiar with the usefulness of Multi Recharge Software for both Customers and Retailers. It helps customers to save time and extra expenses. Moreover, it helps to make recharge business successful for service providers.
Now you might be thinking from where you will get the best mobile Recharge Software?
Keep reading, you will get the answer.
Best Multi Recharge Software Provider Company
There are numerous companies in India that are providing Multi Recharge Software. But choosing the right one is important. Let's get straight to the answer.
Ezulix is the best Multi Recharge Software provider Company in India. We are working in this industry for a very long time. Our professional team of experts knows that for developing client-oriented software. A mixture of technical knowledge and communication is required.
Furthermore, every client is valuable to us. We try delivering an innovative and affordable proposal both on time and under budget.
Additionally, we offer the best all-in-one recharge software development along with API Integration services at the lowest possible cost. We guarantee to complete the work within the agreed time period.
What makes us different? Why choose us?
Why Choose Ezulix for Multi Recharge Software?
We are absolutely different from all the other companies in many ways. Following is the list of features that we possess.
99.7% success ratio with our quick response Recharge API.
Highest Commission Structure in Recharge Industry.
Online Fund adding option via internet banking or plastic cards.
Instant Fund request approval
Quick and ongoing customer support.
We provide a fully functional Admin Panel.
Fully functional Distributor and Retailer Panel
Admin can create/change its channel members
We have developed our online recharge software considering the needs of a business. Apart from this, we have also optimized it accordingly for helping businesses. This will help to attract more customers. It will eventually turn into a higher commission.
Conclusion
So after this long discussion on Multi Recharge Software. We can conclude that it is helping businesses in many ways. This can be a good startup for any individual for fast and effortless recharge options.
If you are planning to start your own Multi Recharge Business. You can contact our executives. You can also apply for a FREE LIVE DEMO.
4,374 total views, 3 views today