Are you planning to start your own brand online recharge business as an admin and looking for the best opportunity then this is for you? In this blog, I will give you a complete guide about b2b recharge software, its features, and how much you can earn by starting your own multi-recharge business as an admin in 2023. So keep tuning in till the end.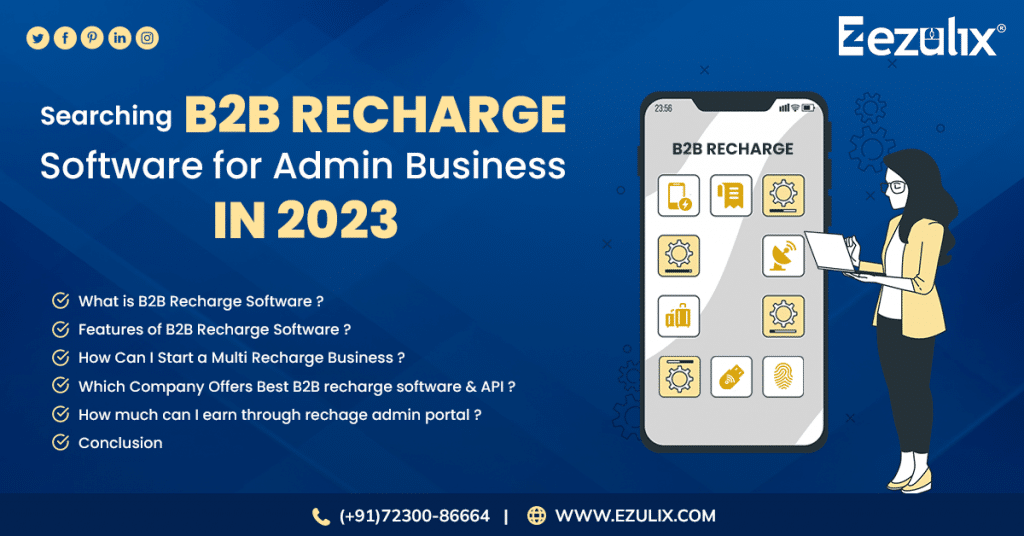 What is B2B Recharge Software?
B2B Recharge Software is a platform designed for businesses to facilitate all mobile, data card, and DTH recharge services to their customers. It enables businesses to offer prepaid, postpaid, landline mobile, and DTH recharge services as a value-added service. This software allows authorized agents, retailers, or distributors to access a robust system under admin where they can process recharge requests on behalf of end-users. It provides a seamless and secure platform for B2B transactions, ensuring efficiency, convenience, and profitability for businesses in the recharge industry.
Key Features of Mobile Recharge Software?
B2B Recharge Software offers a variety of features to facilitate and optimize the recharge process for businesses. Some key features include:
Multi-Operator Support
The software supports multiple telecom operators, allowing businesses to offer recharge services for different service providers.
Multi-Service Support
Apart from mobile recharge, the software may also support DTH, data cards, and other utility bill payment services.
User-Friendly Interface
The software provides an intuitive and easy-to-use interface, making it convenient for agents and retailers to process recharge requests.
Real-Time Transaction Processing
Recharges are processed instantly, ensuring quick and seamless transactions for customers.
Secure Payment Gateways
The software integrates secure payment gateways to ensure safe and reliable financial transactions.
Customizable Commission Structures
Businesses can set customizable commission rates for agents and retailers, incentivizing their participation and driving sales.
Reporting and Analytics
The software generates comprehensive reports and analytics, allowing businesses to track sales, revenue, and performance metrics.
Integration with Multiple Payment Channels
It integrates with various payment channels, such as wallets, credit/debit cards, and net banking, providing customers with multiple payment options.
Customer Support
Reliable customer support is available to address queries, resolve issues, and provide assistance to agents, retailers, and customers.
Scalability
The software is scalable, allowing businesses to handle a growing number of recharge requests and expand their operations smoothly.
White-Label Solutions
Some software may offer white-label options, allowing businesses to brand the software as their own and enhance their brand identity.
API Integration
API integration enables businesses to integrate the recharge functionality into their existing systems or websites for seamless operations.
These features collectively enhance the efficiency, profitability, and customer satisfaction of businesses using B2B Recharge Software.
How Can You Start Multi Recharge Business?
If you are looking to start a multi-recharge business as an admin you need to follow a few steps which are following.
Obliviously you have done research that's why you choose this business, I make sure you have taken the right decision
Now you need to finalize your brand name through which people will know your business. It should be unique and must be easy to remember and quite related to your business
It's time to create a logo, the face of your business
To run multi recharge business, the main thing that you need is mobile recharge software
So choose the best mobile recharge software development company that can provide you a b2b multi recharge software with a website and mobile recharge application
After completing all this, you need to register your business and take GST and TIN numbers. These legal formalities are very required
Now you are ready to capture the market. Create members all over India and earn a commission.
Which Company Offers B2B Recharge Software with API?
Choosing a recharge Software Company is a really tough task. A good online recharge software provider makes your path easy so take this decision very carefully. I would like to suggest you Ezulix Software as one of the best multi-recharge software development companies in India. It is trusted by more than 1500+ active businesses all over India. This NPCI-registered mobile recharge company has a huge team of skilled and experienced professionals who are experts in developing mobile recharge systems with advanced features.
Here you get all-in-one mobile recharge software with 1-year free domain, hosting, a business website, and a recharge app integrated with secured mobile recharge API.
For more details, you can visit the website or request a free live demo here.
How Much I Can Earn Through B2B Multi Recharge Portal?
The earnings potential of a recharge admin portal can vary depending on factors such as customer base, transaction volume, commission rates, and pricing strategy. With a large customer base and high transaction volume, you can earn commissions or margins on each recharge transaction. While it's challenging to provide an exact figure, a well-managed portal has the potential to generate a steady income stream. Strategic planning, effective marketing, and excellent customer service contribute to maximizing earnings.
Conclusion
Here I am wrapping up this blog. I hope you get answers to all your questions. Starting a multi-recharge business in 2023 can be a great decision. It can help you to make a handsome amount of income and it's scalable.
Still, If you have any queries, you can visit the Ezulix Software Blog section or can directly connect with the team for a consultation.
921 total views, 3 views today