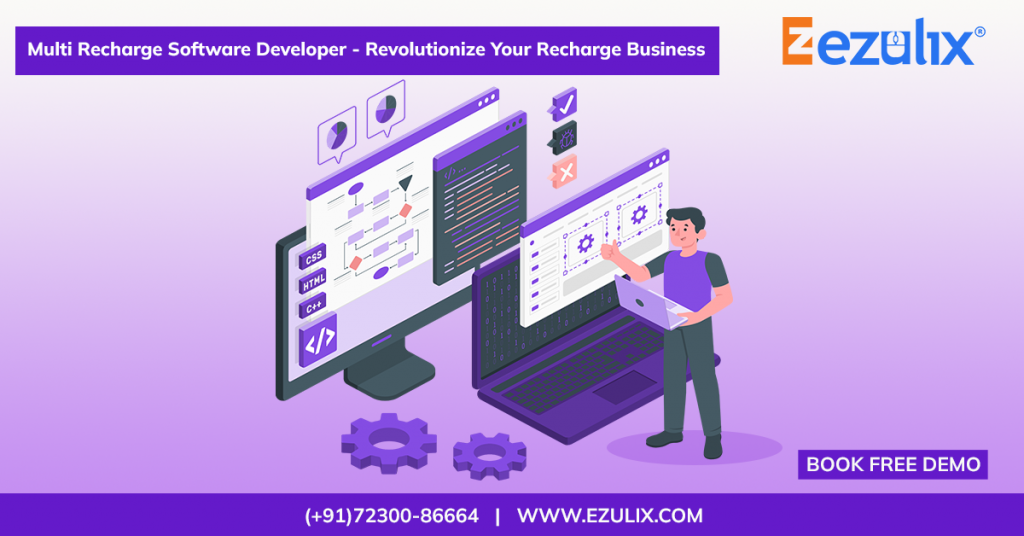 A multi-recharge software developer is a person or a team of people who design and create software for multi-recharge systems. These systems allow users to recharge multiple mobile phone or DTH and data card accounts at once, typically through an online portal or mobile app. The software may include features such as account management, transaction history, and automatic recharging. The software developer would be responsible for the overall design and functionality of the system, as well as any updates and maintenance.

So If you are planning to start your own online multi-recharge business and looking for a multi-recharge software developer then this is for you.

Here I will explain where you can find India's top recharge software developers team at a reasonable price. So without wasting time, I come to the point.
India's Top Multi-Recharge Software Company
A Multi Recharge Software Company is a company that specializes in developing and providing mobile recharge software for businesses or individuals. The software typically allows users to recharge multiple mobile phone or DTH and data card accounts at once, typically through an online portal or mobile app. The company may also offer additional services such as installation, training, and technical support for their software. They may also provide integration services that enable their software to connect with other systems like Payment gateway, SMS Gateway, Customer Relationship Management, Inventory Management, and more. Multi Recharge Software companies generally cater to retail businesses, service providers, and resellers looking to offer a convenient and efficient way for customers to recharge their mobile or DTH accounts.
Ezulix software is India's one of best recharge software development companies that provides multi-recharge software for business since 2015.
Today we have more than 1500+ active portal and 10+Lac active members all over India that is using our software and earning well. We are a registered multi-recharge software provider, offering high-class b2b recharge software integrated with secured mobile recharge API, mobile recharge app, and website for your business.
Why Choose Our Multi Recharge Software Developer for Your Business?
There are many reasons why businesses might choose to work with Ezulix team of multi-recharge software developers:
Experience: We have a proven track record of developing successful and reliable multi-recharge software, indicating that they have the necessary experience and expertise to deliver a high-quality product.
Customization: We are able to tailor the software to specific business needs and requirements, providing a more efficient and effective solution.
Technical Support: We offer ongoing technical support to ensure that the software is functioning properly and to assist with any issues that may arise. Our dedicated technical support allows you to solve all issues within 24 hours.
Integration: We are able to integrate the software with other systems, such as payment gateways or customer relationship management systems, to provide a seamless user experience. Along with this, you can offer multiple services like AEPS by integrating AEPS API in the recharge system.
Scalability: We offer scalable software solutions that can be adapted to accommodate the growing needs of a business as it expands. We also don't charge for all upcoming services that we integrate in your multi-recharge system.
Cost-effective: We offer competitive pricing for our software and services, helping businesses to save money and improve their bottom line.
Security: We use the latest technology and security measures to protect the sensitive data of our customers. We have used advanced technology to make our system more secure and protected from all upcoming threats.
Innovation: They may be able to provide innovative solutions that help businesses to stay ahead of the competition.
So these are a few characteristics that will help you to choose an efficient and right choice for your recharge business. For more details visit my blog or request a free live demo.
2,088 total views, 1 views today