Mobile Recharge API for all in one recharge and electricity bill payment
Switch Your Recharge Service in Ezulix Recharge API to Generate Maximum Profit
Looking to extend your mobile recharge business, for this you should integrate Recharge API which provides you quick response for any recharge with 100% success ratio. So for you, we have recharge API that developed in XML. It helps to make your recharge business easy and give you a maximum commission on each success recharge.  So if you are searching for higher commission recharge API with the quick response then the best suggestion for you to integrate ezulix recharge API. It helps to improve recharge performance for your business.
Our recharge API integration is very simple. Any skilled programmer can easily integrate with your system. Our recharge API merged with several API, so we commit 100% success ratio for recharge and bill payment. We provide a variety of robust features in our recharge API which help to extend your reach and manage it an efficient manner.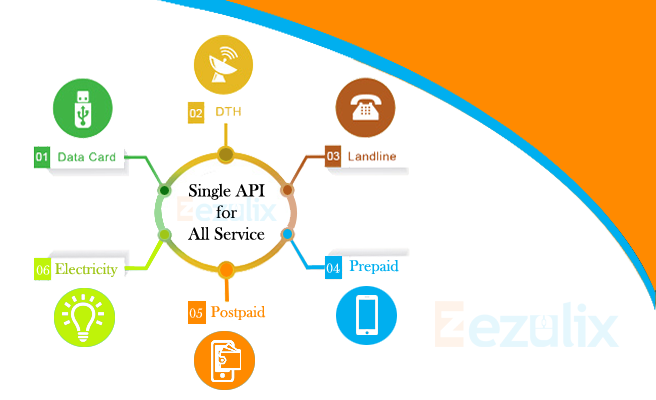 You can route multiple services like postpaid/prepaid mobile recharge, dth recharge, Datacard recharge, and electricity bills on our API and it handles every request efficiently and provide quick response to any recharge request. In our API there is no chance for pending, each recharge will get success, and if there is an issue from operator then recharge request not accepted by our API.
Mobile Recharge Benefits:
Single Wallet for recharge and bill payment service
No minimum deposits and balance maintenance required
API Makes your recharge System easier and quicker
The maximum margin on mobile, DTH, data card and electricity
The highest number of services supported
Maximum commission sharing with Partners
Quick response to recharge (failed or success)
If you are searching Recharge API services for your mobile recharge business, then start with us. We provide you industry best commission on all major recharge and bill pay operators and also give you a commission on electricity bill payment up to 0.20%. No one provides commission on electricity bills in the recharge industry. But if you switch your recharge service on our API, you will get the commission on electricity bills. No need to integrate multiple API for each service, we provide all in one recharge and bill payment in single API, so just integrate ezulix recharge API to earn a maximum commission. Our company provides complete recharge solution for client business, no need to search other sources for each service. At here you will get recharge software and API to start your own mobile recharge company.
Learn More:
Launching latest version mobile recharge software with brand ezulix, know more
Please follow and like us: