Aadhaar enable payment system is a payment service allowing financial transaction through aadhaar number authentication or fingerprint verification. AEPS is a new banking service approved by reserve bank of India. It is also used for the inter-banking transaction or interbank mobile payment service (IMPS). The AEPS allow transactions through Aadhaar and biometric authentication and enable a customer to carry out the financial transaction on a micro-ATM provided by a banking correspondent.
Aadhaar Enabled Payment System was built with an idea to extend banking and financial services without going to a bank. A person can do banking transaction through a method called Micro ATM at any AEPS payment service provider. Micro ATMs are fundamentally a bank-led model where banking or business correspondents are approved to present basic, crucial banking services to people through a simple device that authenticate digital transactions via the Aadhaar identity system. The Micro ATM machine is equal to POS hardware but comes with an inbuilt, keypad, printer and scanner to allow for authentication through biometric information (fingerprint). A simple process of incoming Aadhaar number, select the Aadhaar linked a bank account and verification via fingerprint is all it takes to process transactions through the AEPS Micro ATMs.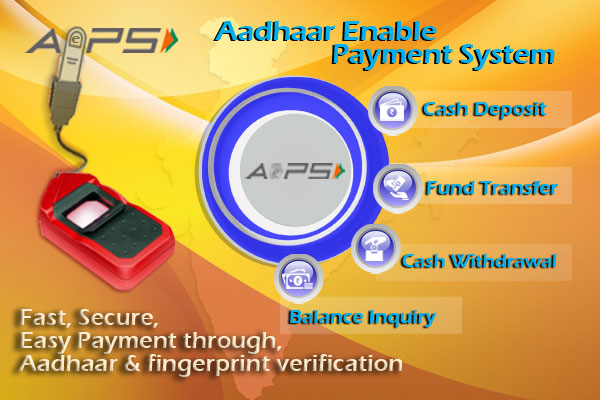 AEPS Service on the Mobile application
The AEPS system enables digital transactions through the Aadhaar identity system, via a simple smartphone app and app also functions only in conjunction with a fingerprint scanner. In order to leverage the solution, AEPS agents have to register with the AEPS service by submitting e-KYC details. Once eKYC is complete, agents can easily start AEPS service for their walk-in customer through a mobile application.
The workflow for this simple yet effective payment system is as follows:
AEPS Agents can start AEPS service by completing an e-KYC process with the software admin).
A customer can do banking transaction at AEPS service provider by entering his/her 12- digit Aadhaar number, after which the app will fetch the linked bank accounts and the customer will need to select the bank account from which the payment is to be made (in case there are many bank accounts linked to the Aadhaar account).
Customer authenticates payment by scanning his/her fingerprint and successfully completes the transaction, and the agents receive payment directly from the customer.
AEPS Services USPs
Best Commission Structure.
Minimum Volume Commitment.
Immediate commission settlement.
Card-less & PIN-less transaction
Safe and secure due to biometric authentication
Funds are received instantly due to IMPS transfer (24 x 7)
Users can perform the following transactions using AEPS:
Balance inquiry
Cash deposit
Cash withdrawal
Fund transfer
Get start AEPS service for your business partners or agents and start earning commission on banking transactions. We provide AEPS service in our b2b business portal along with  mobile recharge software .
3,933 total views, 6 views today