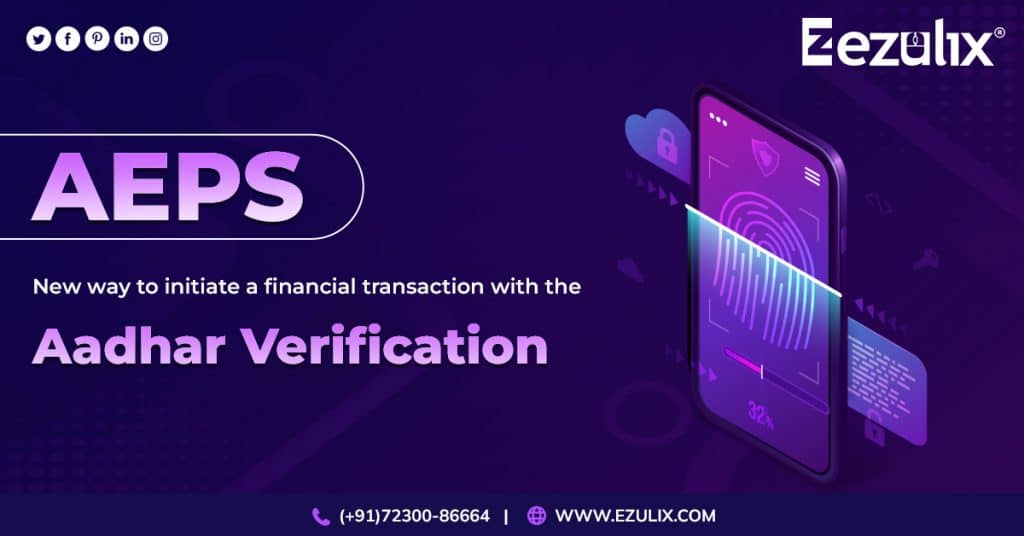 The foremost barrier to India's growth was the need for banking and financial services to reach the rural. As a result, it could not deposit a sizable quantity of money into the banking system. The Reserve Bank of India authorized NPCI to create a system that can provide financial services in those parts of India where there aren't any or only a few. The NPCI introduced the AEPS service in accordance with instructions from the Reserve Bank. Aadhaar-enabled payment system (AEPS) is a payment service that permits financial transactions using fingerprint or Aadhaar number authentication to transfer payments. The AEPS allows a consumer to conduct a financial transaction on a micro-ATM offered by a banking correspondent and will enable transactions using Aadhaar and biometric authentication.
What is Aadhaar, and Why It is So Preferred?
The 12-digit Aadhaar number is exclusively given to Indian citizens by the UIDAI, or Unique Identification Authority of India. Regardless of age or gender, anybody may freely sign up to receive an Aadhaar number. The Individual must provide their demographic and biometric data throughout the enrolling process, but no fee is associated with doing so. Aadhaar enrolment must be done just once and is suitable for life. Additionally, you may use this particular card for other financial activities necessary in everyday life, in addition to receiving several perks. Following this, AEPS was created to extend banking and financial services outside banks. Any AEPS payment service provider accepts transactions using the Micro ATM mechanism.
In essence, micro ATMs follow a bank-led business model whereby banks or commercial correspondents are authorized to offer consumers basic, essential financial services using a cheap device that authenticates digital transactions using the Aadhaar identification system. The Micro ATM has hardware comparable to POS hardware, but it also has an integrated keypad, printer, and scanner that enables biometric verification using fingerprint data. To make transactions using the AEPS Micro ATMs, enter your Aadhaar number, choose the bank account connected to your Aadhaar, and verify with your finger.
What are the Recommendable Features of AEPS?
Customized Handling
A consumer must visit a nearby banking location or AEPS service provider and present their Aadhaar card number to enjoy banking services using AEPS software. The following two options for the PIN are financial transactions and, finally, fingerprint authentication. Anyone may utilize banking through AEPS very efficiently. Using banking through AEPS is the simplest method to do business for everyone, regardless of your level of education or status as a rural farmer.
Secure Banking
The consumer is required to use a fingerprint as the PIN if we pay attention to the process. Everybody in the world has a distinct thumbprint or fingerprint imprint. Making the AEPS system safer and more secure will allow people to have more faith in it. Additionally, the software uses various security measures to protect itself from all unauthorized activity.
Support to All Banks
When you are using AEPS software, be rest assured about the server of each bank. Because it doesn't matter which bank your account is, when using AEPS, you can transact in every bank anytime. Although AEPS service is regulated and controlled by NPCI, it has developed this system to support all banks.
All-in-One App
By using AEPS software, a bank customer can use all essential banking services under a single software. Using your Aadhaar card, you can perform all the following services without paying extra. So many services are included in the AEPS panel, including cash withdrawal, deposit, mini statement, balance inquiry, money transfer, e-KYC, aadhaar pay, authentication, and more. These are all basic banking transactions that people perform generally. So as a service provider, you don't need to pay for different software solutions. You can offer all essential banking services through a single software.
Extended Cash Withdrawal Limit
A bank user can withdraw up to ₹10,000 from one bank account using the AEPS service. But what if somebody needs more than ₹10,000? In this case, your members can withdraw up to ₹50,000 from one bank account using our Aadhaar Pay service. This is one of the best features included in the AEPS services.
UPI Collection
The most popular method of payment collection nowadays is UPI (unified payment interface). Numerous banks through UPI, including PhonePe, Paytm, BHIM, and others, offer money-collecting services. However, we provide UPI collection benefits in exchange for a commission. Using the Ezulix UPI collection feature, your members can now earn a commission on payment collection using UPI.
Fully Customizable AEPS Portal
Over the past several years, Ezulix software has emerged as one of India's top AEPS service providers. We provide an AEPS Admin portal that is entirely customizable. Your gateway may be changed to suit your company's needs. Your dashboard features, logo, and color may all be changed to suit your preferences. Additionally, you are not required to work with us alone here. If you're prepared to provide AEPS services to other banks, you may link their AEPS API to our platform and deliver your services. You may offer financial assistance through ICICI Bank, YES Bank, and FINO Bank by using our AEPS site, and this system includes PayTM as well.
Admin Control Panel
Admin is the company's owner, and we provide them with complete control of the software with our services. He/she is the legal individual to make any variations in the panel. He is authorized to accomplish the comprehensive business. Along with changes, he has all information on the portal, members, and their services. He can add or remove members restrain commission, vary services, etc.
Analytics Reporting
Reporting is a critical component of any business, school, or activity that allows you to examine performance. Here we provide you a report section where you can check all transaction details. You can view your lifetime transactions, daily transactions, live transactions, profit, loss, and wallet balance. This part will inform you whether your company is profitable or not. This is how you can improve your business and what works and what doesn't in your system.
Service On/Off in One Tap
We have given the admin all authority because she is the company's owner. Our team of knowledgeable and experienced professionals ingeniously built this function. The administrator doesn't need to worry about the process if the client wishes to suspend any services or if any undesired behavior occurs.
24*7 Real-Time Settlement
One of the most significant problems in most panels is the transfer of funds from the AEPS wallet to the bank account. To address this issue, we have implemented AEPS payout and Express Payout service in our b2b AEPS site. Your members are no longer required to wait for settlement. They can utilize our new express payment option to receive real-time settlement 24 hours daily. It differs somewhat from AEPS payment. Members can accept payments in several accounts while using express payout. Additionally, they may utilize this function to provide consumers with a money transfer service at a relatively modest price.
Benefits of AEPS Portal
For Admin/Agent
Real-Time Settlement
Enhanced security and reliability
Maximum ROI
Web and App Based Portal Control
Minimum resources required to start a business
Quick and steady process
For Customers
100% Safe and Secure Payment Method
Only require an aadhaar number and the linked biometric impression
Withdraw money without going to the ATM
You can locate the nearby service provider
Swift and Steady Processing
No need for any additional document
Conclusion
In this blog, we discussed the wholesome information regarding the evolution of the AEPS in the fintech industry, what AEPS is, what its benefits are, and the features of different panels. Get associated with us and start serving AEPS benefits to your business partners, master distributors, distributors, and retailers and start earning commission on banking transactions. Ezulix Software is a reputable firm that provides AEPS software and a B2B admin portal. So if you're seeking a company, we can be a good option for you to start your entrepreneurial career with us.
For more details, visit our other blogs or apply for a free live demo of the AEPS portal.
8,420 total views, 3 views today