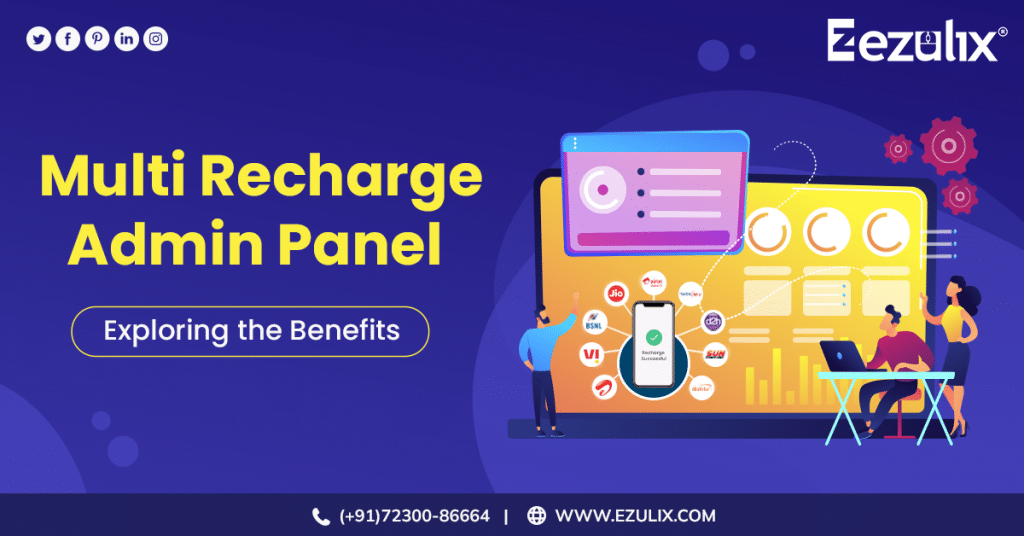 A centralized admin panel to manage your access with a single location for recharge or top-ups. A multi-recharge admin panel frequently manages and facilitates businesses or service providers to make bill payments, data card recharge, mobile recharge, and DTH (Direct-to-home) recharging. This software solution allows you to integrate into your existing business websites or mobile applications. With the introduction of recharge admin panel has emerged as a vital option, providing a multitude of spectacular benefits. Now with this blog, we will dive to explore the Multi recharge admin panel. The following sections go over the benefits of using a Multi Recharge Admin Portal.
Streamlining Operations with a Unified Platform
With this unified platform, you can easily integrate and centralize various recharge providers, transforming complex operational chores into a streamlined and effective procedure. You can easily manage your operations of organizations that provide recharge services, resulting in an effective operational benefit. The platform automates your operations by reducing manual involvement. Transaction monitoring, report production, and customer notifications, all with a unified platform. With this synchronized recharge admin software, you can perform various operations, from prepaid and postpaid recharges to DTH and data card recharges. This consolidated platform reduces the complications while enabling seamless control of multiple services through a single interface. It completely automates efficiency and minimizes complications while reducing the possibility of errors.
Enhanced User Experience and Accessibility
This Multi Recharge Admin Panel gives you a user-friendly layout for speedy and responsive working. You will be able to access a variety of recharge choices for your convenience. This accessibility improved the experience for both the business owner and customers. This accessibility enables administrators to conduct quick recharges, manage accounts, and oversee transactions, allowing for improved responses with quick and speedy client care. You will experience an invaluable asset for organizations navigating the complicated world of mobile services by unifying processes, optimizing efficiency, assuring security, and boosting customer experiences. With quick recharge options and responsive design, it is completely preferred by the user.
Real-time Analytics and Reporting
Importance of this mobile recharge software access with real-time analytics and reports through the admin panel. It completely provides real-time transaction information for secure and transparent activities. With the status of follow transactions and resolve arises irregularities. With this proactive strategy, you will receive a secure and transparent environment. You will receive functionality from integrated advanced reporting and analytics capabilities to acquire important insights into customer preferences, transaction trends, and service preferences. You will receive guidance for strategic decisions and future service improvements to receive growth with better revenue generation.
Security Measures and Customer Trust
From the security point of view, this portal is completely secure to function and in performance. For security concerns, it is implemented with strong features, like encryption protocol, user authentication, and secure payment channels. All these secure measures protect sensitive client information and financial activities. With the secure platform, the Multi recharge Admin Panel gains customer trust for growth and productivity. Customer expectations and experience will generate demand with organizational growth. Emphasizing promoting business expansion while maintaining operational efficiency and customer experience. With utmost security features, user authentication will build customer trust and foster long-term relationships.
Conclusion
Finally, with this blog, we understand the complete benefits of the Multi Recharge Admin Panel. This platform is a game-changing solution to revolutionize the management of mobile recharge services. This tool develops for organizations to flourish in the quickly growing sphere of mobile services, with its multitude of benefits turning operational efficiency, security, scalability, and user-centric features.
583 total views, 1 views today