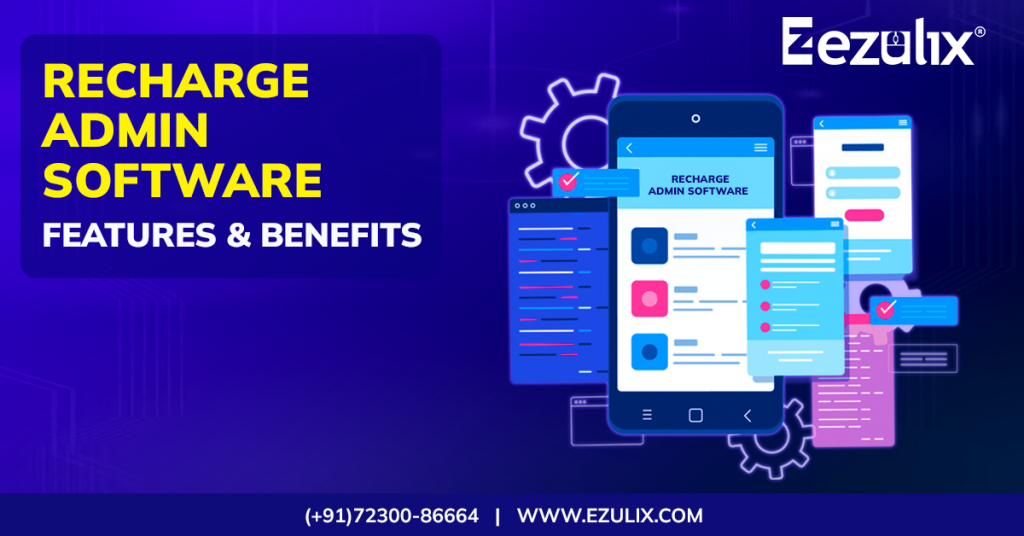 The term multi-recharge software development company refers to a business that specializes in developing and providing mobile recharge software for businesses or individual consumers. Customers of the service can frequently simultaneously replenish multiple mobile phones, DTH, and data card accounts using a web portal or mobile app. Additionally, the company might offer software installation, training, and technical support. Companies could provide integration services to enable their software to connect to additional platforms, such as payment gateways, SMS gateways, customer relationship management systems, inventory management systems, and others.
Multi-recharge software service providers mainly cater to administrators, service providers, and resellers that wish to offer customers a simple and quick way to top off their mobile or DTH accounts. These companies usually provide their services through websites, mobile apps, and physical storefronts and enable customers to recharge numerous devices and accounts simultaneously using a single payment. Many multi-recharge companies also offer further services including buying tickets, AEPS, and pan card services.
What is Recharge Admin Software?
In order to provide their top clients with stronger support and flexible services, all-in-one mobile recharge software development companies in India provide a one-stop solution for recharging admin, master distributors, distributors, and retailers. B2B recharge software refers to a technology platform that enables businesses to offer prepaid mobile, DTH, and data card recharge services to their customers. With this software, companies can easily manage their recharge operations, set commissions for their retailers, and monitor their sales in real-time. B2B recharge software is an efficient and reliable solution that helps businesses to increase their revenue streams, enhance customer engagement, and expand their market reach.
They have a substantial CRM component, which is crucial, and can easily support any user level with the use of specialized mobile recharge software.
The administrator may precisely assess the complete accounting cycle with the aid of this program, rebill services, spot sales, find prospects, boost revenue, and cut costs associated with administration.
You may create an infinite number of retailers and distributors with this online mobile recharge software, which also supports all management levels, including the administrator, master distributor, distributor, agent, and retailer.
Our protected mobile recharging API enables speedy and secure online recharge with a 99.99% success rate. With our cutting-edge mobile recharge gateway, you may establish an infinite number of customers and provide them with all of the following services:-
Prepaid mobile recharge
Postpaid mobile recharge
Landline mobile recharge
Data card recharge
DTH recharge
Key Features of Recharge Admin Software?
With a number of important functions, recharge admin software is an indispensable tool for managing recharge activities. User management, multi-operator support, recharge history monitoring, commission management, and real-time reporting are some of the recharge admin software's most crucial features. While multi-operator support guarantees that the program can handle many operators and recharge choices, user management enables the administrator to define and manage various user roles and permissions. While commission management enables the administrator to create and manage commissions for retailers, recharge history tracking aids in keeping track of all transactions. Real-time reporting provides the administrator with a complete picture of the business, enabling them to make decisions based on reliable information.
Benefits of Automatic Mobile Recharge Software
The recharge service is more dependable, adaptive, and exact in terms of functionality and performance because the recharge portal is developed with the newest features in line with market expectations. All search engines fully support each recharge software, which is created by a multi-recharge software company.
The enormous selection of APIs enables quick and easy starting points. Achieving client goals is now a lot simpler because of the features like the ability to customize your procedures and portal in any way you wish.
Automatic Mobile Recharge Software promotes brand loyalty and increases consumer engagement by providing you with the resources you need to comprehend your clientele more thoroughly than ever. Understanding user needs is aided by the help desk option that is provided in the portal.
The top provider of automatic multiple-recharge software with a wide range of online payment options. Also, they put a lot of effort into offering clients a variety of online recharge payment alternatives, which enables them to deliver seamless experiences and enable users to swiftly reload several devices.
This kind of software is popular because there is no requirement for a minimal investment. Wallets don't have any minimum balance requirements like traditional banking applications or web portals do.
Elite Features in Mobile Recharge Software
Responsive and Fast Processing
When the software is coupled with the appropriate protocol, the system becomes responsive and effective. There is no longer a danger of software lagging with a quick user interface. But a business needs an admin panel for its mobile recharge site software that works properly and produces better results. The main aspect affecting how successful your business is will depend on how well-designed your software is.
Transaction History Preserved
The transaction history is helpful to a user in a variety of situations. So, in order to effectively manage the system across the entire system, information on every transaction must be provided. If there is no transaction history in your app, it has a significant impact on how well your mobile recharge app does. Thus, this feature must be built into any application that uses API. Security is crucial in a B2B recharge software to bind the clients for extended periods of time.
Determine the commission.
The provision of commissions, interests, cashback, bonuses, or scratch cards on any recharge is a requirement for recharge software. Also, it should provide enticing special offers and discounts following a mobile recharge. These benefits can be used for upcoming purchases or recharges. So, a site should include recharge commission software in addition to offering numerous operators to work together in service users in order to draw visitors to itself.
A 24×7 recharge capability is an essential element that increases the value of recharge admin software. The user will be safeguarded if this feature is offered. Nonetheless, most web programs offer this convenience and it is available in online mobile recharge software.
A b2b recharge software is nowadays more necessary than ever. Everyone wants to recharge their mobile number using a different recharge program. You can simply restore many operators and manage the recharge with a single software. Ezulix Software offers mobile recharge software development services to businesses wishing to grow their mobile recharge business. Request a demo if you're looking for a reliable, licensed company that can provide you with all of these amenities.
For more details visit my website or request a free live demo.
1,928 total views, 1 views today