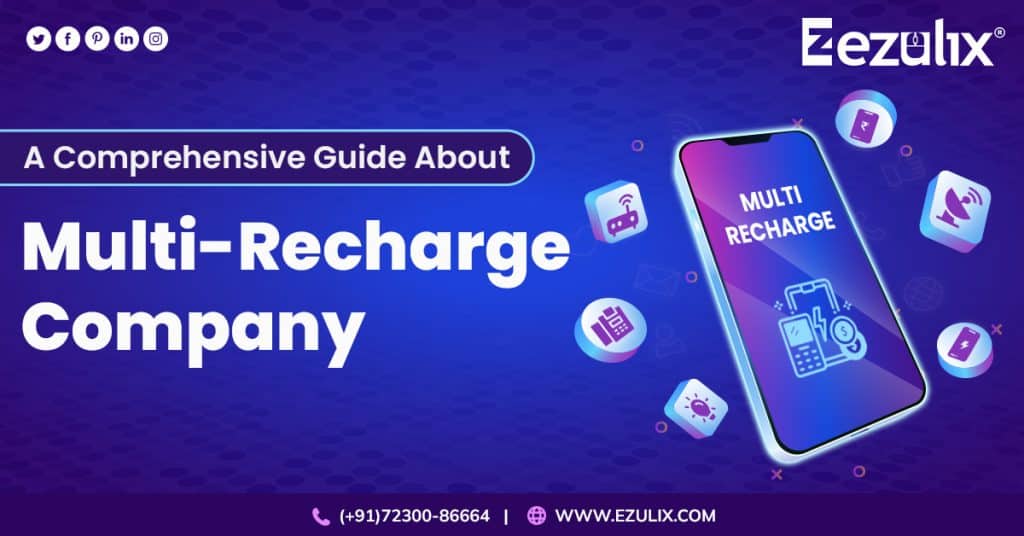 How often do you take a break from your mobile phones if your data pack is expired? I'm sure you must be wondering why even I am asking this question. It's obvious that in this digital and fast-paced world, staying without the Internet or calling recharge is impossible for even 1 hour of the entire day. Accessibility to mobile phones and the Internet has recently been a must-need. Apart from just having a gadget in hand, one has to get it recharged with their operator's recharge packages. Due to the abundance of customers, beginning a multi-recharge company in India is currently quite profitable. It is a low-investment business with a consistent income from commissions on several mobile recharges. The situation is much better regarding back-end and technological support now that technologies have emerged to make mobile and data recharges quick and easy.
Highlighted Feature of Multi Recharge Company
After the foundation of Digital India and the AtmaNirbhar Bharat scheme, where every Indian has access to financial services, for initiating a B2B recharge business, firstly, the individual should register as a multi-recharge company to access the operator portals for recharging numbers. All you have to do is register your retail store online with a digital and financial service provider or become the admin in this fintech sector; connect to any reputed software development company and get your recharge app. A multi-recharge company offers a consistent flow of mobile recharge commissions with every retail transaction you complete. All you require to launch this business is that. Because so many Indians are still underserved in digital and financial services, there is little risk and high potential reward. They offer prepaid, postpaid, DTH, telecom, and data card reviving facilities. 
What is Multi Recharge Software?  
With its highly secure functionality and innovative web-based design, multi-recharge software is a type of application created specifically for the recharge sector. It aids in the development of the recharge industry. Mobile recharge companies utilize multi-recharge software as a software program to provide prepaid mobile recharge services to their clients. Various recharge operators can combine their services on this web-based platform into a single application. With the help of this software, companies that provide mobile recharge services may make it easy for customers to recharge their prepaid phones from a single platform. Customers can recharge their mobile phones, DTH, and data cards using the Multi Recharge Software's user-friendly interface.
To make payments quick and simple, it supports various payment options, including credit/debit cards, net banking, and e-wallets. Multi Recharge System offers all mobile recharge facilities built with advanced technology to handle all recharge, including mobile recharge, DTH, and data cards. The multi-recharge software provides real-time updates on recharge transactions, including successful recharge, unsuccessful recharge, and pending recharge, for small businesses. Furthermore, it offers thorough reports on recharge transactions, commissions, and earnings, allowing mobile recharge businesses to monitor their revenue and success.
What are Multi Recharge Software Services?
With a 99.99% success record, Ezulix, a reputed multi-recharge software company, provides a quick and secure online recharging facility. With our state-of-the-art mobile recharge gateway, you may create an unlimited number of clients and offer them all of the services listed below:-
Prepaid mobile recharge
Postpaid mobile recharge
Landline mobile recharge
Data card recharge
DTH recharge
What benefits of Multi Recharge Software?
Having mobile recharge admin portal has distinctive features for retailers, distributors, master distributors, and administrators individually. Thus, these advantages can be broadly divided into two sections:
For Retailers/ Distributors/ Master Distributors:
It supports all major recharge kinds, including DTH, mobile, and Data Cards.
It supports all of the major telecom companies present in India.
You don't need to go to several recharge locations to finish various recharges. For each recharge, receive an instant email or SMS.
An instant recharging option is accessible, so there is no need to wait in a queue.
The mobile recharge software is accessible 24/7 to users.
For Admins:
The program is simple for registration, signing in, changing passwords, or logging out.
You can add unlimited retailers, distributors, and master distributors under them.
The mobile recharge software pays out a good commission on each successful recharge.
Instant fund reversal facility in the case of transaction failure.
The recharge history tracking feature aids in keeping track of all transactions.
Best Multi Recharge Software Company for Admin Business?
A company that specializes in creating and offering mobile recharge software for organizations or private users is known as a multi-recharge software company. The software typically enables users to simultaneously recharge multiple mobile phones, DTH, and data card accounts through a web portal or mobile app. The business might also provide services like software installation, instruction, and technical support. Additionally, they might offer integration services, allowing their software to connect to additional platforms like payment gateways, SMS gateways, customer relationship management systems, inventory management systems, and more. Companies that supply multi-recharge software typically target retailers, service providers, and resellers who want to give customers a quick and easy option to top off their mobile or DTH accounts.
Conclusion
Today, B2B recharge software is more important than ever. Everyone wants to use a different recharge program to recharge their mobile number. With a single piece of software, you can easily recharge numerous operators. For companies looking to expand their mobile recharge company, Ezulix Software offers software development services for mobile recharge. If you're looking for a reputable, authorized business that can offer you all of these advantages, request a demo.
For more information, visit our website or book a free live demo.
1,431 total views, 1 views today