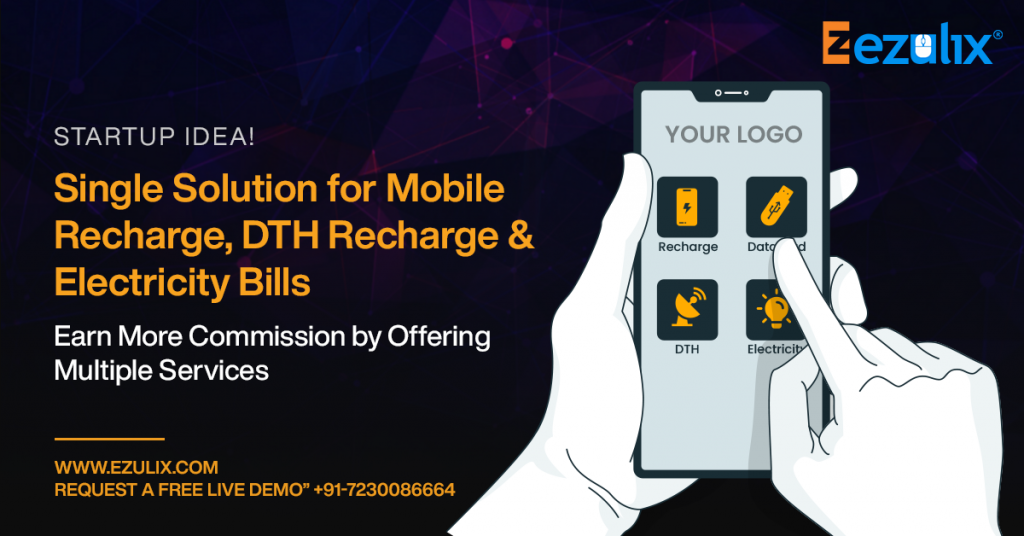 Role of Mobile Recharge Industry in India
If we talk about mobile recharge, DTH recharge, electricity bills, data card recharge etc. these all are basic requirements of all nowadays. Everyone use the mobiles and they have to recharge it either prepaid or postpaid. Everyone watch TV and they have to recharge their DTH card. So, in short, we can say that this is very basic need nowadays. This is the reason; recharge industry is growing very fast over the last few years in India. Today here we will talk about mobile recharge solution to fulfil all above needs.
If you are in the recharge industry then you can earn more by add on more services or if you are not in but looking for a new business idea then you are at the right place now. Today I will describe what is recharge Industry and how can you start your own business and carrier in this field.
What is Mobile Recharge Industry?
Recharge Industry is the service place where service providers facilitate services digitally to the customers. There are many levels in the recharge industry where service providers work. These services are like prepaid mobile recharge, postpaid mobile recharge, DTH recharge, data card recharge, Electricity bills, and many more services. Earlier LAPU system was used for mobile recharge but now technology is on the top and everything is done digitally by using mobile recharge API.
How Can Start Mobile Recharge Business?
There are following steps, by following these steps you can start your own mobile recharge solution.
Step 1
Now I come to the point, If You want to start recharge business then, first of all, you have to choose the best mobile recharge software Provider Company in India. Because you must start your business with the best software and with best service providers so that you don't have to face problems in the Future.
Step 2
Either you can choose your business name domain and server or you can get it by your service provider.
Step 3
Your service provider design and integrate your website into online recharge software with many more service options.
Step 4
Your service provider gives you manual training then how you use this software So that you can completely understand this software and use it efficiently.
Step 5
Now you can start your business and start earning as per your level in this.
Which Service Provide by Mobile Recharge Software?
This is the great question that which services you can facilitate to your customers by using this mobile recharge solution. Here we describe all services that can be solved by this recharge software.
Following are the list of all services which can be resolved by this multi recharge software.
Pre-Paid Recharge
Post-Paid Recharge
Data Card Recharge
DTH Recharge
Land-Line Recharge
Electricity Bill Payment
These all the services you can provide to your customers by using this one-stop mobile recharge solution. But here the question is how this all different types of services can operate by single software?
This is all Integration of mobile recharge API for all in one recharge This multi recharge software integrates all the different API's which helps to provide all the services under a single roof.
How Many Levels You Can Start Mobile Recharge Business?
This is very important and basically depends on your experience and financial condition on which level you should start your business in recharge industry.
There are 4 levels on recharge industry, you can start your business which is following.
Admin
Master Distributor
Distributor
Retailers
These are 4 major levels you can start your own recharge business. Now we discuss all the levels individually so that you can understand very well, and this will help you to choose that on which level you should start your business.
Admin – This is the top level in a multi recharge business. At this level, you have complete control on a panel and your down-lines like master distributors, distributors, and retailers. You can check any details of any member of downline.
Master Distributor– At this level, you can only control your channel distributors and retailers.
Distributors– At this level, you can only control your channel retailers and their activities.
Retailers– This is a basic and most important level of this branch. At the retailer level, you don't have any control over your up-line. But at this level, you provide services to your customers and earn commission directly.
Conclusion-
So you can start your own mobile recharge software at any level which you want. At last, I will suggest you buy the best recharge software to start the business. Choose the best service provider so that you can get the best software and service and this will also help you in business growth.
For more details visit my blog or apply for a free live demo.
8,129 total views, 1 views today