How to Get AEPS Settlement in Real Time?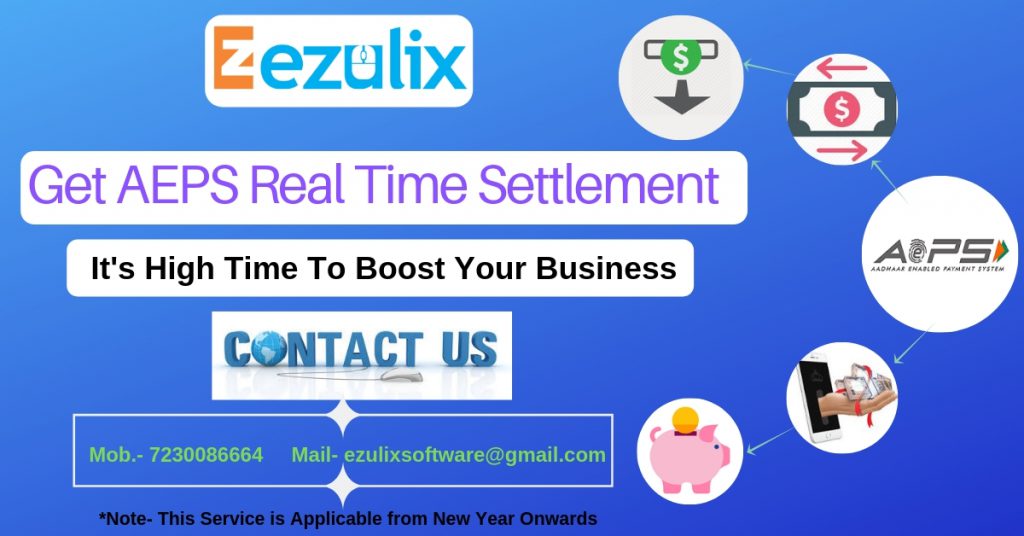 What is Aadhaar Enabled Payment System (AEPS)
Aadhaar enabled payment system (AEPS) is a type of payment system which enables us for the cashless transaction. By using aadhaar card number and fingerprint impression you can use it. This project started since January 2016 by Indian Government. In this project, they linked all bank accounts to their aadhaar card number which enables us for basic banking transactions by using aadhaar card.
By using AEPS, you can easily perform basic banking transactions like cash deposit, cash withdrawal, money transfer, and balance inquiry facilities. This is very easy and fast cashless transaction facility. Only by using your aadhaar card number and your finger impression, you can perform all your basic banking actions.
Ezulix AEPS Settlement System
Ezulix software is one of the best AEPS software provider company in India. We offer the best software along with manual training program so that you can understand the software completely.  AEPS software allow cash withdrawal or balance inquiry service for the bank customers and admin of software will earn commission on each cash withdrawal transactions and admin of software can distribute AEPS transaction amount for their register agents in real time in e-wallet and bank account because Ezulix Software provides bank settlement in real time in e-wallet and bank account to the software admin. Earlier we provided settlement in (T+1) time in bank accounts but from new year we facilitate both of settlements in real time in wallet and bank accounts.  Here agents also get the commission by the customer's transactions.
So we can say this is the best business opportunity which is growing very fast nowadays. All the transactions being online or we can say cashless through this AEPS software. We are the best AEPS Software provider company in India which provides funds in real time in e-wallet.
How Agents Can Register for AEPS Service
Earlier agents had to register for AEPS service by submitting manually KYC and they have to wait for approval. Now we have upgraded the system. Now agents can register for AEPS service through an e-KYC process. In this process now agents only have to use their fingerprint using a biometric machine and they can easily register by approval of biometric scan machine.
Conclusion
So here we learned what aeps service is and how can we get benefit from it. Breaking news is this; from New Year onwards Ezulix software will provide you all bank and wallet settlements in real time. So this is high time for you to boost your business in next level. Buy AEPS Software from us and get benefits and extra offers now.
Follow Us on Facebook & Twitter and Be Updated with Our Services and News.
Please follow and like us: