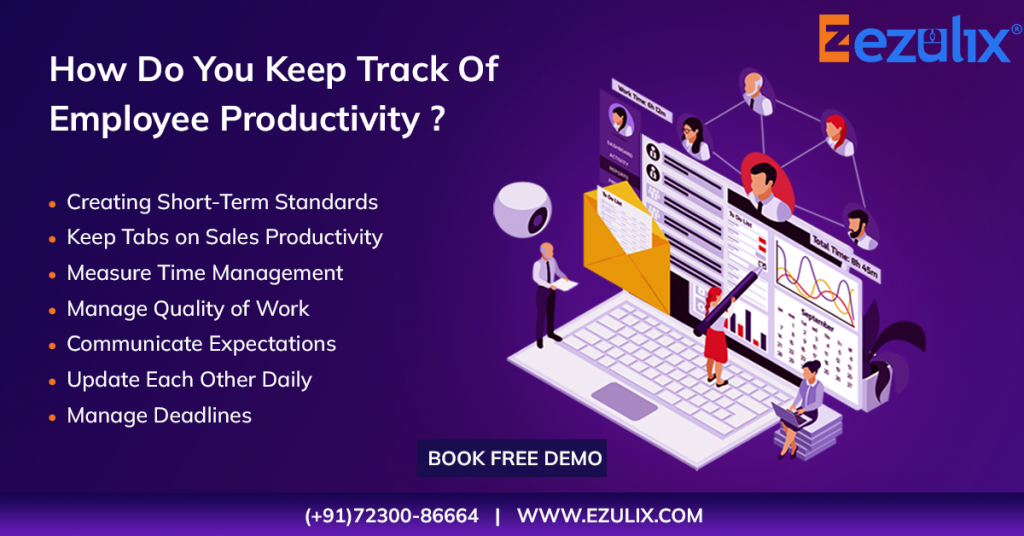 You must comprehend the significance of employee productivity tracking software if you want to grow your company. Employee productivity helps the business increase profitability, provide better customer service, cut operating expenses, and provide many other benefits. An organization must understand how to manage people well and help them use resources effectively, as we are all aware, human capital is an essential asset in any company. You might be wondering at this point how to gauge employee productivity and determine if you are on the correct route. Here are some guidelines for gauging staff performance and productivity.
Employee productivity is a performance statistic that considers how effectively people manage their time to achieve company objectives with the needed level of quality. In general, this statistic aids businesses in planning the resources needed for project success. Since it might be difficult to assure productivity at work, you should frequently evaluate these measures to track employee output.
Consider your company if you are a business owner or general manager. What products or services do you provide? What types of performances would you classify as fruitful, and how many segments are you currently watching? Is there a goal that must be achieved? A production quota? A sales target? These questions arise in front of you several times, except finding a permanent solution to it, you find temporary ones. However, employee tracking software is the easiest approach for organizations to keep an eye on their employees which neither hinders the work nor the time is extra consumed:  
Simple Ways to Track and Measure Employee Productivity 
Creating Short-Term Standards – Establish a common reference point so you can compare the productivity indicator to that specific value with ease. Setting benchmarks for each function within an organization is always preferable since it outlines the desired outcomes for each role. By giving each role a defined task, the expected productivity meter of each role and the actual results of each role are compared. In some generic positions like administrator and receptionist, this might not be especially obvious. However, you can also establish a standard for positions in general. Both the company and the employee benefit from the increased clarity. The employee might be held more accountable for their work as a result of the benchmarking procedure.
Keep Tabs on Sales Productivity – Give your team clearly defined sales targets to work toward to establish a strong foundation. Include your sales team in the goal-setting process for the best results. Long-term performance and short-term task completion continue to be equally valued by the top performance evaluation techniques. Lead generation must be a continual operation if your pipelines are to be filled at all levels. It must make sense for lead qualifying, scoring, and nurturing to come after. A strong lead management system is the foundation of a strong sales funnel. Many small businesses and start-ups first track the progress of their sales on a spreadsheet. But as you scale, sales automation is the most straightforward way to put in place a better sales monitoring system.
Measure Time Management – The more effectively you use your time, the more you can get done. If we have a deadline for a task, our brain will memorize and adhere to this time-boxed framework. You must assist your team members in determining priorities and time management. Additionally, concentrating on one activity at a time results in higher-quality output. Everybody experiences days when they want to put off or put things off. The correct time management abilities, however, will make your employees motivated to tackle their tasks and begin completing assignments. Employees that finish their jobs on time are more reliable. Additionally, if a person has been employed by a company for a number of years, it signifies that they already have a solid reputation as a dependable professional.
Manage Quality of Work – When measuring productivity, it's important to give more weight to the quality of the work than the quantity. The duties must be finished within the allotted time and to the necessary standard. Additionally, each role's key performance indicator (KPI) should be this. Productivity can be properly monitored by looking over these KPIs and examining the amount of work and the allotted time. With the help of employee management software, the employer can optimize the quality of work that is done by the staff members during working hours. This maximizes the sense of responsibility in the employees towards their allotted work.
Communicate Expectations – If you're wondering why a tool is useful for employees, read on. The solution is easy: Employees are a company's most valuable asset, so each expenditure made to support them has a direct bearing on the expansion of the business. Employee autonomy is increased via employee productivity software, which enables employees to develop at their own rate. The communication between the employer and employees improves when managers are less inclined to micromanage.
Update Each Other Daily – Keep tabs on the health of your employees at work. This has an impact on employee productivity, hence keeping track of employees' presenteeism and absenteeism is important when assessing productivity. To find out how frequently employees work while ill, you can poll your workforce once or twice a year. You can also implement wellness initiatives at work to address this problem. Without being micromanaged, employees would prefer to execute their jobs and conduct their business. However, productivity is not always guaranteed by such. Procrastination may be a problem for many people, which might affect their performance. However, having to provide an update at the end of the day can serve as a motivator for such workers.
Manage Deadlines – With the help of employee productivity software tools, the employer can manage the deadlines for their allotted projects according to per employee. This will give ease to monitoring the employee's working schedule and process of work. It is mind-boggling how many project managers and leaders still make the mistake of failing to set clear expectations and appropriate timelines for their team members.
Whether your team members are located in the office or operate remotely, I believe that these subjects should always be at the top of the conversation list. They will be happier and more productive if you let them know what is expected of them, especially if they work remotely. If this is a problem area for you, do the following: give examples and give people access to the appropriate tools and resources. Also, agree on realistic deadlines that an employee requests in order to complete the work on time and without sacrificing the quality of the work.
The aforementioned recommendations will give you an overview of the various methods for gauging employee productivity. Although measuring actual productivity is a difficult procedure. To reach the objectives they have set, each employee must perform well. But in order to effectively assess employee productivity, you must first understand how they are engaged and then make the required adjustments. Use an automated technique for tracking employee productivity to calculate the output and generate reports.   Get the custom employee tracking software from Ezulix Software and keep a close eye on your staff more effectively and efficiently. For more details visit our website and acquire more information or apply for a free employee tracking software solution. Connect us at sales@ezulix.com or visit www.ezulix.com
1,579 total views, 3 views today