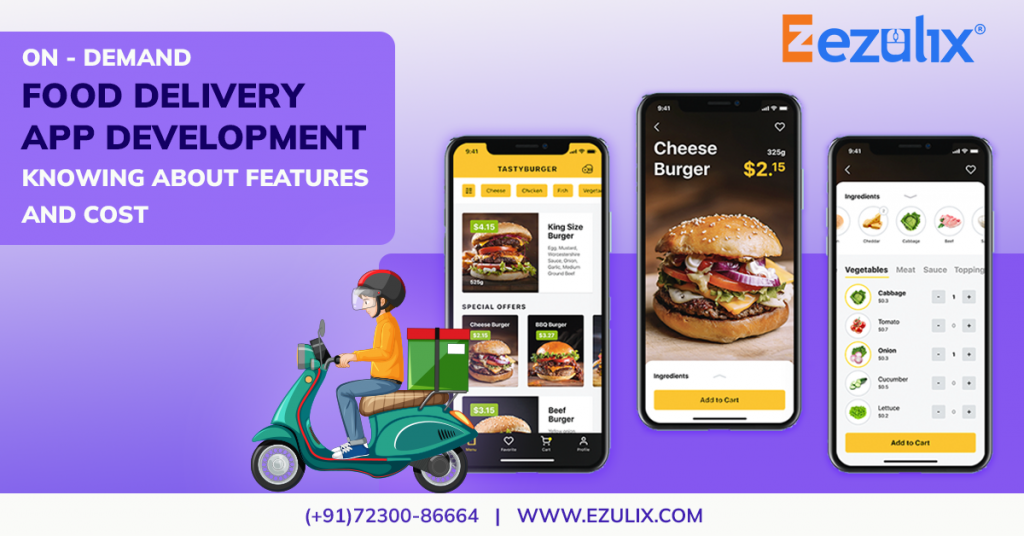 Introduction
Most people agree that nothing compares to bingeing on delicious food. And today, ordering food from a list of our favorite restaurants is quite simple, thanks to the internet. Mobile apps for meal delivery are causing a commotion. For instance, some applications are developed by restaurant owners who cook and serve food to app users at predetermined places. On the other side, other kinds of applications are service apps like Swiggy, Foodpanda, and Zomato, which provide services to customers and eateries. These well-known on-demand meal delivery services have truly raised the bar regarding efficiency and convenience. 
These two factors should go without saying because they are crucial for every consumer in any industry. As a result, companies are attempting to capitalize on the popularity and promise of this type of service. This blog might be interesting to read if you want to learn how to design on-demand food delivery software for your company. It covers various topics related to food delivery app development, including kinds, necessary fundamental features, team organization, costs, and much more. 
Food Delivery Market Overview in Previous Years
More than half of all client orders are now delivered straight from restaurant websites or apps due to developments in the food delivery industry. Today, restaurants and other food enterprises handle digital food ordering and delivery in various methods. While some people use independent platforms to do it themselves, third-party companies like Uber Eats and Delivery Hero have grown significantly. Additionally, the consumption market share is hybrid delivery services, revolutionizing how ordered food is delivered. Food delivery has grown into its industry, with several internet companies vying for market dominance. Although these online platforms are highly valued and attract significant investment, they are revolutionizing the food delivery industry. The conventional restaurant model has traditionally been the most popular method of food delivery. 
According to this concept, a consumer sets their order at a restaurant after entering. They then have to wait for the eatery to fulfil their mandate and deliver the meal to their table or the check-out counter. The procedure of providing meals has changed due to the development of digital technologies. Customers are now placing orders online and through restaurant apps rather than physically coming to the establishment. Restaurants provide ease and openness in their offerings. The restaurant fulfils an online order by ensuring the meal is delivered to the customer's house.
Future of the Food Delivery Sector
As far as we know, neither do we possess divine authority nor reside in a magical realm. But in this technologically advanced world, it's just as in the magical one, where anything is possible with a single touch. Although demand for online meal delivery services is still high, this excitement cannot last forever; the pandemic-driven expansion will eventually slow. On-premise services, however, will keep expanding even after the epidemic. According to Data essential statistics from September 2020, 59% of those who ordered meals online said they would keep using delivery apps once the epidemic was over. 
Contact-less Delivery
Contactless food delivery might be possible in this AI-driven world when robots and drones are widely used. During the pandemic, the industry tried to employ various technologies to uphold safety and sanitary standards. Additionally, clients switched from paying with cash on delivery to cashless transactions, which usually makes contactless deliveries possible. These techniques eliminate pointless in-person contact and exchanges while lowering the hazards. As a result, contact-free delivery has recently taken centre stage.
Finding The Best Food Delivery Software Provider Company 
Research is essential when looking for a food delivery app development company, and you should consider several things. You should search for a business that has completed successful projects in the past and has expertise in creating applications that are comparable to yours. You should also consider their knowledge of the technology needed to develop your app and their abilities in project management and communication. Additionally, cost and timetable should be considered. Comparing quotations from various businesses' pricing and projected timescales is crucial. Lastly, confirm that the company will provide access to the app's source code and intellectual property rights. By considering these aspects, you may locate a trustworthy and professional food delivery app development business that will satisfy your demands and provide a top-notch app.
Cost of Food Delivery App Development 
The cost of food delivery app development in India might vary based on numerous aspects, such as the features you desire, the app's complexity, the technology stack utilised, the development team's expertise, and the time it takes to construct the app. 
To give you an idea, a simple food delivery app with conventional functionality such as user registration, order placing, payment processing, order tracking, and push alerts costs $10,000 to $25,000. However, the price might increase to $50,000 or more if you want to include more sophisticated services like real-time order monitoring, chat help, social media integration, and personalised reward programmes. 
Additionally, depending on their location and experience, app developers' hourly rates in India range from $25 to $100. As a result, the amount of time needed to construct the app may also affect the development cost. To receive an exact price estimate for establishing a food delivery app in India, you must discuss your needs with a reputable food delivery app development company.
Overall, before starting a project to design a food delivery app, it's crucial to assess your demands and financial situation carefully. To compare expenses and ensure you're getting a fair price, it's also a good idea to request estimates from many development firms.
Summing Up
If you are a company owner considering creating an on-demand food delivery app, extensive market research, industry expertise, and a reasonable budget are all necessary. To help you make the ideal food delivery app, we've covered on-demand food delivery features, business structures, revenue models, and technologies in this guide. Therefore, it's crucial to know the food delivery industry you intend to target, the issues and hurdles to overcome, and your end goal while on the verge of building a feature-rich meal delivery app.
No matter the business size, professional mobile app developers from Ezulix Software provide the best mobile app development services as part of our mission to help food suppliers set up their online meal delivery business. We are only a message away if you want to create a meal delivery app and comprehend its creation procedure. You may contact us, and one of our experts will respond to any of your questions immediately.
2,009 total views, 3 views today