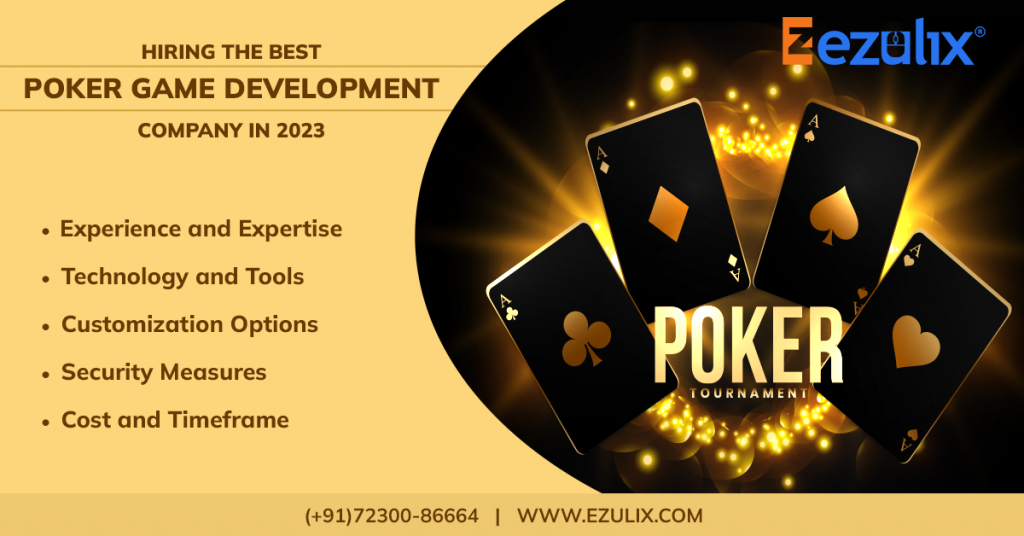 Introduction
Developing computer programs that allow poker players to play online is known as poker software development. Poker software developers use programming languages, algorithms, and other tools to construct software that simulates the action of playing poker in a virtual setting. Features like player profiles, chat rooms, and payment processing for real-money games might be included in the programmer. Additionally, the programmer must guarantee that the game is safe and secure and that a random number generator is used to decide the outcomes of each hand.
Poker software development may be challenging and necessitates an understanding of user experience design, game theory, and programming. The rules and tactics of the various poker games they are developing software must also be known to poker software developers. Online poker rooms, casinos, and other businesses that provide poker games to their clients might utilize the software created consequently.
Poker Gaming Software Development
Poker gaming software development is easier than it first appears. There are various steps to take while creating an online game. To get the greatest poker game development services, you need to engage a specialist developer since each phase has a certain relevance. So, let's begin developing a poker game and learn more about the price of developing an app for a poker game.
Research must be conducted prior to developing a poker game. Even if you are very knowledgeable about the game, you still need to explore the browser and thoroughly study it in order to comprehend its precise operation and other crucial information. You should always research the competition, user expectations, target market, current game trends, and other important factors. This will help you create a unique and spectacular poker game.
The next step after conducting research is to plan. You must choose the features you wish to give at this stage and then plan the development appropriately.
Design to Develop a Poker Game App
The success of poker game creation depends on the method. Creating a dynamic, captivating, and user-friendly gaming interface is necessary. Make a map for the online game first by considering all of the game's stages, functionality, plot, and features. This allows developers to start working on poker games and create a captivating user experience.
The most crucial and additional procedure is poker software development. You must be aware of the growth in the game's performance and usefulness. Employ a seasoned developer who can design scalable code and will use the newest front-end and back-end technologies. Make careful you code for all features and functionality during the development process.
Testing is the next stage in the creation of a poker game. Once an application has been constructed, test it to look for issues. To check the application's available features and functionality, you may do both functional and non-functional testing.
Launching the poker app game is the final step in the development process. To deploy the poker game properly, follow all application store requirements and recommendations.
Finest Facets of Poker Gaming App Development
You should include more outstanding features to keep users engaged. If your programme has unique qualities, there is a good probability that people will adore it. Don't forget to include the following essential components:
Everyone is aware of how widespread poker is. Thus it is necessary to have various language options so that users from many nations may use the programme easily. You must use one of the top poker game creation services to include this functionality. Developers with decades of experience have a basic understanding of this.
Including a social media integration element in the app while looking for poker game development solutions is necessary. Players may post their winnings from a game on social media and ask their friends and family to join them by utilising this incredible feature. The foundation and experience of a user may always be improved by social media integration.
Exciting and Simple to Play
In addition to social media integration capabilities, you should check for user-friendliness. This will make it easier for users to play it. They are selecting the finest business to provide poker game development services. Because they are experts, the developer will create an online game with simple ideas. Users will like their straightforward designs since they keep them interested and motivate them to return time and time. 
Outstanding Payment Gateway
A payment gateway is a crucial factor in keeping users interested. You need to offer a variety of payment alternatives for customers to conduct transactions using their chosen method while developing a poker game app.
Poker A live chat feature that enables users to connect with friends, rivals, and other players while playing an online game should also be included in game development. The gamers will have an incredible gaming experience because of this. Therefore, remember to include this function while creating an online poker game.
These are the fundamental characteristics needed to poker app development. Remember that these features will significantly influence the price of creating a poker game app.
Cost of Hiring a Poker Software Development
Eventually, it's critical to consider the project's cost and timeline when selecting a poker software development company. Verify if the business offers straightforward pricing and a concise development schedule. Remember that the complexity of the project and the features you desire might significantly impact the cost of building poker game software.
However, it's crucial to pick a business that offers a reasonable price and is open to any extra expenditures that could occur along the construction process. Along with these considerations, choosing a vendor that provides continuous support and maintenance for your poker game software is crucial. This will guarantee that any problems or glitches are immediately fixed and that your users have a seamless and satisfying gaming experience.
Summary
Developing poker game software is challenging, so each step must be carefully considered, including selecting a reputable app development firm and adding features. It ensures that your application will be created easily and without any hiccups. To pick the ideal company, consider the previously mentioned factors and pay attention to the price of developing a poker game app software. For developing the best poker software in the industry, Ezulix Software is the most preferred software development company in India. This will undoubtedly boost your chances of creating a poker game that millions of people will like and find intriguing.
1,903 total views, 1 views today