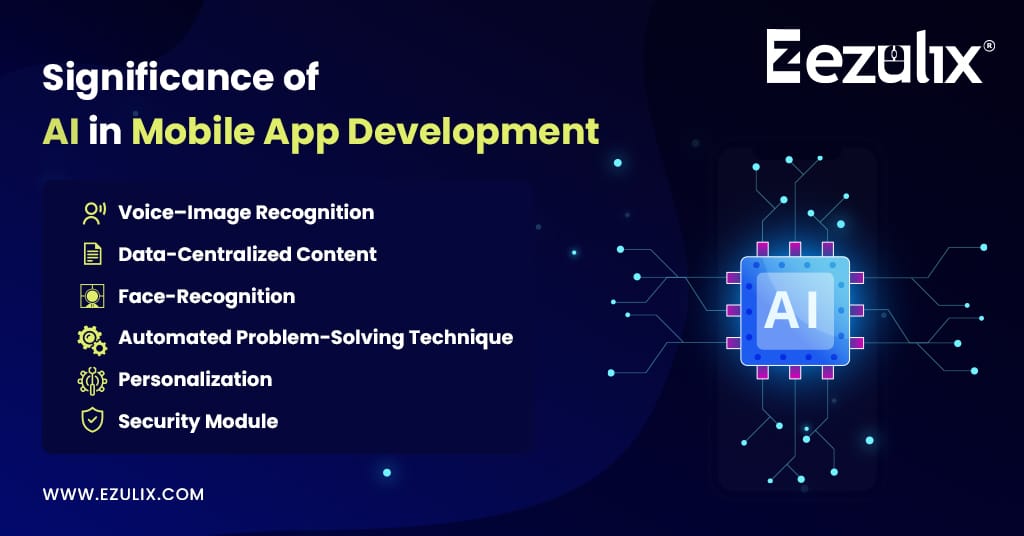 Introduction
How about having a thought of a process in a minute and getting things done within another minute? In context to that, we are talking about Artificial Intelligence, which has made significant progress in the business world. Numerous businesses from various industry sectors have simplified their procedures using Artificial intelligence and machine learning. Nowadays, technology is developing to integrate AI with multiple fields, like robotic process automation and even the mobile app development services.
AI technology's growing range impacts mobile app development and increases the value of corporate apps. In the below-mentioned blog, we're going to share our point of view on the role of AI in Mobile App Development and how it is beneficial in developing an application.
Firstly, let's understand more about; what artificial intelligence is? Artificial intelligence is invented on the fundamental phenomenon that human intelligence can be described in a way that makes it simple for the computer to duplicate it and carry out activities of any complexity. Regarding concretely defining processes like learning, reasoning, and perception, researchers and mobile app developers in the field are making unexpectedly rapid advancements.
Significance of AI in Mobile App Development
Half of the population thinks that AI is just for copying and shortening the time and cost of the outcome. But, it is not the whole truth; artificial intelligence is the ethical approach to strengthen your strategies for meeting the client's requirements. Regarding innovation and creativity, AI is essential to developing specialized, corporate-grade apps. Let us know how AI plays a vital role in changing the world of mobile app development.
Voice–Image Recognition
The development of engaging search engines is possible through artificial intelligence services, which help in finding content based on user preferences and expectations. With the AI and ML interface, users are able to search using their voice or even images. The mobile app development business can include voice recognition and picture recognition functions in the enterprise-level app. For instance, if a person sees a weird object around, they can immediately upload a photograph of the particular thing and gather information about that object.
Data-Centralized Content
According to the data analysis, AI-based technology is drives the given data; it targets the projects and desired actions directly. It facilitates the generation of relevant, reader-friendly material; the content can be essential in creating mobile apps because the UI is complete with exciting and unique information. AI offers optical character recognition in order to convert images and translate material into multiple languages. In this way, entrepreneurs can speak to a larger audience multilingually in the world. The data-centric content can help the app become more digital in a sense while enabling users to do tasks in their regional languages as well.
Face-Recognition
Nowadays, facial recognition capability is available on many Android and iOS devices. This functionality has numerous uses in mobile app development, such as selfies, social networking, and camera apps. Customized mobile apps can add face identification in line with this capability. This feature is enhanced in eCommerce apps, security apps, and other B2C applications by the developments in AI technology. For example, one of the social media platforms that make use of AI-based facial recognition is SnapChat. The facial recognition capability will proliferate in the upcoming years as an additional security and interaction component in customized business apps.
Automated Problem-Solving Technique
Artificial intelligence in applications is primarily used for solving problems. Enterprise apps will frequently solve problems once the custom software development business incorporates AI. These technologies gain strength and efficiency due to high problem-solving rates. AI-based algorithms are capable of analyzing human behaviour and applying the results of data analysis to enhance decision-making. It is powered by customized mobile apps that can provide the following:
An engaging user experience for navigation.
Locating nearby locations or landmarks.
Other functions.
Personalization
Artificial intelligence enables customized mobile apps to become centralized for users. Apps can offer individualized recommendations based on the user's actions and search trends, notably in the retail and eCommerce sectors. Users can get a personalized experience when apps adapt to their requirements or preferences, which ultimately encourages them to stay loyal to the brand. Personalization can be further enhanced by using chatbots, notifications, and custom emails because they can immediately respond to customer questions. Users and developers alike benefit from these AI-supported technologies. Users may quickly get answers to their questions in real time, and developers can make the process simpler by employing AI technology.
Security Module
User data security is the most crucial facet of artificial intelligence. Hackers and cybercriminals mostly use mobile apps to sneak into people's lives. With different authentication methods and algorithms, AI can combat the growing dangers to the data of app users and other sensitive information. User's actions and data storage patterns or querying influences the security algorithms. By using multiple features like two-factor authentication and OTP verification. Users of the app can receive notifications if someone tries to steal their data or hack their mobile app. Additionally, artificial intelligence systems might incorporate fingerprint recognition features to ensure maximum security. In a manner, AI will change the process of creating mobile apps by enhancing app security.
As Conclusion
The aforementioned pointers demonstrate how artificial intelligence and machine learning alter how users engage with their apps. There are various ways you may enhance the user experience when integrating AI into your mobile apps. Hire a dedicated mobile app developer to facilitate you with advanced AI & ML technologies. Ezulix Software offers you authentic and authorized mobile app development services to entertain you with all such qualities; feel free to visit Ezulix website https://ezulix.com/ or write us at info@ezulix.com
2,353 total views, 1 views today