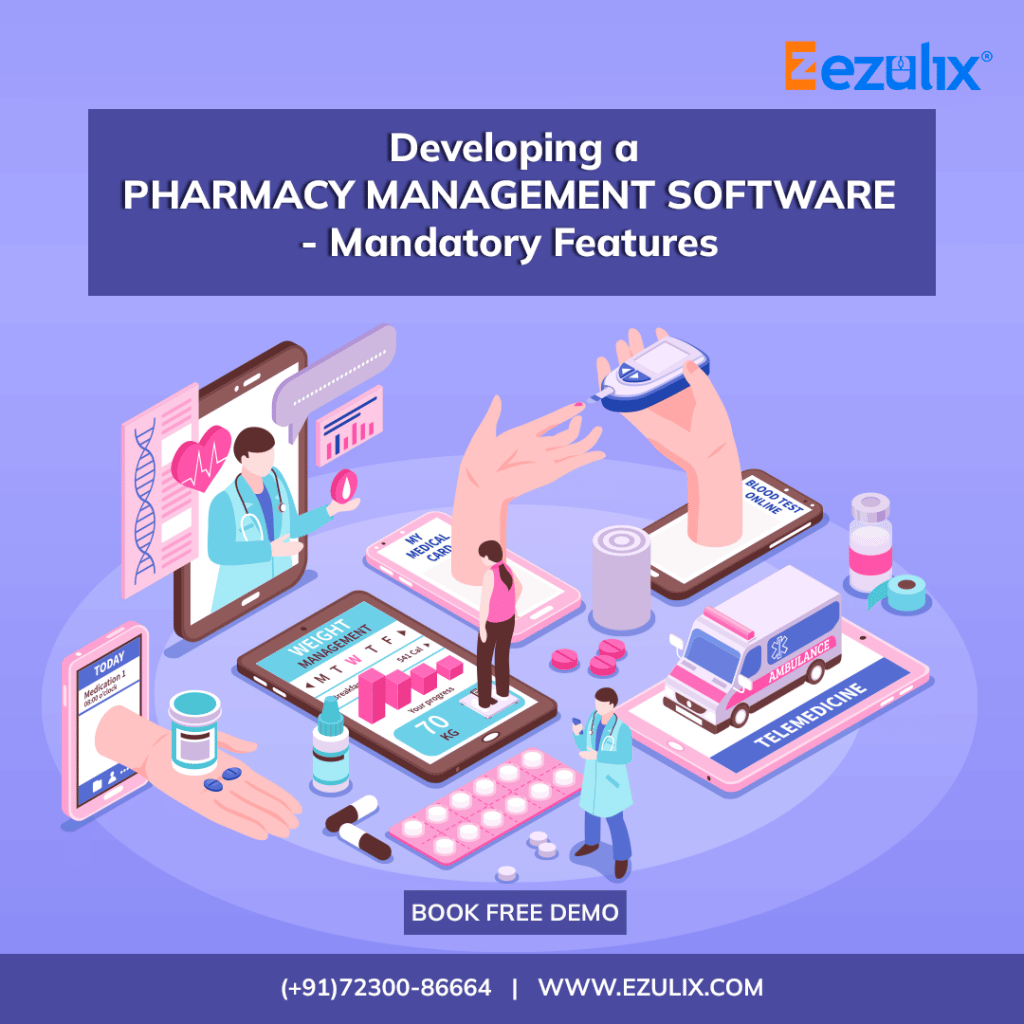 Introduction
To fully digitize their pharmacy, pharmacists make use of the major features of pharmacy management software. Utilizing pharmacy software that has all essential and cutting-edge features aids in managing daily operations and boosting revenue. Patients occasionally choose to visit the pharmacy for normal medication rather than see a doctor, and the sophisticated pharmacy software capabilities assist in making prescription recommendations based on the salt compositions of these minor diseases.
Pharmacy software is a huge possibility for pharmacy operators in the current technological era. The software is built by the software developers so that it aids the business owner in managing their inventory, accounting, and selecting the appropriate prescription based on background data analysis.
9 Key Features of Pharmacy Management System
Manages Inventory System:
Pharmacy management software carries out an audit trial. Additionally, it monitors the medicine supply. Additionally, the method improves the inventory yield ratio. Users may thus manage supplies and keep track of stock levels thanks to the software. Pharmacy Inventory Management is centralized and is managed using a special dashboard. It links marketplaces, internet retailers, and ERP. Warehouses and the inventory system are connected by management software. Additionally, it includes items with various SKU codes.
The software requires less downtime for inventory filling. Additionally, inventory management requires that there are no obstacles to product availability. Products can be bulk-added, updated, and removed by users. An efficient stock management system prevents the collection of too many medications. Pharmacy staff can accurately measure medicines, eliminating the need for unorganized excel sheets. The software provides complete transparency about stock availability.
Orders are processed smoothly because of integration between pharmacies and wholesalers. The pharmacy management system establishes reorders for medicines. Reordering provides information about stock replenishment. Product performance is also determined by pharmacy POS. The system provides discounts and programs for reordering. A supply management system can help pharmacists stay informed and organized. The technology enables the reordering of the goods when the stock hits its lowest point. As a result, it affects profit margins and changes depending on the patient base.
Automated demand and supply records for inventory are kept by the system. It is a calculated strategy to improve performance. The sustainability of resources is determined by the system. The prescriptions are obtained by the pharmacist. They later check it for appropriate dosages.
Real-Time Synchronization
A perfect pharmaceutical management system steers clear of technological issues. Also, it prevents system crashes. Real-time data synchronization is required for retail pharmacies' software, including updates to pricing and auto-programs. Real-time engagement is encouraged by the software. To enhance company performance, healthcare providers communicate.
They can serve and keep an eye on patients thanks to the functionality. In addition, real-time inventory updating makes it possible to generate reports. Incorrect data or billing issues could result from delayed data. Staff at Pharma can also total insurance companies and complete insurance papers. Additionally, the software offers real-time data on costs, sales, and profits.
Electronic prescriptions are made available through the help of a pharmacy management system. They are produced utilizing EHR (Electronic Health Record). E-prescriptions reduce paperwork and are having a user-friendly interface. They also prevent misunderstandings between patients and chemists. Any mistakes made when giving the medications are eliminated through e-prescription. Pharmacy stock management is another benefit.
Pharmacy operations are much more data-driven as a result of the E-prescription procedure. The function also allows for data retrieval with a single click. E-prescriptions are distributed via email or SMS. Additionally, it gives current information by monitoring a patient's medical background. It oversees several stores simultaneously. The system improves patient engagement and team productivity. Additionally, it saves money and gives pharmacies hassle-free operations. Works well for small and medium-sized pharmacies with fewer employees.
The pharmacy management system keeps track of all medicine expiration dates. Additionally, the technology notifies the pharmacist of the expiration date automatically. Sends the notification right away when an urgent medical situation arises. After purchasing the subsequent dosage, patients receive the SMS. The elements improve patient security. Additionally, it sends warnings when the inventory needs to be restocked and low.
For sales strategies, vendors also receive delivery notifications. Pharmacy professionals can communicate with patients thanks to frequent updates. Customer satisfaction is increased with push notifications and automatic alarms. If a patient requests a refill, the pharmacists are also notified. Additionally, the quality improves patient engagement and communication. Additionally, it alerts the user to discrepancies in the patient record. Therefore, adherence reminders or performance alerts could serve as triggers for the patient.
To evaluate the performance of the wholesalers, the pharmacy management system creates reports. Analytics and reporting set up the pre-drug necessity. Additionally, the inventory is managed automatically. The function determines how many prescription medicines are required. The reporting method improves ROI and sales (Return on Investment). Additionally, it offers a thorough account of pharmaceutical business activities.
The reporting function also creates reports on classified sales. Additionally, they are organized by product category. For marketing objectives, the management system generates customized reports. Critical insights, therefore, influence decision-making. The data is necessary for monitoring and audits as well. Reporting also aids in maintaining compliance and identifying systemic irregularities.
A key component of the pharmaceutical industry is its federal data. Additionally, a centralized database keeps the patient's data in one place. Data retrieval is made simple by the pharmaceutical management system. Transactional records are also managed by it. Data loss is prevented by the system. It also keeps information on pharmaceuticals and medications. The configuration thus offers data on medicine availability.
The patient's convenience for secured data access is improvised by a significant database. The system makes it easier to search for data. The workforce is minimized by the dynamic system. Additionally, the centralized system allows for the creation of medical reports. Even with modest databases, companies can benefit from the integrated database feature. It serves as a means of communication for pharmaceutical employees.
Customer Management System:
Any system created for organizations must have its focus on the customer. Patient management must be automated in the pharmacy management system. The patient's information is also recorded by CMS. It is a dynamic solution that also brings in new clients. Customer feedback and responses are stored in a well-organized CMS. As a result, pharmacists create pharmacy business plans to handle client demands.
A reliable solution for small- and medium-sized pharmacies is a customer management system. Its UI is appealing and simple to use. The system makes navigation simple. It automatically updates the patient list following each update. Additionally, it enables pharmacists to offer information instantly. Multiple patient profiles are managed by the system. As a result, it is trustworthy for managing patient therapy.
Integration with Third-party Software:
Operations in the back office are managed through integration with other software. The pharmacies participate in systems that monitor the use of prescription medicines. Integration of the EHR and EMR to access patient records. Integration of e-prescribing software to manage medical receipts.
Inventory management and transaction recording are made possible via POS (Point of Sale) connectivity. Patient interactions with pharmacy staff are improved via IVR (Interactive Voice Response) integration. For order management, the pharmacy management system works with DHL. The third-party program enhances transparency and precision.
CONCLUSION
Any software system is only as good as the input it receives, and with the proper suggestions from your end, we are confident that the knowledgeable team at Ezulix Software can satisfy all of your needs. We work hard to provide the solution that best suits your needs right now while leaving the system with enough room to accommodate the rising demands of tomorrow. Nothing can go wrong with the team's 24-hour assistance, and even if it does, we can correct it quickly.
Why not try it yourself by clicking the link below, filling out your information, and submitting it to us, so that our pharmacy management software experts can connect with you and showcase our services in a FREE LIVE DEMO
3,389 total views, 1 views today