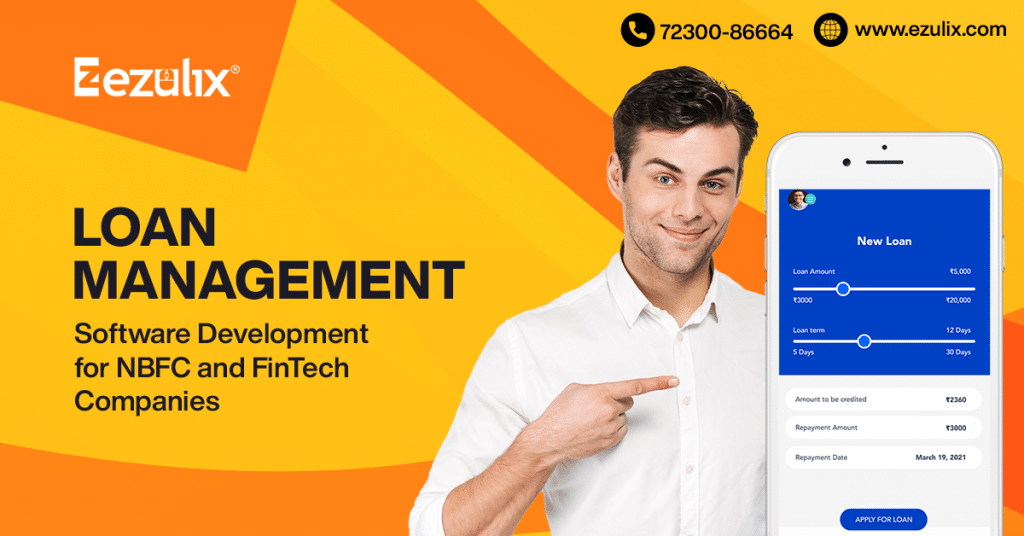 Loan Management Software for NBFC and FinTech Companies
Financial landscape is being changing over the years. Today, Lenders are looking for secure, fast and reliable loan management software that can perform all key processes. Ezulix software is an emerging loan management software development company in India. Our skilled and experienced professional's team has developed advanced end-to-end loan management system that reaches to all needs of online loan business.
We provide you innovative technology based loan software that best suit for short-term personal loan business.
Customer satisfaction and user experience plays vital role in success of every business. To keep this in mind, we have developed fully automated, flexible and agile lending platform that boost customer experience as well as lenders efficiency.
So If you are planning to start your own short-term loan business, NBFC (non-banking financial company) or any loan related agency, Ezulix loan management software is best solution for you.
Loan Management Software Features
In this section, we will discuss all key features of our lending software that make it more potential and sustainable in competitive market.
Highly Secure with Aadhaar, PAN and Account Verification
Our loan management software is fully secure for financial transactions. We have used multiple security parameters in our lending software to make it more secure and reliable.
Whenever any borrower apply for a loan, he/she has to fulfill all security parameters like Aadhaar verification, PAN verification and account verification. After completing all the security parameters, they can apply for a loan.
Fully Customizable Loan Software
We provide you fully customized loan software with latest features. As an admin you can make any changes as per your business strategy and market requirement. You can set lower and upper loan limit, you can set service fees, eligibility Cibil score and more.
Along with this, you can create other pages for your website to make it more exciting and attractive. It is based on content management systems which make it easier to make changes.
Approve and Disapprove Feature
As I told you when any borrower applies for a loan, he/she has to go through all security parameters. After passing all security gates, a loan request show in admin panel. Admin can approve or disapprove loan request after reviewing borrowers profile and If he seems any doubts, he can reject the loan request.
Payout Feature
We have updated payout solution in our new loan management software. Now admin don't have to pay manually after approving loan request. In automated payout solution now admin doesn't have to pay manually, after approving loan request, fund will directly transfer to the borrowers account.
Easy, Fast and Automated System
We have used PHP Code igniter Framework which makes it faster and easier to use. Customer can apply for loan in just few steps. It is based on fully automated system that makes sure customers loan limit, their status and many more features.
Multiple Repayment Option
We have integrated multiple payment gateway option in this lending software that allows customers to repayment loan via multiple payment options. It helps to boost customer's experience of your loan app.
So these are all the key features of our loan management software that help you to run your business smoothly and successfully.
Benefits of Loan Management Software
As fast as technology is growing, competition is increasing. Every business is investing their efforts to sustain in market. Here we will discuss all benefits of using loan management software which is helping lenders to survive and grow in this competitive landscape.
Saving Time
Smart organizations never waste their time. This lending software is helping businesses to do things faster by reducing time waste in daily tedious stuffs.
Reduce Hardwork
Earlier in lending and mortgage businesses, it was very tuff to manage account and reporting. It needed more hardwork and human resource that results high cost and low profit. Loan software is changing lending business framework by its modern strategy and technology.
Zero Human Error
Our lending software is fully automated that reduce chances of human error. Before technology revolution, everything was performed by human that results probability of human error. With loan software automated feature, zero human error possibility helps to stop business loss.
Deliver Funds in Seconds
By using loan management software system, admin can transfer fund in seconds after verifying customer eligibility criteria. It helps to boost your business credibility as well as brand value in the market.
Accept Digital payments
By using our loan origination system, you can accept payments digitally from borrowers. This makes it faster, advanced and easier to use for customers.
Increase Productivity
Loan management software is helping business to boost their productivity by making it more reliable, faster and safe. By using loan software, lenders are reducing service cost and increasing profits. Its advanced features are also helping admin to boost their business.
So these are the benefits of using loan origination software for lending business.
Conclusion
So here we discussed how loan management software is helping lenders to scale their business and profit.
If you are planning to start your own short-term personal loan business and looking for best loan software, Ezulix Software is best place for you.
We provide you best loan software for small business or lenders. We offer you loan management software integrated with personal loan app so that you can promote your business online easily and can create huge customer base.
Along with this, we provide you lifetime free technical support of loan software.
For more details about loan business or loan software directly contact to our executives or apply for a free live demo.
8,374 total views, 5 views today