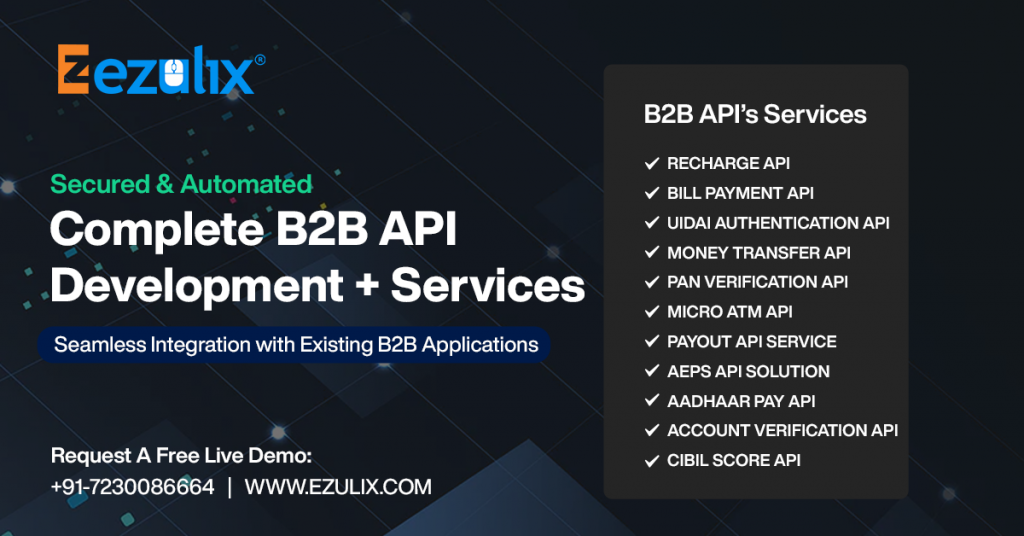 Plug and Play with Ezulix Services using All B2B API Development Service
API is an abbreviation that stands for Application Programming Interface. AnAPIis a set of programming code that enables data transmission between one software product and another. It serves numerous purposes that can simplify and speed up software development. An individual can add functionality to existing solutions.
Ezulix Software provides a high quality and pure API to meet the needs of a customer. There are various kinds of API's available at Ezulix. They are helpful in providing maximum profit to your business with faster growth. We always keep in mind the client needs and budget. So, we provide all type of API development solutions as per the customer's requirements.
Our developers specialize in developing APIs that are reliable, well-documented, and easy to consume. APIs are fundamentally changing how data can be used, and opening up entirely new business models and strategies for products. They allow flexible integrations and customization of existing products, enabling our developers to enrich and enhance services in new and creative ways.
Ezulix's experts have recognized the importance of APIs, and the importance of delivering scalable and secure API development solutions for our clients. Over the past few years we've grown our capabilities in this area to become one of the leading experts in providing API development solutions.
Serve your customers the best services with the help of our extremely talented API Developers at Ezulix. Our API's are based on latest technology with updated features. Our expert team of API developers in India helps in exposing your business to the public and fulfilling all your expectations. The success ratio of our API is 98.5%.
Ezulix has an excellent support team that offers you life time support and helps you throughout the integration of API. .
These are some of the API's that we provide:
Recharge API Development
We provide a multi-recharge API development service that not only offers mobile recharge but also DTH recharge and Data Card recharge. It is easy to operate and safe to use for the customers as well as the recharge service provider. The service is directly provided by the National Payment Corporation of India (NPCI). It supports the entire major operators all over India. Any individual or company can start its own Recharge API business in India with Ezulix. A mobile recharge API covers a wider range of fields that start from the operating system to the manipulation of raw data. There is no doubt that your software developers are trying their best to implement the best solutions for your business success and our API solution will gain extra power to utilize those. Moreover, an integrated recharge API will make software communications and language far easier and faster.
Bill Payment API
Ezulix offers a high-quality Bill Payment API that helps our clients to offer utility bill payment service to their customers. Utility bill payment refers to the everyday bills including electricity bill, water bill, gas bill, mobile phone bill payment, DTH payment, Data Card payment, Insurance premium payment, Loan repayment, etc. These bill payments are a vital convenience expected by the customers. Looking at these needs we extended our reach and developed Bill payment API for all the states in India. This enables customers to manage a single wallet for all services. It is the simplest way to pay bills every month, quarterly or yearly. Our API is fully scalable and designed to fit into your workflows. There is no need to visit different departments for bill payments.
UIDAI Authentication API
Ezulix provides Aadhaar verification API so that you can verify an Aadhaar card easily. An Aadhaar card can be verified through an OTP sent by Aadhaar centre. This is the most reliable and secure method of Aadhaar verification available at Ezulix. We offer complete API solutions that any Aadhaar number can be verified easily. The process of authentication is very simple including OTP filled and submitted. The Aadhaar verification can be done instantly by any individual. Verification of the Aadhaar card is an important process to eliminate frauds in the AEPS service. It has the ability to allow the organization to instantly verify the identity of the customer. The UIDAI Authentication API is important to instantly verify the customer's Aadhaar card.
Money Transfer API
A simple and highly secure money transferability for your customers to transfer money anywhere in India. No need to visit banks or ATM in order to transfer money. A customer can transfer Rs. 5000 at a time and Rs. 25000 per day. The best thing about Money transfer API is that it is available 24*7 for customers. There is no time limit for transferring money. An individual can transfer money anytime, anywhere in India. Money transfer is one of the services most in demand today in India because vast segments of the population still do not have access to basic banking services. The density of banks in rural or semi-urban area is still very low. Money transfer API helps in transferring money from anywhere in India. So, money transfer API is proven to be the most useful technology in India.
PAN Verification API
Verification of PAN is very important for organizations and this is possible through Ezulix's PAN verification API. If an organization has a relevant PAN number, it can complete the verification process successfully. It enables certain organizations to verify PAN information. It is a service which validates the PAN information by providing the name and its activation status. The user just need to enter the PAN number as input in PAN verification API and the details associated with the respective PAN number will automatically extracted from NSDL portal. Use Ezulix's PAN verification API to verify your customers, employees or merchants. Our easy-to-use API is very useful in eliminating fraud.
Micro ATM API
Ezulix provides Micro ATM API that will enable Banks and Business Correspondents to offer basic bank services. We offer a combo of both Micro ATM and mPOS. You can use all digital cards . The basic financial transactions include cash deposit, cash withdrawal, balance enquiry and mini statement. Ezulix provides best Micro ATM API development solution that is not only easy to use but also secure. Moreover, it enables the retailers to earn more income and attract more customers. A customer would just have to get their identity authenticated and access the services offered by Micro ATM. The money deposited through Micro ATM API will be directly transferred to their bank account. And the cash is withdrawn will be given by the concerned Business Correspondent. There is no need for any bank or ATM for using Micro ATM API.
Payout API Service
The Payouts API is a fast, convenient way to send money of retailers to their respective bank accounts. The amount that is withdrawn by the customer is the amount that is settled in real-time in e-wallet or bank account. An agent gets a commission on every successful transaction done by the customer through AEPS. There is no need to visit bank for real time settlement. It can easily perform by using Payout API. It is simple to use Payout API that enables business to send money to recipients in their wallet or directly in their bank accounts using Payout API.
AEPS API Solution
AEPS API (Aadhaar Enabled Payment System API) allows a customer to use Aadhaar and access their bank account to perform basic banking transactions like cash deposit, cash withdrawal, balance enquiry and access their mini statement with just an Aadhaar card and fingerprint authentication. Our API integration process is very simple and developer-friendly for any software. It supports multiple languages and there is no need of lengthy codes to integrate. The AEPS transactions are completely card-less and pin-less. An individual can perform transactions digitally at any nearby AEPS service provider. AEPS API delivers a high level of security. We offer AEPS API services through ICICI Bank.
Aadhaar Pay API
Aadhaar Pay is an important feature of AEPS that allows customers to perform transactions of more than Rs. 10,000. It is a service that allows the merchant to accept payment from a customer of any bank by authenticating the customer's biometrics. The services offered through AEPS including cash deposit and cash withdrawal has a certain limit of Rs. 10,000 but Aadhaar pay allows a customer to access transactions more than Rs. 10,000. The Aadhaar Pay API is user-friendly and easy to integrate. There is no need to technical knowledge to use Aadhaar Pay services.
Account Verification API
Ezulix's account verification API allows verifying a customer's bank account identity. There are a number of businesses that needs verifying customer account verification like when you are required to transfer money. In another scenario when you are in the loan business, you need to verify the customer's identity that you can done through our account verification API.
To verify the customer's identity, you have to fill the customer's bank branch, account number and IFSC code and after submitting you will get the customer's details.
Cibil Score API
By using Cibil score API, a member can check cibil score of any bank customer by submitting his legal details like name, mobile number, mail Id, pan card number and Aadhaar card number.
So If you are in loan business, you need to integrate Cibil score API to verify customers credibility by checking cibil score.
Conclusion
With all the above information about API, we can conclude that API is very useful. It consists of a lower cost as compared to software. They work efficiently while providing maximum profit to the retailers. You can easily start your business with Ezulix and earn an attractive commission. We are top b2b API development service provider in India.
Apart from the income it also helps your customer to access various services at the nearby shop. You can serve your customers with various services all over India.
So, what are you waiting for? Get your own API and start your business or grow your existing business today with Ezulix. Contact us today and Apply for a FREE LIVE DEMO.
8,567 total views, 1 views today