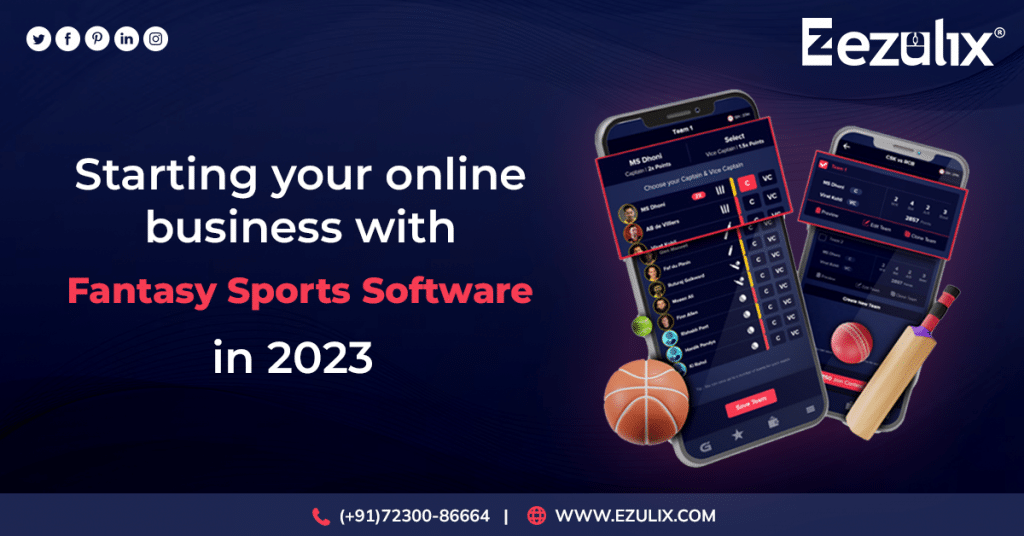 What is Fantasy Sports Software?
Fantasy sports software is developed to provide fictional teams that are substitutes for actual professional teams. Now making software to develop virtual teams to play and make an exact look of playing. You join to understand its features for developing your software. People are getting crazy about fantasy sport by its flash movement to go with its virtual look to get fantasize. Hoping and enjoying for fun as well as getting cash rewards. The most popular games in software are football, baseball, cricket, basketball, hockey, soccer, and car racing. So going with its actual demand of developing fantasy sports game software for your gaming businesses. Come and scroll for more about fantasy sports software.
How to Start an Online Fantasy Sports Business in 2023?
Now we are looking forward to going with these features which are required to complete your business journey. It will monitor and plan your success path to launch your business.
Research for your business
It's crucial to conduct research and gain an understanding of the fantasy sports industry before starting anything. You must be aware of the fantasy sports game categories, targeted games in the market, and regulations for running a fantasy sports enterprise in your country.
Plan your business for development
You need to understand and develop a business plan for your grasping the sector. For winning a plan, you need to find a good fantasy app development company. You are required to find the market to target and define your objective for users to go with your sports.
Right platform
Here, we are having several platforms for online sports businesses. You need to target the audience and develop a strategy to target them. Some of the popular platforms include FanDuel, DraftKings, and Yahoo Fantasy Sports.
Fund your business
Without having the financial resources to fund your business, you cannot run or develop the scoring strategy to target. You need to have secure funding for your business to grow.
Choose market
Once you have running fantasy sports software, you need to take it to a market. You can achieve it by developing websites, promoting on social media, and creating campaigns to advertise.
Provide customer service
For a successful business, you need to provide an excellent customer support service. Having responsive customer inquiries and a resolving team will provide a good user experience.
Key features for a successful fantasy sports platform?
Here we are discussing some important setup components which are required to understand its basic technical functionality. The Key features required to build software that is scalable and user-friendly to its environment platform. You can build fantasy sports platforms to draw attention and offer distinctive and pleasurable gaming experiences by taking these essential features. You can increase the chance of success by including these essential components in fantasy gaming software.
Player user friendly interface
The user interface for both new and experienced can navigate able to manage all its features. Users can be able to manage teams, join leagues, and able to manage effortlessly.
Here is some prebuilt software like fantasy cricket sport software to meet third-party company-specific demand. It makes your software run on all platforms.
Customization
Your game should have a platform for personalizing their experience to select the sports, leagues, and competition level to want to go. Allow users to format the game according to their play style.
Real time scoring
You can make your game with exceptional features with its real-time score to play their user with great enthusiasm. They can modify their tactics and develop strategies to score well.
Fun and engaging
The entire platform should be in an engaging and fun mode. So that user can make up his/her mind to create a go again. Amazing idea develops the user to interact which develops the business.
Live streaming
Your application software required you to watch their games live as they played. Getting a game to strive with the latest feel mode can users to go with its features. So going to monitor its features can place your game within the market.
Secure and reliable
With its scalable performance and reliability, fraud and data protection can be monitored with its advanced features to perform within users.
Mobile app
Making your game with the mobile platform can make users play easily. Your application develops with both iOS and Android platforms to ensure access and manage the game.
How do fantasy sports platforms make money?
Here we are discussing the question "How to earn money online?". So, getting a platform with fantasy sports will generate many options to provide money. Getting a subscriber within your application will extra mark money with nothing invested. However, fantasy software will generate money it all depends upon its features that you are offering in your application. Now, we are discussing some common ways to generate money by your application.
Entry fee in fantasy sports platform develops money with your gaming software to create reward fund, able to pay for other expenses and develop profit. Moreover you can develop software with its minimal charge option.
You can generate money by advertising with your software and make partners with any brand of product or services which provides you with money.
You can partner yourself with any brand sponsorship to give platform of your software. Software applications generate revenue with sponsorship of any product or services.
Users can subscribe to premium services on your fantasy sports software. It will involve real-time streaming, advanced statistics and professional evaluation. Give yourself to make this sports fantasy software to provide platform for generating money.
What is the Development Cost of Fantasy Sports Software/App?
For developing the software, you need to consider many factors like features included, complexity of app, and experience of development team. The cost of developing the software depends upon these features. The price of developing the sports software application is estimated between $ 60,000 and $180,000.
Here, we are taking these factors into consideration for developing the sports software cost. It completely depends upon these factors for charging the fee.
The more features, the higher the development cost. You can include the features as per your requirement and budget. The budget will vary according to your features requirement. For getting live scoring feature it will be more costly than basic scoring feature.
If your app contains complexity, then it will raise your budget. For complex software you require to pay more for its custom features.
Conclusion
The rising popularity of fantasy online sports in India is completely beneficial to grow your business. You can improve your chances of success by including new games, new features in your games. You can go with different demand games with inventions and new technology. Cricket is in high demand among Indian people due to its popularity. Fantasy Cricket App Development Company will progress your journey to embark on success in this. Analyzing your interest with market research will provide excellent support to grow. By following tips from this blog, you can increase your chances of success. Go with this blog for a better journey.
6,235 total views, 15 views today