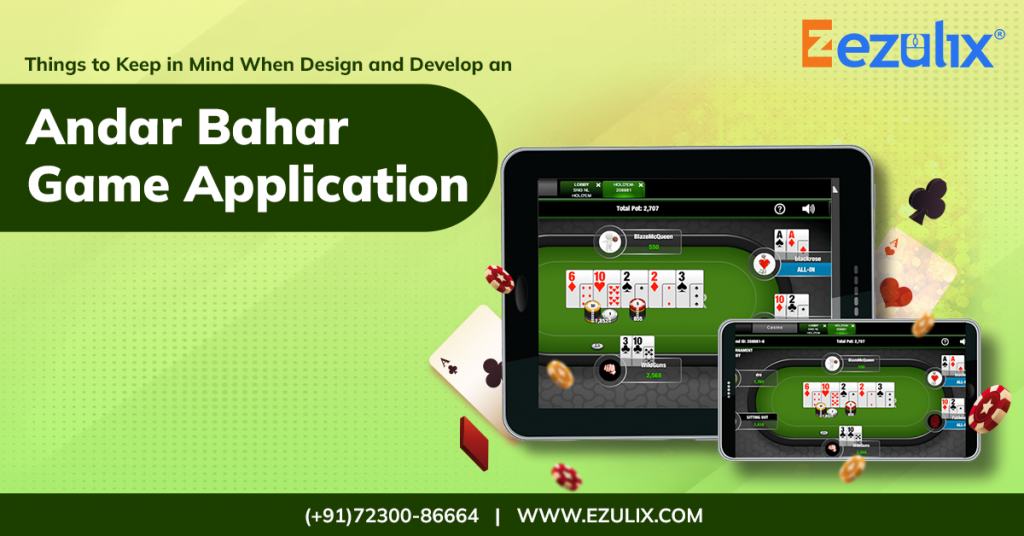 Introduction
Technology is playing the most critical role in our digital world. Millions of online solutions, whether for mobile applications or website-related products, have been introduced to the market. Card games are becoming increasingly popular and in demand, according to recent gaming reports. Apart from all other games, there is one particularly popular game Andar Bahar, that fulfills the demand of the online casino industry. Andar Bahar Game Software is now widely available for people to play games online from the comfort of their own homes.
However, developing a gaming application needs a great planning and execution. To create a satisfying gaming experience, every part, from the user interface to the game mechanics, needs a development with the utmost care. In the blog post, we'll go through some key considerations to make while creating an Andar Bahar Gaming Application.
How to Design and Develop an Andar Bahar Gaming App
The Andar Bahar game development is a challenging endeavor in recent times. Developers invest the necessary time and materials to create a fully working and successful game. Below-mentioned is the process of developing and designing Andar Bahar Software:
Research and Planning
Organize in-depth research on the Andar Bahar game rules, player feedback, and other applications with a comparable gaming experience. This will assist you in comprehending the target market, essential components, and best practices for creating an effective Andar Bahar gaming app. In order to acquire useful insights, you may also gather customer input through surveys or focus groups.
Choosing a Platform
Pick a platform for your apps' development, such as Android, or iOS, or a cross-platform solution like React Native or Flutter. Take into account the target audience, their preferred devices, and the benefits and drawbacks of each platform.
UI/UX Design
Designing an intuitive UI/UX that is simple to use and comprehend is known as UI/UX design. Consider the aspects of the application's design, color scheme, typography, and layout. Enhance the user experience by adding animations, music effects, and other multimedia components.
Game Play
Create a software game mechanism, such as betting possibilities, card distribution formulas, and gameplay regulations. The andar bahar game developers make sure that the game is equitable, well-balanced, and fun for players of all experience levels. Test the game mechanics thoroughly to find any faults or flaws and correct them.
Testing of the Game
After the successful development of the app, the app is now tested extensively to ensure that it is free of bugs and errors. Employ manual and automated testing techniques to find and address any problems. To verify compatibility and performance, test the app across a range of hardware, software, and network configurations.
Deployment
Release the app on the selected platform and market it through a variety of platforms, including social media, app stores, and online advertisements. To find areas for updates and improvements, keep an eye on customer reviews and ratings.
Security Patches
The program will be updated often to solve errors, enhance user interaction, and introduce new features. To stay ahead of the competition, keep abreast of the newest technology, trends, and user demands. Utilize analytics and user feedback to guide your upgrades and assess the effectiveness of the app.
Must-Have Features in Andar Bahar Software
Indian card games like Andar Bahar have been played for generations. The game has evolved from physical cards to online versions to software-based variants as a result of the development of technology. There are a number of aspects that developers must include in order to produce a good Andar Bahar program. These qualities consist of:
For any software to succeed, it must have user-friendly. Even for users who are unfamiliar with the game, the Andar Bahar program should be made to be simple to use and comprehend.
The software ought to give players real-time game updates, such as the number of cards dealt, the number of cards still in the deck, and the game's current standing.
The Andar Bahar software should be made mobile-friendly given the rising use of mobile devices. Both Android and iOS smartphones are included in this.
Security and steadiness are essential components of any software-based game. To ensure that the game is safe and that user information is secured, the Andar Bahar program must be created. Moreover, there should be less downtime and errors in the program.
Gamers should have the option to change their settings to fit their tastes. This covers options like the game's language, sound effects, and visual quality.
To encourage users to play more, the software should offer incentives and promotions. Welcome incentives, deposit bonuses, and loyalty programs are a few examples.
Because Andar Bahar is a multiplayer game, the program should be made to support several players at once. For players to communicate with one another, the program should also have chat and social capabilities.
To prevent gamers from picking up bad gaming habits, the software should provide features for responsible gaming. They may include tools like self-exclusion and time and money spending limitations that are established for the game.
To make it simple for users to make deposits and withdrawals, the program should offer a variety of payment choices. There should be few transaction costs and safe, dependable payment methods.
Software for Andar Bahar should be created with the user in mind, making sure that it is user-friendly, stable, and secure. Moreover, the software must be programmable, offer a variety of payment methods, and give users access to real-time game updates. In order to prevent gamers from picking up bad gaming behaviors, the software should be created with responsible gaming features.
Development Cost of Andar Bahar
The complexity of the software, the features it includes, the platform it uses, the development team's experience, and its location are just a few of the variables that can greatly affect the cost of developing Andar Bahar Software in India. The Andar Bahar game development cost might range from INR 2 Lac to INR 5 Lac based on industry estimations and previous projects. This covers the price of developing, testing and deploying software.
Conclusion
Online Andar Bahar has developed into a game that live casinos may play whenever they choose. Many gaming companies want to increase their revenue by taking advantage of how profitable live casino platforms are. As a result of the rising demand for such games, developing an Andar Bahar Real Money Game App may be quite beneficial for your gaming business. If you're also seeking a reputable and skilled game development company, Ezulix Software can help. Get in touch with our team or experts to discuss how we can produce dynamic and affordable Andar Bahar Game Development Solutions based upon your ideas.
1,865 total views, 1 views today