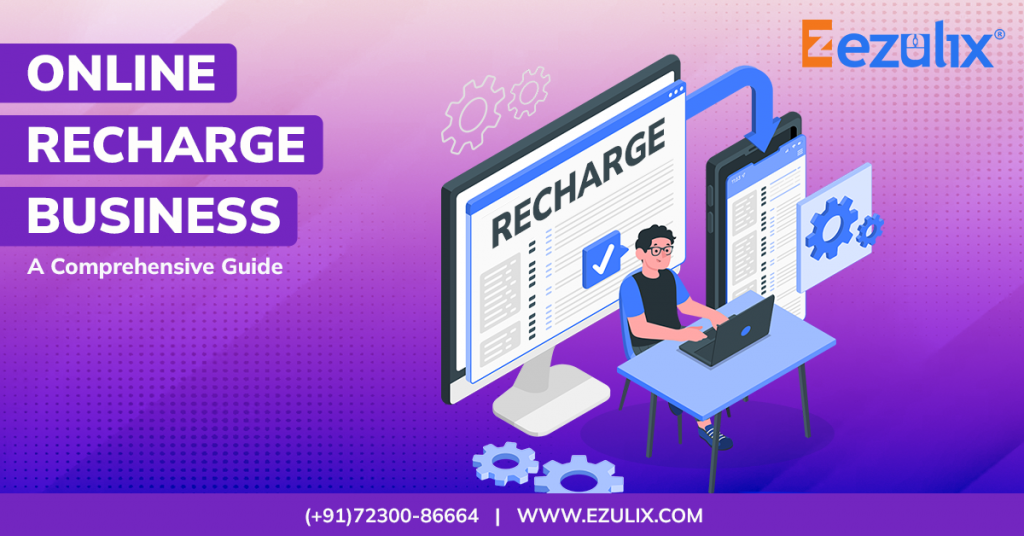 India has seen a tremendous rise in the number of mobile and smartphone users over the last several years. Given how simple it has made our lives, the rise is justified. The ability to insert numerous SIM cards into a mobile phone is a very practical and widely used function. The number of mobile phones and operators increases in direct proportion to the rise in demand for all related enterprises, which results in the tremendous success of the online mobile recharge business. Recharging SIM cards for mobile devices is one such industry. With little investment and outstanding profits, it is a highly profitable venture. As a result, Ezulix Software has created a fantastic, highly profitable Multi Recharge Software for all of its users.
What is a Mobile Recharge Business?
Giving customers the option to add credit or data to their prepaid mobile phones is what it means to operate a mobile recharge business. Mobile network operators and other third-party service providers often offer this service, which enables users to top up their mobile phones using a variety of payment options such as cash, credit cards, and digital wallets. Due to the increased use of mobile phones globally, the mobile recharge industry has grown in popularity. It provides a practical and simple approach for consumers to stay connected by guaranteeing that they always have access to airtime or data. With the rise of digital payments and the increasing adoption of smartphones, the mobile recharge business is poised for continued growth in the coming years.
Who Can Start A Recharge Business?
Anyone with an entrepreneurial drive and a desire to succeed can start a mobile recharge business, which is quite profitable. In actuality, several different types of people can launch a mobile recharge business and succeed in it. A mobile recharge business can be started by anyone with some technical expertise and experience in mobile technology. This comprises those with experience in software development, programming, and the mobile telecommunications business. These people have the technological know-how to create software or mobile applications that can make mobile recharges easier.
This includes individuals with marketing and sales skills who can also start an online recharge business. These individuals have the ability to promote their services to potential customers and persuade them to use their platform for mobile recharges. This can be done through various marketing channels such as social media, email marketing, or word-of-mouth referrals. Entrepreneurs who have experience in running small businesses can also start a mobile recharge business. Such individuals possess the necessary skills to manage their finances, develop business strategies, and manage employees.
A mobile recharge business can also be started by someone searching for a side hustle or a part-time job in addition to this. This business may be conducted from home or any other place with an internet connection and doesn't need a big time or financial commitment.
What Do You Need to Start a Recharge Business?
You will require some items to launch a mobile recharge business. Below are some of the principal prerequisites:
Create a detailed business plan outlining your target market, marketing strategy, revenue streams, and financial projections before you launch your cellphone recharge service.
To conduct business lawfully, you must register your company with the appropriate government agencies and acquire the necessary licenses and permissions.
You must develop a mobile recharge platform that enables users to top off their phones using a variety of payment options. This can be accomplished by creating a website, a mobile application, or by integrating with an already-existing recharge platform.
You must integrate your platform with a trustworthy payment gateway that accepts a variety of payment methods in order to process payments securely and effectively.
In order to give your customers a variety of recharge alternatives, you will need to collaborate with mobile network operators and other service providers.
You must create a marketing strategy to advertise your services to potential clients. Social media, email marketing, influencer marketing, and other digital marketing channels can all be used for this.
To earn your clients' confidence and loyalty, you must offer top-notch customer service. This can be done using a variety of platforms, including social media, chat, email, and phone.
You can open your mobile recharge business and start making money after these important conditions are met.
How to Generate Commission From the Mobile Recharge Business?
The online multi-recharge business commission is an essential aspect of running a successful mobile recharge business. For each successful transaction, a mobile recharge business receives a commission as a proportion of the recharge amount. Depending on the recharge amount, the mobile network provider, and the recharge method chosen, the commission percentage may change. For instance, utilizing cash or a digital wallet may result in a larger commission percentage while recharging a mobile phone. Also, depending on the service provider, the fee % may change, and mobile recharge companies might bargain with providers for higher commission rates.
Mobile recharge businesses must find a balance between providing clients with affordable recharge alternatives and giving competitive commission rates in order to increase revenues. By offering affordable recharge options and competitive commission rates, online mobile recharge businesses can attract and retain customers while earning a steady stream of revenue.
Future of Mobile Recharge Business in 2023
Since the global adoption of mobile phones continues to rise, the mobile recharge industry has a promising future in 2023 and beyond. The demand for mobile recharge services is anticipated to increase as more individuals use their mobile phones as their primary method of communication and internet access. Also, consumers may now recharge their mobile phones more easily and conveniently thanks to the growing acceptance of digital payments and the use of mobile wallets. It is anticipated that this trend will continue, making it simpler for business owners to launch mobile recharge ventures and draw in new clients.
Additionally, it is anticipated that the emergence of new technologies like 5G and the Internet of Things (IoT) would open up new potential for mobile recharge providers to deliver cutting-edge services that address evolving consumer needs. In conclusion, as mobile phones continue to become an integral part of daily life and as the use of digital payments and new technologies rises, the mobile recharge industry is predicted to expand dramatically in 2023 and beyond.
Ending Note
You can start your own online mobile recharge business if you think you want to expand your business with a minimum investment. Several possibilities in the mobile recharge market are waiting for you to grab. Now that you know how to start a mobile recharge business, you can reach out to Ezulix Software to own a top-notch high-commission Mobile Recharge Software and initiate your business immediately.
For more details visit our website and you can also directly connect with our team and can apply for a free live demo.
2,538 total views, 3 views today