Get Lowest Price Ever on Mobile Recharge & AEPS Software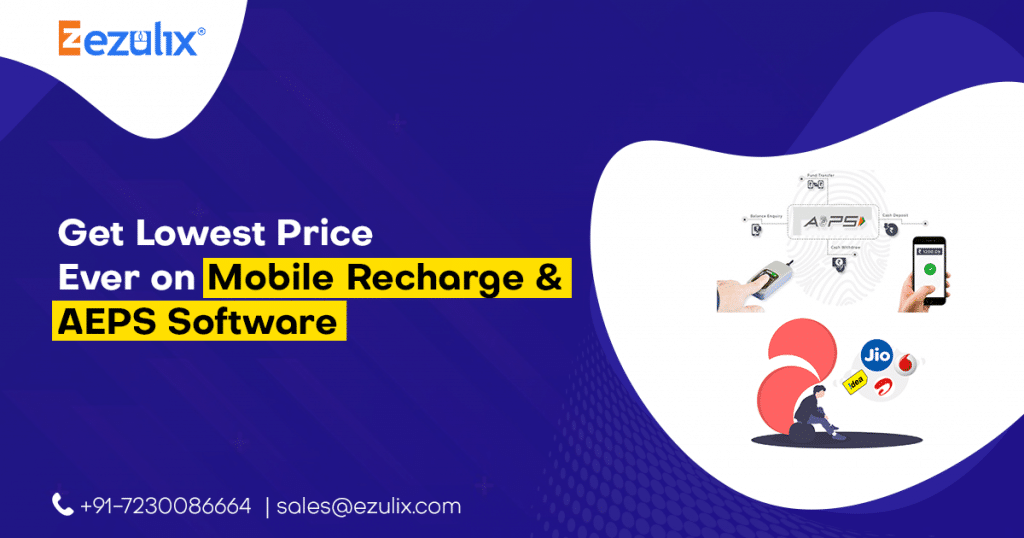 Get Best Deal on Mobile Recharge & AEPS Software
Are you planning to start your own CSP business & looking for cost-effective mobile recharge & AEPS software then this can be a great opportunity for you?
Here I will tell you how to start your own CSP business at low investment with leading software development company.
So without wasting time, I come to the point.
Ezulix software is a leading software development company in India over the last few years. We provide customized software & mobile app development services based on your business nature. Our skilled and experienced professionals team developed an advanced software solution based on the latest technology so that you can compete in the market in best way.
Recently we have complete research and find that most of the people who want to start businesses are unable to start. There are two main problems-
Lack of opportunity
Budget Issue
To eliminate this problem, we have planned to provide a wonderful business startup opportunity for those who are really interested to start their own business.
On the occasion of Diwali, we are offering the biggest deal of the year. You can start your own b2b & reseller business with us and can get the lowest price ever.
You can start your own brand mobile recharge & AEPS software with Ezulix and can save big today.
Advanced Mobile Recharge Software with Highest Commission
You can start your own online recharge business with Ezulix advanced recharge portal & can earn the highest commission in the market.
Recently we have updated our mobile recharge software with all advanced features. Our new multi recharge software is fully customized & based on the latest technology. We have used a modern layout that offers better UX and attracts more customers. We have used a secured mobile recharge API that facilitates safe online recharge with fast speed and 99.99% success ratio.
By using our advanced mobile recharge portal, you can create unlimited members all over India and can serve them all following services-
Prepaid mobile recharge
Postpaid mobile recharge
Landline mobile recharge
Data card recharge
DTH recharge
You can provide all the services using single mobile recharge API and can earn a commission on all the services. Along with this, you can provide all the online recharge services of all the operators. To recharge all operators, you don't need to have balance in different APIs. You can recharge all the operators by having all the balances in a single API.
Along with multi recharge software portal, we provide you mobile recharge app to offer recharge services in rural areas where people don't use laptop and desktops. Mobile app is the best way to offer online recharge service in rural areas. Although, by using single mobile you can offer on online recharge services, this is known as a single SIM mobile recharge software.
Updated AEPS Software with Xpress Payout and Aadhaar Pay Features
Our updated AEPS software portal is a fully customized admin portal. It is developed on latest technology that fulfill all aspects of AEPS business.
By using our new AEPS portal, you can create unlimited members all over India and can manage all at same place. It is easy to use for everyone. We have used secured AEPS API which offers safe and secure transactions. By using ezulix AEPS portal, you can offer AEPS service through 3 banks.
Yes Bank AEPS API
Fino Bank AEPS API
ICICI Bank AEPS API
We provide you highest commission in the market. Your members can do AEPS registration through e-KYC. Admin can set commission for all the members and also can change any time.
By using our advanced AEPS portal, you can offer all following services to your members.
Aadhar Card Cash Withdrawal
Cash Deposit
Balance Enquiry
Mini Statement
Fund Transfer
Aadhaar Pay
Xpress Payout
Micro ATM
You can offer all the services to your members and can earn the highest commission. Xpress payout allows your members to take a real-time settlement 24*7 from AEPS wallet to main wallet. Along with this, they can use AEPS payout service to take settlement in banking hours.
Micro ATM service allows you to withdraw money using a debit card. This is most trending cash withdrawal service now a day. Now customers can withdrawal money by using either aadhaar card or debit card using mATM service.
Aadhaar pay allows you to withdrawal up to 1,00,000/- in a day using AEPS. So you can use all the advanced features by using Ezulix AEPS portal.
How to Start Business with Ezulix & Get Discount?
So If you are planning to start your own brand business at low investment then this is best chance for you.
To start a business with Ezulix, you have to apply to unlock this deal now and have to submit a form. Our executives contact you and provide you free live demo of all the services so that you can understand our portal.
Along with mobile recharge and AEPS, we provide all the following services. Please check out our live deals and offers.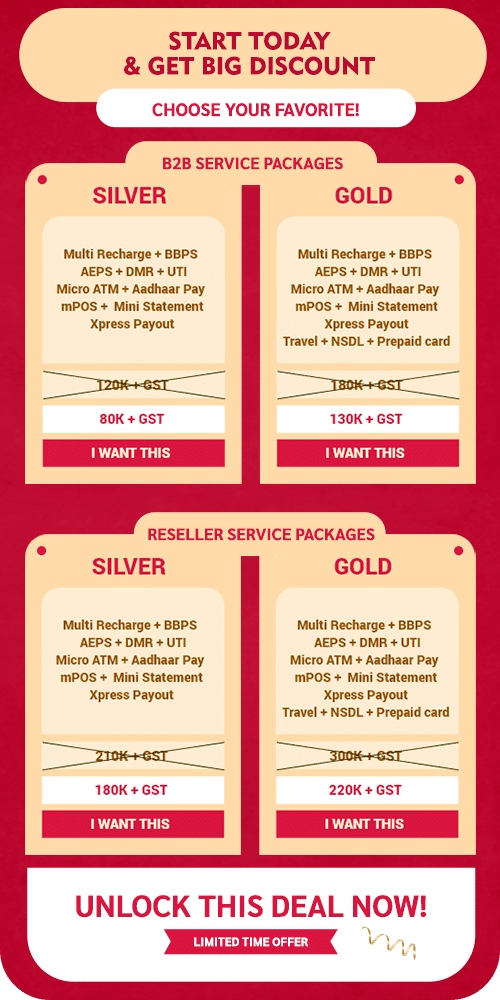 So you can choose your favorite package and can apply for your best deal now. Offer is applicable for a limited time. So don't waste time.
Conclusion
So here we learned how can you start your own b2b business and can get the advantage of our latest offers. For more details visit my blog or apply for a free live demo or can call at +91 72300-86664
2,016 total views, 6 views today