Valuable tips that help to boost Aeps transactions with Ezulix Aeps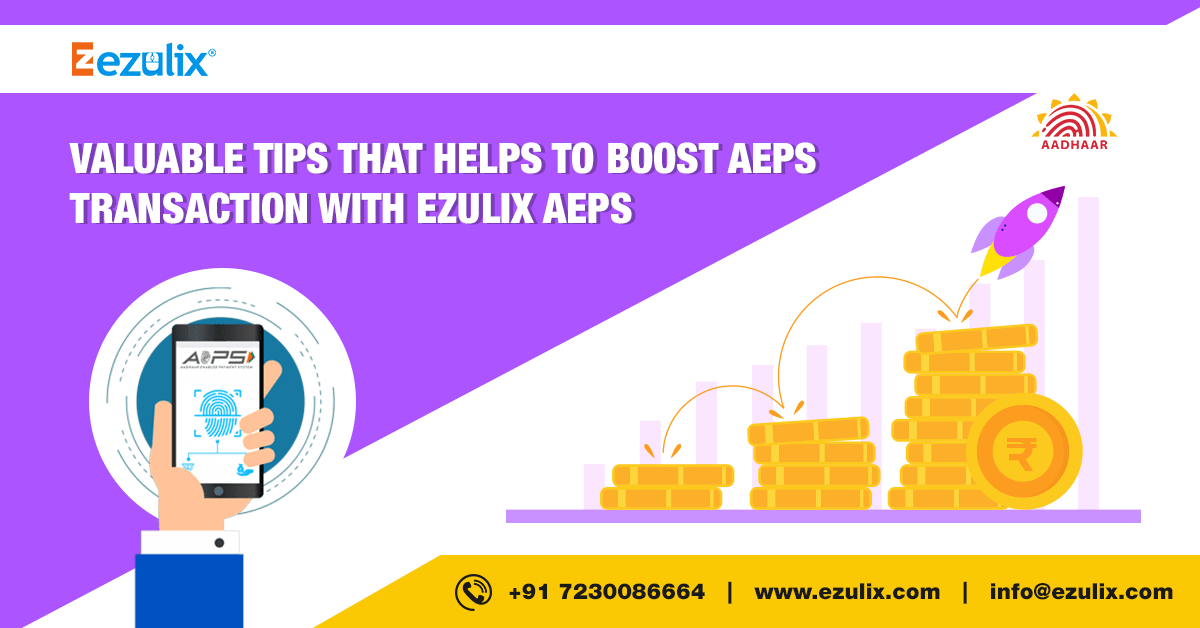 Use Multi-Bank API for AEPS Transaction

Offer Wide Range of AEPS Service

All Biometric Machine Must be Supported

Offer Multi-Service to Increase Market

Offer Best commission to Members

Advance Feature of Service On/Off

Best Support Service
How to Boost AEPS Transactions Using Ezulix AEPS?
Are you working in CSC (Common Service Center) for a long time but still your AEPS transactions are not increasing?
If Yes, then this article gonna be a master class for you. Here I will tell you which is the best AEPS portal in India and how can you boost your AEPS transaction using this portal.
So without wasting time, I come to the point.
Before discussing how you can boost your AEPS transactions, first, we have to discuss AEPS.
Which is the Best AESP Portal Provider Company in India?
Ezulix software is one of the best AEPS service provider company in India. We provide you stander AEPS portal for your mini banking business. You can start your own brand AEPS portal with us as Admin and can create unlimited members all over India.
There are many AEPS service provider company in India which claims to be best. I would like to suggest you choose the best AEPS service provider if you want to get success.
We provide you best AEPS service which supports and fulfills all your business needs. Although, our advanced AEPS portal is based on the latest technology and features which help you to boost your AEPS transaction vertically.
Learn how you can boost your AEPS transactions using Ezulix AEPS. Here we discuss all important features of the Ezulix AEPS portal which help you to boost the AEPS transaction.
Keep tuning with us till the end if you are really interested to Increase your AEPS transactions.
Why Ezulix AEPS is Best to Boost Your AEPS Transactions?
Here we will discuss how Ezulix AEPS helps you to boost your AEPS transactions. You can boost your AEPS transactions using these valuable tips.
Use Multi-Bank API for AEPS Transaction
This is the first and very important tips which you must consider when you choose AEPS service for your business. You must choose a portal that enables you to offer AEPS service through multiple banks API. This will help you to increase your service and brand in the market. Sometimes when one AEPS API not working, you can switch it to another one so that your service works without any interruption.
Ezulix AEPS portal provides you AEPS service through both YES bank AEPS API and FINO bank AEPS API. So we can say this is an awesome feature that helps to build trust in your brand in the market.
Offer Wide Range of AEPS Service
Today we know the market is so competitive and if you want to survive you must have to offer more. This is another very important tip that helps you to boost AEPS transactions. You must offer a wide range of AEPS services to your members If you want to boost your AEPS transactions.
By using Ezulix AEPS portal, along with AEPS, you can offer micro ATM and payout services to your members.
By using Micro ATM, members can use a cash withdrawal facility using the debit card and PIN. This is quite similar to the ATM service.
Using payout service, your members directly can get the settlement in the bank. By using this service your members can get the real-time settlement in their bank.
So this tip will definitely help you to boost your AEPS transactions up to 15%.
All Biometric Machine Must be Supported
AEPS stands for the Aadhaar enabled payment system.  This is the new age of AEPS transactions. A bank customer, whose Aadhaar card linked with a bank account, can use all basic banking services using Aadhaar card and fingerprint authentication. You need a biometric machine for fingerprint authentication which integrated with the AEPS portal.
You must choose an AEPS portal that supports all biometric machines. This helps you to boost your AEPS transaction by up to 7%.
Offer Multi-Service to Increase Market
By using the Ezulix portal you can offer multi-service to your members and can boost your transactions. Along with AEPS, you can integrate money transfer software, Bharat bill payment system and mPOS into your portal and can offer all the services.
By offering multi-services to your members you can boost your overall transaction and profit along with AEPS transaction. This tip helps you to boost your AEPS transactions by up to 11%.
Offer Best Commission to Your Members
As you know whenever any member did AEPS transaction, he earns a small amount of commission which you decided. By offering the best commission in the market, you can build a huge team that helps you to boost your AEPS transactions.
Ezulix APES provides you best AEPS transaction commission so that you can offer higher commission to your members. By using this tip you can boost your AEPS transactions up to 24%.
Advance Feature of Service On/Off
This is a great feature which not directly affects AEPS transaction but very important concern to security. Sometimes we face suspicious transactions through members and we want to stop it instantly so that we can save our money to be hacked.
By keeping this in mind, our skilled and experienced professional team developed this awesome feature. In which you can Off any service of any member instantly by tapping on the button.
So this provides you a great authority to control your members on your tips. You can use this feature smartly to boost your security.
Best Support Service
If you are working in the CSC industry, support plays a vital role in your success. So I would like to suggest you to choose a service provider which offers the best support.
We are working in this industry for a long time and we are leading AEPS service Provider Company over the last few years. If we talk about support, you must consult first with our clients who are working with us and happy with our service and support.
We provide you free lifetime support service. You can anytime contact our support team to solve your query. We provide you instant support to you which helps your brand to build trust in the market. You can solve your member query and If you have any issue you can consult it with our support team via call or mail. If you support your members, it motivates them to work better which directly helps you to boost your transactions. It is very bizarre but true static that you can boost your brand value in the market and transaction up to 35% by offering the right support and direction to your members.
Conclusion
So here I am wrapping up this article. Here we learn which the best AEPS service provider in India is and how can you boost transactions using the Ezulix AEPS portal.
I hope you love this article and If you feel this can be beneficial for anyone, please share it on your social media account.
For more details visit my blog or directly contact our executives for a free LIVE DEMO.
2,246 total views, 11 views today