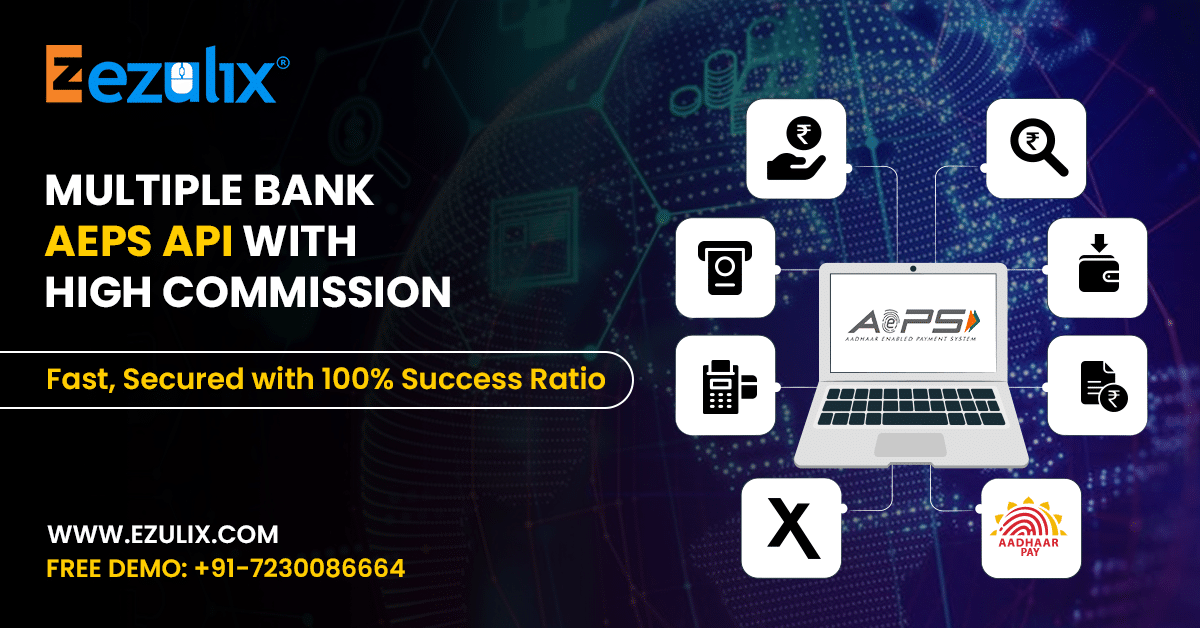 This is the time to boost your profits by switching your AEPS business to India's no. 1 AEPS API service provider company. Yes, I am talking about Ezulix Software, a well-known AEPS API Provider Company over the last few years. You can earn a high commission on all AEPS services by switch your AEPS business to Ezulix AEPS API.
Along with this, If you are new in this industry and looking for the best and economical AEPS API solution to start an AEPS business, then this is the right place for you.
So If –
Your service provider is not offering satisfactory service
Unable to offer the best support
Service response is delay
Success ratio is very low
Not offering all new services
Transactions are showing pending over the time
Waiting for settlement
Then it's time to switch your AEPS business in Ezulix AEPS API.
We are expertise in offering the best b2b API solution over the last few years.
Start Your AEPS Business in Ezulix AEPS API and Generate Maximum Profit
So if you are new in the AEPS industry or already working with any software but looking to extend your business, Ezulix AEPS API can be the best solution for you.
Here we have developed an advanced AEPS API solution that integrated with multiple APIs. Our advanced AEPS API provides a quick response with 99.7% success ratio. It is based on the latest technology. Our AEPS API integration is very easy. Any skilled programmer can integrate it easily into your portal. We provide you with multiple services and updated features in AEPS API which helps you to boost your business.
So If you are planning to start your own AEPS business, integrate your business with Ezulix AEPS API and offer best AEPS services with the highest commission.
Offer Multiple Services By Integrating Ezulix AEPS API in B2B Portal
By integrating Ezulix AEPS API in your portal, admin can offer all following services to agents and can earn the highest commission in the market.
Cash Deposit
By using our API solution, you can offer ICICI bank cash deposit service to your members and can earn a commission.
Cash Withdrawal
By using a cash withdrawal service, agents can offer AEPS cash withdrawal service to customers and can earn the highest commission.
To withdrawal money from the bank account, the customer required Aadhaar card number and fingerprint authentication. Customers can withdrawal money from Aadhaar ATM without using a card or PIN.
Balance Enquiry
Agents can boost their customer base by offering balance enquiry service to their customers. There is no commission on balance enquiry service but agents can use it in promotional strategy.
Mini Statement
This is another service on which agents offer to their customers and can earn a commission. By using mini statement service, customers can get transaction details of the last 10 transactions.
Aadhaar Pay
As we know, by using AEPS service customers can withdrawal up to 10K in a day from one bank account.
But If any customer wants to withdrawal more than 10K then this service can help him.
By using the Aadhaar pay service, a bank customer can withdrawal up to a maximum limit of the customer's bank account in a day.
By using this new service of Ezulix AEPS API, you can boost your AEPS transactions.
Payout Service
Settlement is a very big issue that comes in the AEPS business. If your retailer is unable to settle their amount in real-time, he will leave you.
By keeping this problem in mind, we have developed a payout service that allows an agent to take real-time settlement in bank account.
By using AEPS payout, agents can take real-time settlement in banking hours. In AEPS payout, the member can take settlement in a single bank account.
By using Xpress payout, agents can take real-time settlement 24*7. In Xpress payout, members can take settlement in multiple accounts at the lowest surcharge.
Tip: Agents can use Xpress payout service to offer money transfer service and can transfer money at a very low surcharge.
Micro ATM
By using a micro ATM service, agents can offer all AEPS service to customers through debit card. Now customer's don't need to go with Aadhaar card, they can also pay, withdraw through a debit card using mATM.
This micro ATM service can help members to boost their transactions as well as commission.
So these are all the services that you can offer by using Ezulix AEPS API service.
Why Ezulix AEPS API is Best?
All in one AEPS API solution
You can offer multiple services using a single solution
You can earn the highest commission in the market
Easy to integrate into the portal
No down-time
The success ratio is 99.7%
No settlement issue
Safe and secure API service
We provide lifetime free technical support
Instant complaints resolve through the ticket system
So these are a few points which can help you to choose the right solution for your business.
Conclusion
So here we discussed Ezulix AEPS solution which can help you to start and run your AEPS business profitably and smoothly.
NPCI registered Ezulix software is leading AEPS and recharge API provider company in India over the last few years. Along with this, we offer multiple API solution for all the services.
So you can add-on multiple API solution in your b2b portal and can create your personalized software solution.
I hope this article will help you to understand about AEPS business. For more details, you can apply for a free live demo.
11,974 total views, 3 views today