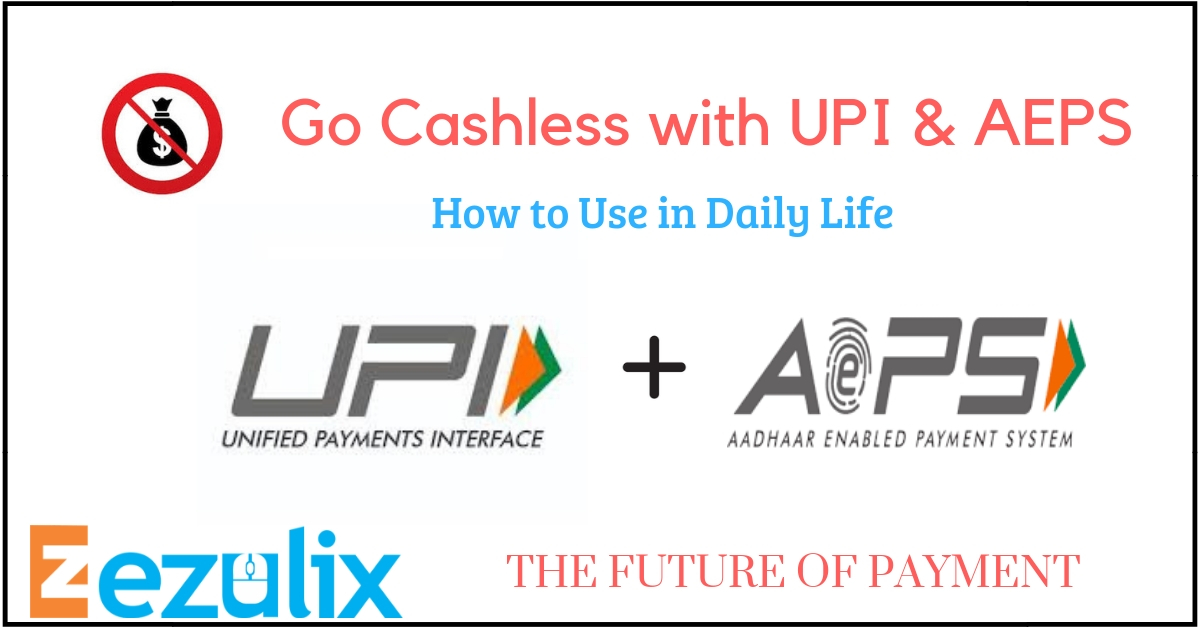 What is AePS Service and UPI
Before starting the topic what is the difference between AEPS service and UPI, we have to know about AEPS and UPI. AEPS stands for Aadhaar Enabled Payment System while UPI stands for Unified Payment Interface. Both are the digital payment services which are an initiative by NPCI (National Payment Corporation of India) to make Cashless society under digital India project.
Here we discuss about both the topics like what they are and what are their benefits in daily life and how can you use them. First we start with UPI transaction.
Keep tuning with us for interesting facts about UPI transaction.
What is UPI Transaction and its Benefit
As we learn above UPI stands for Unified Payment Interface which is the digital payment service initiative by NPCI to make India digitally strong.
Before starting UPI Transaction I want to know, ever have you hear about UPI?
Any where?
I would try to remember you, Have you use PayTm?
Perhaps you remembered this function now; yes I am talking about the same function,
UPI transaction.
The main goal behind initiative this service is to compete with mobile first digital payment platforms like e-wallets with bank backed network. UPI is the instant payment system which is totally based on IMPS infrastructure. It is basically used for instant money transfer from one bank account to another at the same time.
Now we learn what the benefits of UPI transaction is and how can you use it in your daily life.
Benefits of UPI
UPI is the cheapest way of money transfer
It Makes you Free from Cash
There is no need to give bank account details
Cheapest alternative of POS machine
It is safe and secure to use
Instant money transfer facility
So basically these are some benefits of UPI transaction which enables you to use in daily life. You can use this service in PayTM wallet by direct money transfer without any further details at same time.
What is AEPS Service and Its Benefits?
Aadhaar enabled payment system is type of payment system which enables us for cashless transaction with using credit or debit card. AEPS service also initiate by NPCI (National Payment Corporation of India) which main aim is to develop cashless economy in India under digital India project.
AEPS service facilitate basic banking transactional activities like cash deposit, cash withdrawal, fund transfer and balance inquiry by using aadhaar card number and finger print authentication. You can use these facilities anywhere if your bank account connected to your aadhaar card.
AEPS service makes you enable for cashless transaction without using any debit or credit card. You have no need to remember any pin or code. You just need to give 12 digit aadhaar card numbers to merchant and finger print authentication to perform basic banking transactions.
Benefits of AEPS
Here we learn about benefits of AEPS which you can use in daily life.
Cash Deposit
Cash Withdrawal
Fund Transfer
Balance Inquiry
Mini Statement
So this is very beneficial service which helps you in daily life for cashless transactions. Sometimes if you are not able to go bank or ATM, this service enables you to perform basic banking transactions.
These are the benefits which you can use in your daily life; apart as a user you can use can this service as a business man.
Yes, it's true
If you are a businessman and you have a business this service can help you out to perform banking transaction directly with clients without any cash transaction which is definitely safe and secure and you no need to appoint a person for this work.
AEPS Service for Mini Banking Business
If you are looking for new business startup, here I have a great Idea for new business plan. Yes I am talking about mini banking business or we can say AEPS service. If you are really planning for new business mini banking service is the best option on present scenario.
To start this business you have to purchase AEPS software from any AEPS service provider company and you have to connect your bank account with this. You can start this service at your shop or center. Any customer perform any AEPS transaction, you will earn the commission on it. So I can say this is the best alternative for business with less investment.
I would suggest you to purchase AEPS Software from the best AEPS service provider company in India which gives highest commission on aeps transactions which makes you earn more.
Conclusion
Here I am wrapping up this article, here we discuss two most famous digital payment services, what they are actually, how can we use it and how they can be used in daily life. Here also we discuss about how can we start own business by using AEPS software.
I hope this article may help you to understand AEPS and UPI. If you feel this article consist use information, share it with your friends and family to get benefits of these services.
For more details visit my blog or apply for a free live demo.
Visit Us on Facebook and Twitter
Learn More :
What Steps Did PM Modi Take to Encourage Cashless Society in India?
7,875 total views, 1 views today