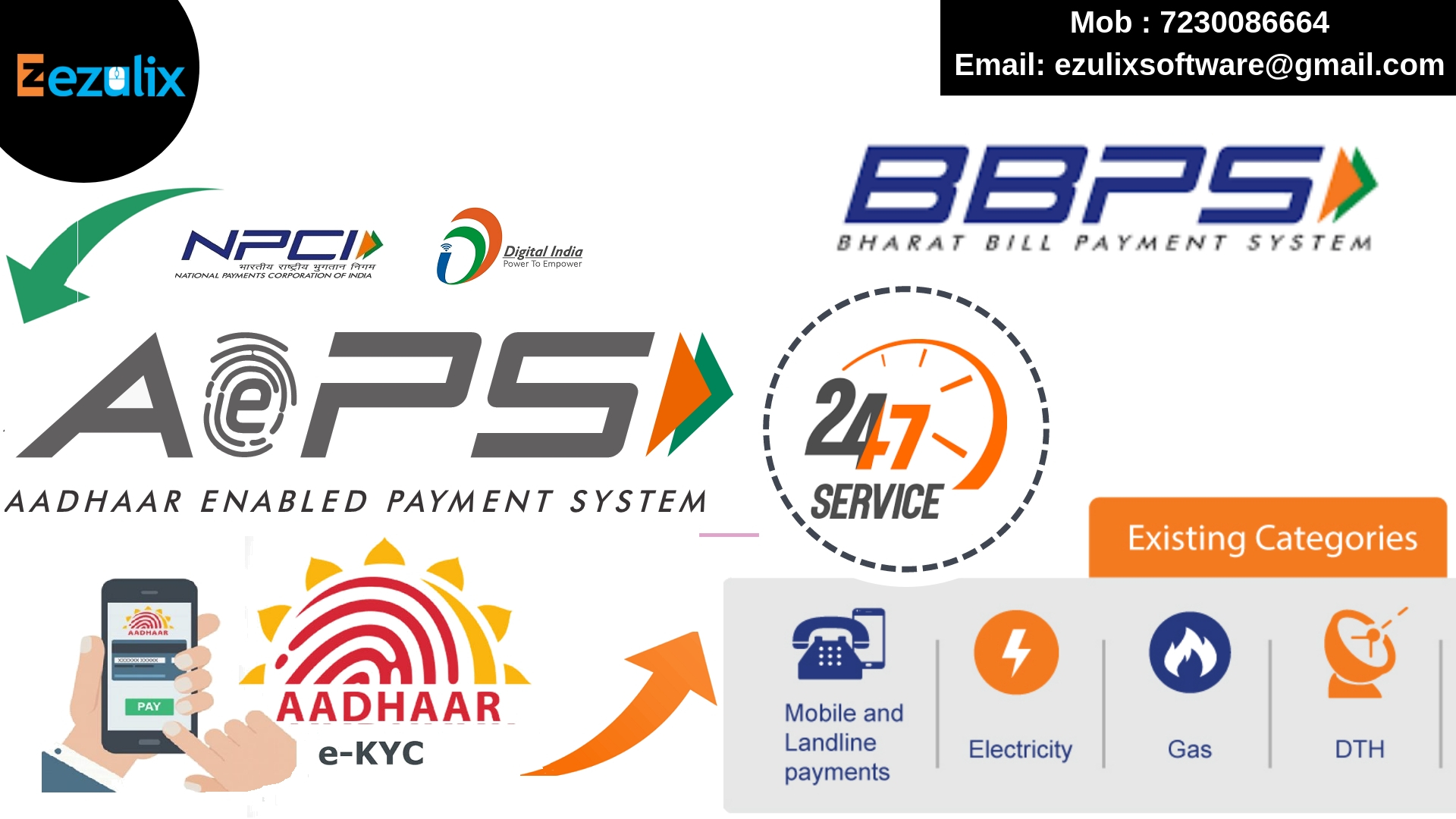 Start Your Own Business Through AEPS and BBPS System Software
Ezulix software is one of the best software companies in India. You can get a wide range of web solution services like AEPS , BBPS and many more from here.
It is an online B2B platform for services like tour & travels, flight booking, prepaid mobile recharge, DTH services, Data card recharge, electricity bill, water bill etc. It provides AEPS API for cashless transaction service which works as mini banking.
How AEPS Helps To Setup Mini Banking Service
AEPS stands for aadhaar enabled payment system which is a cashless money transaction system.
But do you know how it helps in cashless transaction and how can you setup mini banking service at your centre?
Without waste the time, I come to the point
Before some year's Indian government collect all the data of individuals and in return they gave us a 12 digit unique identity number which is known as Aadhaar number. Later this aadhaar number is connected to our individual bank accounts or we can say our bank accounts directly connected to our aadhaar card.
Aadhaar enabled payment system is the payment system which helps bank customers to done basic transaction or financial services. In this system you can transfer, deposit and withdrawal the money without any pan card or ATM card. It only requires your aadhaar number and your finger print.
You can setup your own mini banking service at your shop or centre. For to start this service you need a smart phone where you setup AEPS app and a biometric machine for scan customer's finger print. Ezulix software is the best AEPS software development company which provides best AEPS Services with Aadhaar enabled payment system API.
So by this method you can start your own mini banking business and get commissions on each and every transaction by your customers.
Benefits of Ezulix AEPS Software
Ezulix AePS software allows you to start your mini banking business with your brand name and logo. You can setup your own b2b fintech company and can create your down line as master distributor, distributor and retailer.
Our new AePS software is fully customized, highly secured and easy to use for everyone. You don't need to be a technically strong to run this business. Anyone can start as an admin with nominal training.
Along with multiple service with provide you lifetime free technical support so that you can start, run and expxlore your AePS business easily and smoothly.
We have integrated multiple secured AePS APIs like payout API, aadhaar pay API, mini statement API, cash deposit API so that you can offer complete banking solution under a single roof.
If you want to learn more about Ezulix AePS software, you can apply for a free live demo.
What is BBPS
BBPS stands for bharat bill payment system. This is the system which is approved by National Payments Corporation of India (NPCI) which helps to pay all types of bill like electricity bill, gas recharge, telecom, DTH recharge and water bills from anytime and from anywhere?
BBPS system accepts all kinds of bill across the India from different payments mode. Service suppliers can get the payment instantly and get transfer too. Agents as well as customers can check the details of confirmation on mail or BBPS system.
Ezulix software is best BBPS service software Provider Company in India. You can start your own market for bill recharge and can earn huge amount of commission on each bill payment. we can say it is also good alternative for online recharge business with small cost.
Conclusion
So we can say that here we have two best low cost setup business ideas which is in trends now a days. I want to reference ezulix software which is best AEPS and BBPS software Provider Company in India. So from here you can get AEPS and BBPS API for bill payment and cashless transaction.
Like and Follow Us on Facebook
Like and Follow Us on Twitter
13,875 total views, 1 views today